Editor's Note: The macOS Ventura public beta is available now, which means you brave souls can install an early, unfinished version and try it out for themselves. We did just that, so check out our macOS Ventura review for our impressions of the beta and don't miss our guide to how to download the macOS Ventura beta! Our original story follows:
macOS 13 was officially unveiled and branded macOS Ventura at WWDC 2022, where Apple revealed how the Mac software update will be packed with new features (like Continuity Camera and Stage Manager) when it arrives later this year. Even more impressively, you'll be able to sync your iPhone to the Mac if you want a more powerful webcam.
In addition, macOS Ventura introduces a number of updates to Messages, Mail and Safari. Apple is also rethinking security in macOS Ventura. They are looking to create a password-less future with the introduction of Passkeys, and will eliminate the need to complete CAPTCHAs on many sites with Automatic Verification. This is similar to some of the features that are coming to iOS 16 Safari.
The new Mac operating software brings some pretty big updates to Macs, though it would be overstating it to call macOS Ventura a complete overhaul of the OS; if anything, it seems to bringing the Mac in sync with devices like the iPad, which will share many key macOS Ventura features via the iPadOS 16 update.
On the same day, Apple announced its new M2 silicon, it also revealed that the macOS Ventura update won't be for some older Macs. Apple seems to be differentiating between its Intel based units and its own silicon ones.
The macOS Ventura beta is available now for developers, with a public beta coming next month to participants in the Apple beta program. The full rollout of macOS Ventura can probably be expected later in the fall, when Apple has released its macOS updates in the past.
Here are all the macOS Ventura updates based on what we saw from Apple during WWDC 2022.
macOS Ventura cheat sheet: top new features coming to Macs
Stage Manager: This is an all-new way to stay focused on an app or window. You can operate many windows at once with this tool while it gathers all windows together in a single pile. You can also switch between apps and windows and group apps that you want to use together.
Continuity Camera: Convert your iPhone into a webcam for an extra angle. Additionally, the Handoff feature now lets you start a FaceTime call on your iPhone or iPad and seamlessly pass it over to your Mac.
Mail: Search within Mail will get some new updates. You can now find things between recent emails, contacts, documents, photos faster, and the search is designed to be more intuitive. You can also undo send or schedule send in Mail now.
Messages: Edit or undo a recently sent message, mark a message as unread, or even recover accidentally deleted messages. (These features match what's coming to Messages in iOS 16 and iPadOS 16.)
Safari: Share grouped tabs with friends or family. And now there is built-in collaboration to connect over Messages or FaceTime.
Passkeys: Apple looks at a password-less future with Passkeys. These are unique digital keys that are not stored on web servers and use Face ID or Touch ID to sign in. They will sync across Mac, iPhone, iPad, and Apple TV with iCloud Keychain.
macOS Ventura: Release date
macOS Ventura was first announced at WWDC 2022. Apple made the beta version for developers available in June, while the public beta for Mac users was released July 11.
While iOS 16 released in September 2022 as usual, macOS Ventura and iPadOS 16 have both been delayed until October 2022. We don't have a firm date for when in October we should expect macOS Ventura to drop, but we expect it will be closely tied to an Apple event in October.
macOS Ventura: Compatibility and supported devices
Apple continues to move its many Mac models from Intel chips to its own Apple silicon. In fact, Apple just launched the new M2 chip at WWDC 2022 as well, adding the chipset to the MacBook Air and the 13-inch MacBook Pro.
The company is set to launch macOS Ventura on its more recent devices. Here is a full list of Macs that will be compatible with macOS Ventura:
2022 Mac Studio
2017 MacBook and later
2018 Mac mini and later
2019 Mac Pro and later
2017 MacBook Pro and later
2018 MacBook Air and later
2017 iMac Pro and later
2017 iMac and later
macOS Ventura: New features
macOS Ventura largely focuses on productivity upgrades in the form of new multitasking and tighter integration with the iPhone and iPad. Here is a detailed list of all the updates Apple announced in the new macOS Ventura at WWDC 2022.
Stage Manager
Apple now has a solution for organizing multiple windows and apps that are open — with Stage Manager. This is a feature that will bring in the front and center one single app or window while piling up the others on the left of the screen. It is aimed at helping you focus on one app while reducing the clutter and distractions from other windows or apps. Stage Manager can be accessed through the control center.
Users can also group windows together when working on specific tasks or projects that require different apps.
Continuity Camera
The iPhone will transform into a webcam for Mac users with a continuity camera. So when an iPhone is brought close to a Mac, it will automatically recognize and use the camera on the iPhone, without the need to connect it or even select it on the Mac. Apple is trying to integrate its products with each other even more than before, and this seems like a step in that direction.
The iPhone's ultra wide camera can also be used to enable a new "desk view" which an overview of your desk even as the main lens keeps your face on screen. Think of it as a collaboration tool that lets people see what you're working on.
To make using the iPhone even easier, a special stand will let you prop it up on the Mac. Apple says that stand will be launched later this year.
Continuity Camera also supports features like Center Stage, Portrait mode, and the new Studio Light — an effect that illuminates a user's face while dimming the background.
Along with this, macOS Ventura updates Handoff to support FaceTime calls. This allows users to start a call on their iPad or iPhone and seamlessly transfer it to their Mac when needed, with just a click.
Safari improvements
There are new collaborative tools in Safari this year, as you can now share Tab Groups. Friends, family, and colleagues can share their favorite sites in Safari and see what tabs others are looking at live. It's seen as a nice tool for group projects. Users can also build a list of bookmarks together and interact in Safari via Messages or FaceTime.
Passkeys
As announced back in May, Apple is moving away from passwords with "passkeys." These are next gen credentials that use unique digital keys to keep accounts safe.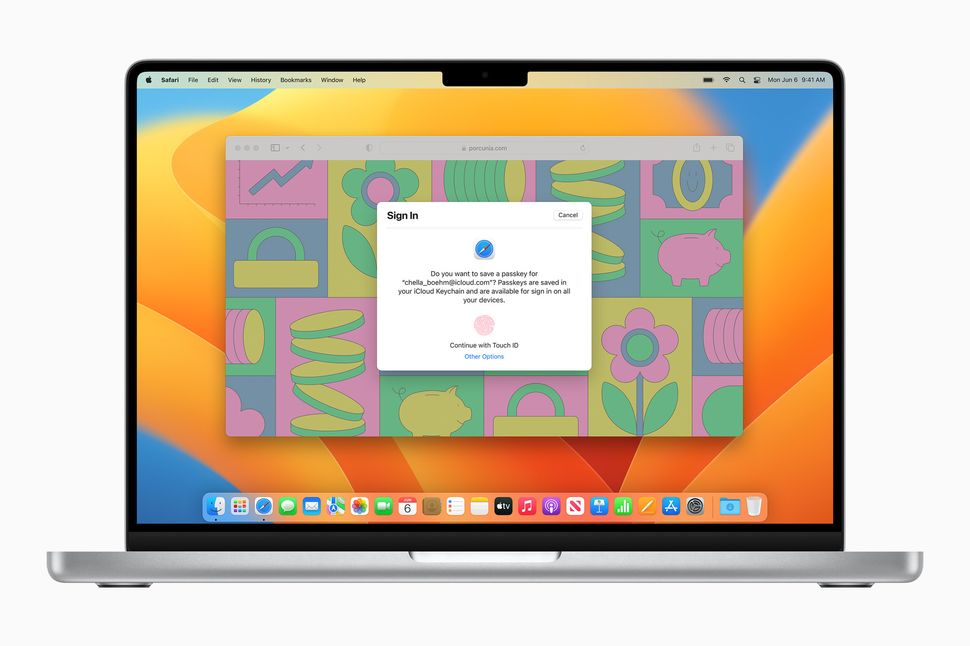 Passkeys stay on the device and are not shared on web servers. They can't be phished and can be accessed only through Touch ID or Face ID and can be synced across devices like Mac, iPhone, iPad and Apple TV with iCloud Keychain.
Mail improvements
Searching within the Mail app just got a full revamp with macOS Ventura. The search is more intuitive and users can search within recent emails, contacts, documents, photos. The search is a lot more instant and it will also corrects typos.
Mail is also getting an automatic detection if a document is not attached — something Gmail has had for years. You can also schedule emails and undo a recently sent mail.
Messages updates
Messages on Mac gets some noteworthy updates with macOS Ventura, similar to features coming to the iPad and iPhone. You can now edit or undo a recently sent message, mark a message as unread, or even recover accidentally deleted messages.
There are also some new collaboration tools like a combined message thread for a certain shared document. For instance, if a user shares a file via Messages using the share sheet or drag and drop, they can choose to share a copy or collaborate. If they choose to collaborate, everyone on Messages is automatically added. If someone is making an edit to the shared document, the activity updates appear at the top of the thread.
Spotlight
Spotlight on Mac has an updated "quick look" feature which pops up some information to preview files. Spotlight has expanded its search reach, as you can now find images in your photo library, across the system, and on the web with it. You can also search for photos by location, people, scenes, or objects. There's also support for "live text" searches where you can look for text within images.
Through Spotlight, you can also now start a timer or create a new document, or run any shortcut.
Spotlight also now throws up richer results for some personalities like artists, movies, actors, sports persons and TV shows.
Gaming support
Apple promises an "even greater gaming experience" with the new Metal 3 — the latest version of the developer tool that powers gaming experiences across devices. Apple says it will give gamers a "more responsive feel and graphics that look stunning."
Other features coming to macOS Ventura
Live text: As with the iPhone and iPad, you Mac will be able to recognize text in paused video frames. Korean and Japanese text support is coming as well.
Weather and Clock apps will match the ones on the iPhone.
Accessibility features, including Live Captions for audio content, Type to Speak on calls and Text Checker to support proofreading for VoiceOver usersl will appear as part of MacOSVentura.
Don't forget to check out our WWDC 2022 recap for all the other big announcements from Apple's event.