It's the same ol' song and dance we see every month: a slew of movies are coming and going on the best streaming services in August. We've rounded up everything leaving Netflix, Max and Hulu in August 2023, from 2000s comedies that still hold up like Idiocracy and Mean Girls to Oscar-winning sci-fi dramas like Dune and The Shape of Water.
For some of these movies, you may still be able to catch them on other streaming platforms even after August. And who knows, eventually we may see these titles find their way back onto Netflix or Max in the coming months. It's anyone's guess. So why not put your subscription to work by rewatching an old favorite or finally checking out a hyped-up blockbuster before they're gone?
Here's what movies to watch before they leave Netflix, Max and Hulu in August 2023.
Best movies leaving Hulu
The Shape of Water (2017)
From the mind of Guillermo Del Toro (Pan's Labyrinth, Pacific Rim) comes The Shape of Water, a truly heartfelt movie about interspecies love that caught many viewers by surprise when it first came out.
It stars Sally Hawkins (Blue Jasmine, Happy-Go-Lucky) as Elisa, a mute woman who lives a quiet and primarily solitary life as a custodian at a top-secret facility. There, she finally finds someone to bond with, a captive specimen (Doug Jones) who looks part-fish and part-human. As their relationship deepens, she tries to figure out how to free him from his watery prison without alerting his captors.
The Shape of Water went on to receive 13 Oscar nominations and win four, including Best Picture and Best Director for Del Toro. So if you missed it in theaters, now's your chance to see what all the fuss was about before it leaves the platform.
Watch it now on Hulu (leaves Aug. 31)
Jurassic Park (1993)
The original Jurassic Park, Steven Spielberg's massive dinosaur blockbuster, will be leaving Hulu at the end of August.
Paleontologists Alan Grant (Sam Neill) and Ellie Sattler (Laura Dern) and mathematician Ian Malcolm (Jeff Goldblum) are among the chosen few selected to tour an island theme park populated by dinosaurs created from prehistoric DNA. While the park's mastermind, billionaire John Hammond (Richard Attenborough), assures everyone that the facility is secure and there's nothing to worry about, he changes his tune after velociraptors, T-Rexes and other ferocious predators break free and go on the hunt.
The original's sequels, The Lost World: Jurassic Park and Jurassic Park III, are also leaving Hulu this month.
Watch it now on Hulu (leaves Aug. 31)
Idiocracy (2006)
Idiocracy is a 2006 satire that eerily predicted a lot of the craziness we would see more than a decade later. It imagines what the would look like if society no longer valued intelligence and science.
Directed by Mike Judge (Office Space, Beavis and Butthead), it's the story of Private Joe Bauers (Luke Wilson), an average guy who wakes up in the future 500 years later after being cryogenically frozen. He thaws out into a country that's almost unrecognizable, defined by garish commercialism, low-brow humor and a population so inept it's barreling toward its own imminent destruction.
To his surprise, he finds out he's now the smartest man alive. He teams up with President Camacho (Terry Crews) and his cabinet to fix the problems plaguing the nation — or risk being sentenced to death in a monster truck demolition derby.
Watch it now on Hulu (leaves Aug. 31)
Best movies leaving Netflix
Paranormal Activity (2007)
If you missed the Paranormal Activity hype when it first came out in theaters, it can be hard to wrap your head around just how big of an impact this movie had. Found-footage horror films were nothing new at the time, having been popularized by the Blair Witch Project a decade earlier. However, Paranormal Activity took that same concept and expanded upon it using the kind of viral marketing campaigns that would become commonplace in the years since its release.
Not only was it successful enough to launch a multi-movie franchise, but Paranormal Activity also ushered in a veritable age of shaky-cam horror flicks and kicked off a race among production companies to find the next sleeper indie hit.
Compared to the horror movies that came after it, Paranormal Activity almost feels tame by comparison. But it's still a chilling watch that's well worth your time (and may leave you opting to sleep with the lights on ... you know, just in case).
Watch it now on Netflix (leaves Aug. 31)
Mean Girls (2004)
Mean Girls is still fetch nearly 20 years after its release. When the 2004 classic comedy written by Tina Fey returned to Netflix last July after a two-year absence, it shot up Netflix's Top 10 movies list. Sadly, Netflix is saying "you can't sit with us" to Mean Girls once more, and come the end of the month, it will leave the platform again.
The movie follows the timid Cady Heron (Lindsay Lohan), who must leave her days of homeschooling behind to tough it out in the ruthless social hierarchy that is public high school. She awkwardly learns to socialize with her classmates and schemes with them to infiltrate the clique that basically runs things at her new school: the Plastics (Rachel McAdams, Lacey Chabert and Amanda Seyfried).
Mean Girls has since become one of the most highly memed and quoted movies of all time, in part because Cady and her crew deal with high school drama that's utterly relatable to this day. If you're looking for more movies in the same vein, check out our list of the top movies like Mean Girls to watch next.
Watch it now on Netflix (leaves Aug. 31)
Best movies leaving Max
Airplane!
Airplane! is one of those classic comedies that, aside from a few cringe-worthy moments (like the seriously questionable "jive" scenes), still holds up today. The jokes are rapid-fire and never-ending, expertly jumping from slapstick comedy to surrealist humor and endlessly quotable wordplay.
This disaster film parody draws inspiration from the Airport series and Zero Hour!, a '50s box office dud that Airplane! lifts its story beats, central characters and even some bits of dialogue from wholesale. It also pokes fun at leading blockbusters at the time (Airplane! hit theaters in 1980) like Jaws and Saturday Night Fever.
Airplane! also proved to be a turning point for Leslie Nielsen's career, turning him from a dramatic actor into a comedy icon overnight. His character of Dr. Rumack stole the show for his impeccable deadpan delivery and straight-man persona as the chaos onboard grows ever more absurd. He went on to star in The Naked Gun franchise as Lt. Frank Drebin, a no-nonsense cop forever getting caught up in ridiculous situations. Just whatever you do, don't call him Shirley.
Watch it now on Max (leaves Aug. 31)
Dunkirk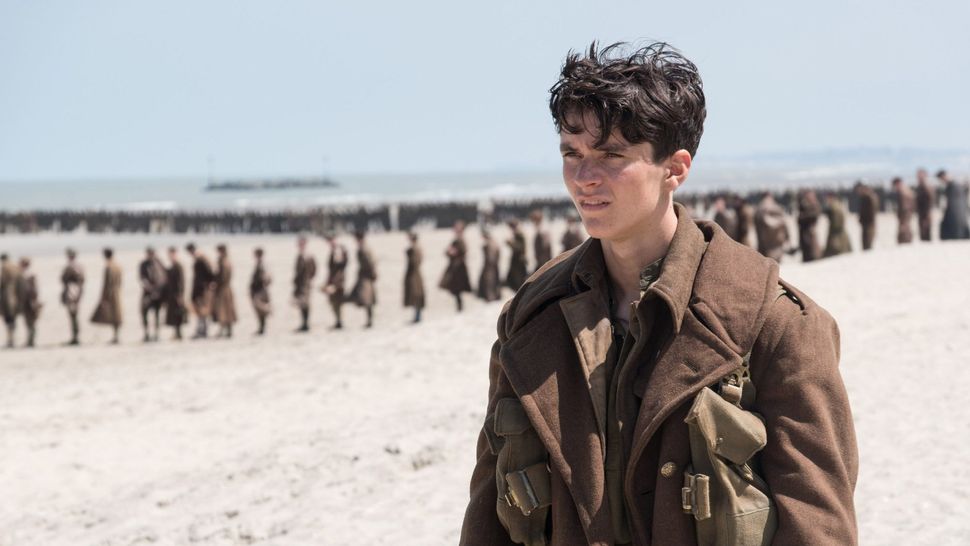 War movies usually aren't my cup of tea, but Christopher Nolan's Oscar-winning World War II period drama is one of the better ones I've seen in recent memory.
Dunkirk is a fictional story set amid the very real events of the 1940 evacuation of Allied soldiers from the beaches of northern France. A surprise attack leaves 330,000 troops surrounded by encroaching Nazi German forces, and they're forced to retreat to the beaches of Dunkirk in a last-ditch effort. Stranded and with all hope of rescue quickly evaporating, the men scramble to organize some kind of rescue effort as their ranks sink into despair. Thankfully, their luck changes when the British navy accompanied by scores of civilians leap into action to help rescue the soldiers using any boat available.
It's a tense but engrossing ride that uses visual storytelling and an innovative narrative structure, interweaving three storylines to cover a range of perspectives, to keep you on the edge of your seat until the credits roll.
Watch it now on Max (leaves Aug. 31)
Everything leaving Netflix in August 2023
Leaving August 12
Leaving August 14
Leaving August 15
Leaving August 24
Leaving August 31
A Knight's Tale
If Beale Street Could Talk
InuYasha the Movie: Affections Touching Across Time
InuYasha the Movie 2: The Castle Beyond the Looking Glass
InuYasha the Movie 3: Swords of an Honorable Ruler
InuYasha the Movie 4: Fire on the Mystic Island
The Italian Job
Mean Girls
Moving Art: Seasons 1-3
Open Season
Open Season 2
Paranormal Activity
The Ring
Salt
Scream: Seasons 1-3
She's Gotta Have It
Sister, Sister: Seasons 1-6
Sleepless in Seattle
Everything leaving Hulu in August 2023
Leaving August 2
Leaving August 5
Leaving August 7
Leaving August 9
Leaving August 11
She's the Man (2006)
Zoolander (2001)
Leaving August 14
2:22 (2017)
The Space Between (2021)
Stage Mother (2020)
Leaving August 15
Leaving August 17
International Falls (2020)
Leaving August 19
Leaving August 24
Leaving August 30
A La Mala (2015)
From Paris With Love (2010)
Knight and Day (2010)
Leaving August 31
3:10 to Yuma (2007)
A Good Day to Die Hard (2013)
Abraham Lincoln: Vampire Hunter (2011)
At Any Price (2013)
Black Dynamite (2009)
Bless MeUltima (2013)
Blue Thunder (1983)
Bobby Jones: Stroke of Genius (2004)
Borat (2006)
Burlesque (2010)
Chasing Mavericks (2011)
The Comebacks (2006)
The Day After Tomorrow (2004)
Delivery Man (2013)
Due Date (2010)
Freddy Got Fingered (2001)
Get Him to the Greek (2010)
The Girl Next Door (2004)
The Good Shepherd (2006)
Gridiron Gang (2006)
Hall Pass (2011)
Hitman: Agent 47 (2015)
Hoffa (1992)
The Ides of March (2011)
Idiocracy (2006)
The International (2009)
The Interview (2014)
Jurassic Park (1993)
The Lost World: Jurassic Park (1997)
Jurassic Park III (2001)
The Marine (2006)
The Marine 2 (2009)
Mr. Deeds (2002)
The Newton Boys (1998)
Notorious (2009)
One Hour Photo (2002)
Out of the Furnace (2013)
Predators (2010)
Red (2010)
Red 2 (2013)
Role Models (2008)
Semi-Pro (2008)
The Shape of Water (2017)
Slackers (2002)
Spirit: Stallion of the Cimarron (2002)
Turbo: A Power Rangers Movie (1997)
Vice (2018)
Win Win (2010)
The X-Files: I Want to Believe (2008)
Everything leaving Max in August 2023
Leaving August 5
Hard Knocks: Training Camp with the Detroit Lions (2022)
Leaving August 12
A Very Venture Christmas (2004)
From the Ladle to the Grave: The Shallow Gravy Story (2011)
Leaving August 13
Thank You, Mr. President: Helen Thomas at the White House (2008)
Leaving August 28
Tokyo Revengers, both dubbed and subtitled versions (2021)
Leaving August 31
20 Feet From Stardom (2013)
3:10 to Yuma (2007)
93Queen (2018)
A Vigilante (2019)
Acts of Vengeance (2017)
Airplane II: The Sequel (1982)
Airplane! (1980)
Anger Management (2003)
Basic (2003)
Best of Enemies (2015)
Big Daddy (1999)
Blue Bayou (2021)
Brokedown Palace (1999)
Bullitt (1968)
Cobra (1986)
Deep Blue Sea (1999)
Demolition Man (1993)
Dolores Claiborne (1995)
Dragonball Evolution (2009)
Dunkirk (2017)
Eagle Eye (2008)
Enter the Dragon (1973)
Finding Forrester (2001)
Ghosts of Mississippi (1986)
Godzilla (2014)
Godzilla: King of the Monsters (2019)
Going in Style (1979)
Goodbye, Mr. Chips (1969)
Heist (2015)
Hellboy (2004)
Hellraiser III: Hell on Earth (1992)
Hellraiser IV: Bloodline (1996)
Hellraiser V: Inferno (2000)
Hellraiser VII: Deader (2005)
Hellraiser: Hellseeker (2002)
Hellraiser: Hellworld (2005)
Hot Tub Time Machine (2010)
House at the End of the Street (2012)
Hunter Killer (2018)
I Am Love (2009)
I Love You, Beth Cooper (2009)
Iris (2015)
Jackson (2016)
Jersey Boys (2014)
Johnson Family Vacation (2004)
Journey 2: The Mysterious Island (2012)
Journey to the Center of the Earth (1959)
Just Cause (1995)
King Kong (1933)
Lemon (2017)
Lethal Weapon (1987)
Lethal Weapon 2 (1989)
Lethal Weapon 3 (1992)
Lethal Weapon 4 (1998)
Letters to Juliet (2010)
Mad Max Beyond Thunderdome (1985)
Make Your Move (2003)
Miss March (2009)
Miss Sloane (2016)
Mona Lisa Smile (2003)
My Bloody Valentine (1981)
My Bodyguard (1980)
My Week with Marilyn (2011)
Netizens (2018)
Never Grow Old (2019)
Norma Rae (1979)
Outrage (2009)
Over the Garden Wall (2014)
Paparazzi (2004)
Ready Player One (2018)
Results (2015)
Robin Hood (1991)
Robin Hood: Prince of Thieves (1991)
RocknRolla (2008)
Rush Hour (1998)
Rush Hour 2 (2001)
Rush Hour 3 (2007)
School Life (2017)
Sinister (2012)
Sleepers (1996)
Slums of Beverly Hills (1998)
Squidbillies (2004)
Tangerine (2015)
Taxi (2004)
Teenage Mutant Ninja Turtles II: The Secret of the Ooze (1991)
Teenage Mutant Ninja Turtles III (1993)
Tequila Sunrise (1988)
Thanks for Sharing (2012)
The Accused (1988)
The Animatrix (2003)
The Big Hit (1998)
The Card Counter (2021)
The Cold Light of Day (2012)
The Crazies (2010)
The Pick-Up Artist (1987)
The Ring Two (2005)
The Sentinel (2006)
The War of the Roses (1989)
TMNT (2007)
Vampire in Brooklyn (1995)
What a Girl Wants (2003)
What Lies Beneath (2000)
Whip It (2009)
White God (2015)
Whitey: United States of America v. James J. Bulger (2014)
Wild (2014)
Wild Hogs (2007)
Woman Walks Ahead (2017)
Yogi Bear (2010)
More from Tom's Guide