Now that temperatures are dropping, our outdoor plants will also be feeling the chill this season. And if you have several beloved plants or homegrown vegetables in your backyard or balcony, you'll need to know when you should bring them inside for the winter.
If you don't bring them inside on time, the cold frost or severe weather could cause damage to plants. Common signs include wilted foliage, brown leaf edges or brown or crumpled foliage — in which case you'll need to learn how to save a dying plant.
Bear in mind, there are certain hardy varieties that can cope with winter temperatures, so do check whether your plants are suited to your USDA Hardiness zone.
So, if you want to protect your plants from frost, find out when you should bring your plants inside for the winter.
When is the best time to bring container plants indoors?
According to experts, the best time to bring plants inside is when the nighttime temperatures start to drop below 55 to 60 degrees F. While there isn't a specific day, it's usually around early autumn, or until after the last frost. Of course, this will depend on your location and seasonal changes.
Before bringing containers inside, it's important to debug your plants first. Check the soil for disease and for bugs such as mealybugs or spider mites that might infect other, surrounding houseplants. Experts recommend soaking the pots in lukewarm water for about 15 minutes to get rid of any bugs. Then thoroughly rinse plants to remove dust, debris as well as any hidden pests.
In addition, it's best to repot plants if they do have bugs, or if your plants have outgrown the original containers, before watering. Just avoid these 9 mistakes you make when repotting a plant.
How to care for your plants indoors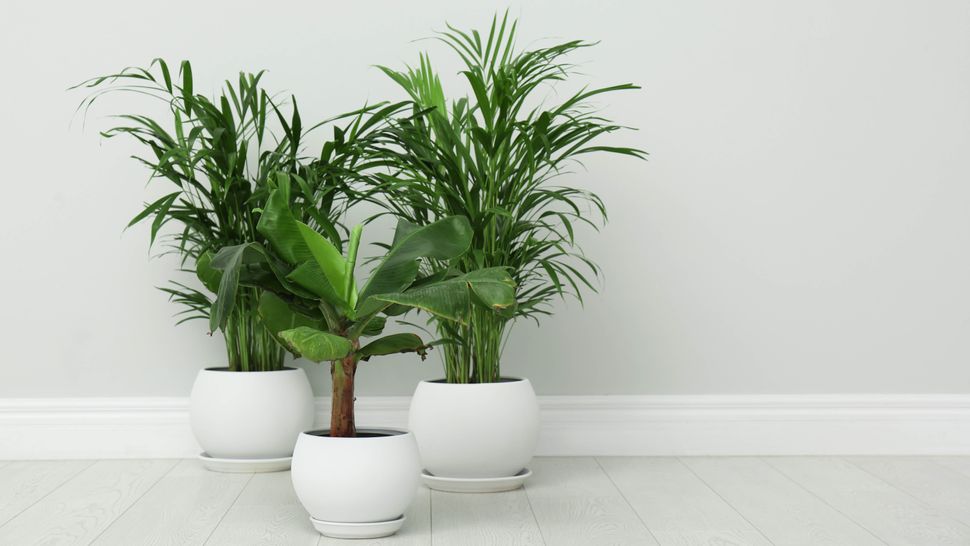 For plants that require more light, try and place them on or near a south-facing window, while those that don't, can do well in east or west-facing windows. Bear in mind that it might take a while for your outdoor plants to adjust to the new light conditions, however, you should start to see signs of new growth.
In addition, try not to water your plants as often as you would normally do. This is because the moisture will evaporate less quickly. It's also important to have good drainage for your containers to avoid the risk of root rot. Otherwise you'll end up with an overwatered plant to save.
Other things to consider are air circulation and conditions. This is especially the case if you have indoor heating, the air will become very dry for your plants. In which case, it might be worthwhile misting or placing a humidifier near houseplants. Also, reduce the use of fertilizer during winter months, as this may slow down its growth.
Which plants need to be brought inside?
Typically, the delicate perennials/annuals need to be brought inside during freezing temperatures. Popular plants include begonias, hibiscus, rosemary, succulents, geranium and citrus trees
Whereas, those hardy plants such as salvia, marigold, verbena and petunia are fine to leave outdoors for winter as these reseed and germinate for next season.
More from Tom's Guide