The Nintendo Switch is getting a bit long in the tooth these days. And while games like The Legend of Zelda: Tears of the Kingdom show there's still life in it, we can't help but wonder what the Nintendo Switch 2 could offer.
Disregarding the Nintendo Switch OLED refresh in 2021, there hasn't been any new Switch hardware in four years - ever since the introduction of the Switch Lite. Rumors of a Switch 2 or Switch Pro have been circulating for some time, with Nintendo remaining stubbornly quiet on the subject.
While portable gaming fans may argue the Switch is the king of the commute, competition is snapping at its heels. Earlier this week, Asus announced a ROG handheld and the Steam Deck is going from strength to strength.
So, what would a successor to the Switch look like? We can be all but certain it'll be another handheld system dockable to the best TVs. If Nintendo wanted to keep backwards compatibility with older Switch docks and joy-cons, the outward design of the Switch 2 may need to stick close to the original's prescribed formula.
That doesn't mean there aren't significant improvements needed for the Big N's next console. Here are the top 5 upgrades we need to see in the Switch 2
A more powerful chip and 4K resolution
All current Switch models run on the Nvidia Tegra X1 chip from 2015. Some rumors suggested Nintendo may drop the Tegra chip in future, but we think the company will stick with Nvidia rather than switch to AMD.
While both the Xbox Series X and PlayStation 5 use AMD chipsets, Nintendo has an established relationship with Nvidia. A custom Switch 2 chipset based on Nvidia's Orin system-on-a-chip (SoC) board makes sense. Nvidia would likely adopt the Ampere or Lovelace architecture used on its GeForce RTX 30 and 40-series GPUs to tailor the Switch 2 SoC towards gaming. Nvidia did announce its new Thor chip back in September 2022, but this has yet to come to the market.
A more powerful chipset in the Switch 2 brings obvious advantages to the gameplaying experience: better graphics, faster renders and support for 4K resolution. The latter isn't so much a desire as a necessity in modern gaming. We know the Switch is a handheld gem but if you want to play Nintendo games on one of the best TVs, then 4K is an absolute must.
We know Nintendo isn't looking to compete directly with PS5 and Xbox but when those systems offer full 4K at 120fps and HDR support compared with the Switch's 720p to 1080p resolution and 60fps frame rate limit, the writing's on the wall.
A more comprehensive online platform
Compared to the online services offered by Sony and Microsoft, the Nintendo Switch experience is lacking. This could be a serious area of improvement for Nintendo to coincide with the launch of a Switch 2. Unlike PSN, there are no free monthly games offered as part of the annual $19.99 basic tier, let alone the premium $49.99-per-year Switch Online + Expansion Pack offering. And while Nintendo has increased the amount of titles available for the latter since launching it in October, it pales in comparison to Microsoft's Game Pass.
There are currently 22 N64 titles available on the Switch Online + Expansion Pack service with new titles being added slowly. Even then, there are compromises. When Nintendo brings Pokémon Stadium to the service next week, it will be without the ability to transfer Pokémon into the game. A core feature of the original allowed players to move Pokémon caught on Game Boy onto the N64.
A more intuitive and valuable online platform could be a big draw if launched alongside a Switch 2, with the added bonus that existing Switch 1 players could benefit from it at the same time.
More robust Joy-Cons
Goes without saying, really. Issues with Nintendo's Joy-Con controllers have been well-documented for years and, as a result, the company will (in Europe) repair all devices affected — whether in warranty or not — for free.
Let's-a go! Go repair your Switch controllers, free of charge. We contacted Nintendo to address the recurring technical problem with irresponsive Switch controllers and they agreed to offer all consumers the right to repair, free of charge, even beyond the legal guarantee!April 4, 2023
When Nintendo unveiled the Switch OLED, it did so with a reinforced kickstand on the back of the console. When the Switch 2 does eventually break cover, we would expect to see some serious improvement in the durability and reliability of its best controllers.
Any form of Joy-Con drift on a follow-up Switch would be a death knell for the company. While president Shuntaro Furukawa acknowledged and apologized for the problem in 2020, it's still affecting Nintendo players three years later.
Faster Wi-Fi and 5G support
The Nintendo Switch launched with an older (therefore, cheaper) Broadcom BCM4356 chip for its Wi-Fi and Bluetooth connectivity. Although this supports Wi-Fi 5 (meaning you can access 2.4GHz and 5GHz bands from the best routers), it's highly unlikely an original Switch can hit the 866Mbps speed it's, in theory, capable of.
Improving the Wi-Fi performance for the Switch 2 could open the door to a multitude of benefits, not least the ability to stream games directly from the Switch Online service (providing that was even offered - see point 2) when in handhold mode. Adding Wi-Fi 6E or even Wi-Fi 7 support would cement the Switch 2's longevity as a home console and may also usher in more streaming media options alongside just gaming.
We could take this further. It would be hugely beneficial to see the Switch 2 arrive with 5G connectivity for when it's away from a Wi-Fi network. This would allow you to download games or updates, as well as access Switch Online when out and about. This, at the very least, seems like a no-brainer for the Switch 2.
Internal SSD storage
A direct consequence of shifting games to digital is the need for decent storage on a home system. The current Switch offers a paltry 32GB of eMMC flash memory, some of which is taken up with system requirements. If you want to store a decent library of Switch games digitally, you're going to need to invest in a microSD card. While eMMC and SD are cheap, they're also slow when compared to solid state drives (SSD).
When the Switch 2 comes along, it should do so with a significant amount of internal SSD storage. Such a move would drastically improve load times. The SSD used in the iPhone can transfer data at 3,500Mbps a second - significantly faster than the 400Mbps you'll see from an SD card.
A straight follow-on from the SSD would be an improvement over the Switch's 4GB of RAM (only 3.2GB of which is available for games). Nudging the memory up would give developers more opportunity to increase the scope and size of Switch games.
The trade-off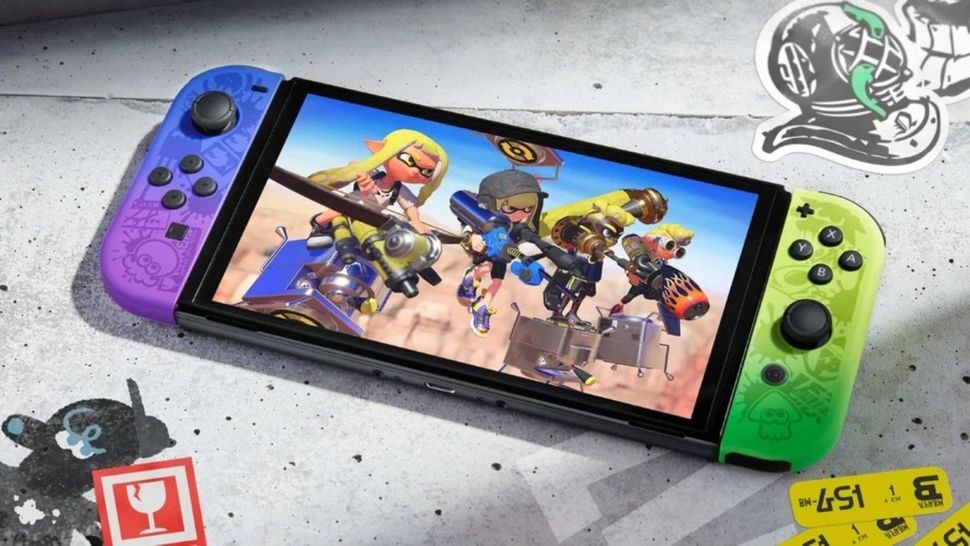 Of course, the trade-off with adding all these upgrades may be both an inflated price and a decreased battery life. Of the two, the latter is probably more important. The Switch currently offers a battery life of between 7 and 9 hours. That's longer than any other handheld system since the Game Boy.
Even if Nintendo could keep the battery life at that level for the next Switch, we'd consider that a win if all our other demands are met.
More from Tom's Guide