Prime Day deals have started, which means I'm checking my Amazon wish lists to see what's been discounted. Prime Day proper starts tomorrow (Jul 11) but I've already found a great deal on a product I've wanted for many months — and it's one I think you'll want to grab before the deal ends.
Currently, Amazon is selling the Belkin Belkin MagSafe 3-in-1 Wireless Charging Stand (2nd gen) for $127. With this, I can finally charge my iPhone 13 Pro, AirPods Pro and Apple Watch SE all on one device. Best of all, this is the cheapest price for this charger, which makes it a phenomenal deal to take advantage of.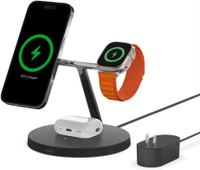 The Belkin Belkin MagSafe 3-in-1 Wireless Charging Stand provides a great space-saving solution for those who own an Apple Watch, AirPods and MagSafe-compatible iPhones like the iPhone 12, iPhone 13 and iPhone 14. It delivers up to 15W fast wireless charging for those phones, with its Qi charging base delivering up to 5W charging for your AirPods. Since the base is a Qi charger, you can technically charge any device with wireless charging — such as some of the best Android phones if you'd like.
Thanks to its magnetic connection, you can place your iPhone and Apple Watch on their respective chargers and rest assured they'll lock into place and get juice. While the magnets are powerful, you're still able to easily take your device from its charger with a single hand. An LED light also lets you know your Apple devices are safely and properly charging.
Another great perk is that this Belkin charger supports the new StandBy mode in iOS 17, which means you can get the time and access to widgets at a glance on your iPhone.
There are similar chargers on the market but I've had my eye on this one since it's officially licensed from Apple — which gives me peace of mind in knowing it'll play nice with my premium Apple products. Now that it's on sale, I won't need separate chargers for my Apple Watch SE, iPhone and AirPods Pro — which is great considering how I have limited space in my apartment. If you're in a similar situation or just want a single charger for your Apple devices, be sure to jump on this deal before it's over.