While there are plenty of excellent Prime Day TV deals happening right now, I think you should consider getting a projector on sale instead — specifically, one of my favorite projectors that's so good, it actually stopped me from buying a TV.
The XGIMI MoGo 2 Portable Projector is $299 at Amazon. It normally costs $399, so for Prime Day deals, you'll save $100 on a recently released model that's packed with all the features I think you're looking for out of a portable projector.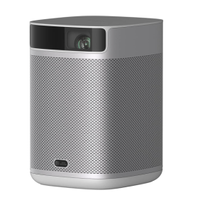 XGIMI MoGo 2 Portable Projector: was $399 now $299 at Amazon
Powered by 400 ISO lumens, the XGIMI MoGo 2 Portable Projector is a superb projector for the price. Not only does it project a screen up to 120 inches, but with the built-in smart TV interface, dozens streaming apps are ready to use. You could hook up your laptop or smartphone if you prefer, of course. Get it for an all-time-low price of $299 during Prime Day.
While a projector can't beat the picture quality and brightness of a TV, it gives you the flexibility to enjoy content in multiple places.
In my small rented bedroom, I didn't want to sacrifice wall space to mount a TV, so instead I use the XGIMI MoGo 2 Portable Projector on a portion of a blank wall when I want to watch my favorite shows. Then, I can take the projector outside for a backyard movie theater experience.
My favorite thing about this projector is that it has auto-focus and auto-keystone features, so there's virtually zero hassle to getting a good picture. Even when the projector is set up at a funky angle, it automatically positions the projection as an even rectangle.
The XGIMI MoGo 2 Portable Projector runs Android TV, so when connected to the internet, dozens of streaming apps are ready to use. I primarily watch Hulu, Amazon Prime Video, Apple TV Plus and YouTube on the projector, but I should note that not every major streaming platform is supported. That said, you can connect and mirror your laptop, tablet, and smartphone, too.
I doubt this deal will last past Prime Day, so if a portable projector sounds right for you, don't wait long.