As a fitness editor, I spend a lot of time testing the best running watches on the market, and one of my top picks — the Garmin Epix Gen 2 — just dropped in the Amazon Prime Day sale. The beautiful adventure watch is currently down to $699 on Amazon as part of its Prime Day sale.
The watch is one of Garmin's top-of-the-line running watches, with a bright, beautiful AMOLED screen to make following maps, and checking those all-important stats, that little bit easier. Compared to the likes of the Apple Watch Ultra, Garmin's Epix has the same impressive battery life we've known to love from the brand — this watch will last you up to 6 days with the display always on; and up to 30 hours in GPS mode. Now is a great time to buy, and this is the cheapest I've seen the watch.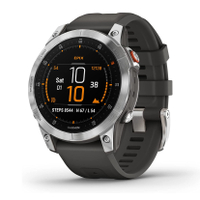 Garmin Epix Gen 2: was $999 now $699 @ Amazon
The Garmin Epix Gen 2 is currently 30% off in the White Titanium version. The Slate Steel version is also on sale, but is slightly more expensive at $799. The watch only comes in one size, and that's a 1.3 inch screen, but the larger watch looks beautiful, and like all Garmin watches, you can swap out the strap for a silicone or leather one. This deal won't be around for much longer.
Price check: $899 @ Best Buy I $899 @ Walmart
The Garmin Epix Gen 2 frequently tops my list of the best Garmin watches and the best running watches you can buy. Garmin recently upgraded the watch, releasing the Garmin Epix Pro, which comes in three different sizes and has a built-in flashlight, and a new heart rate sensor. Apart from this, the two watches are pretty much identical — you can read more in our Garmin Epix 2 vs Garmin Epix Pro face-off here.
The Garmin Epix 2 has a 1.3-inch AMOLED screen, with 1,000 nits brightness. It's also bright and easy to read in direct sunlight. The Epix 2 is very like most of the best Garmin watches, with three buttons on the left, and two on the right. While it has a touchscreen, Garmin automatically disables the touchscreen in most workout modes, and should you wish, you can ignore the touchscreen entirely.
Of course, one of the main reasons you buy a fitness tracker or running watch is to track your training. The Epix 2 will track the basics, including your steps, calories, in-depth sleep analysis, VO2 max, heart rate, and body temperature. It also has Garmin's advanced training metrics, including Body Battery and Recovery Time that help you get a better understanding of how your body is coping with your training load, and these features really are brilliant.
If you take a long-haul flight a couple of days before your marathon, the Garmin Epix 2 will indicate you need more recovery time, or show a depleted Body Battery, and a bad sleep score will tie into other metrics on the watch.
The bottom line is that this is an excellent deal on a really premium product. Garmin is great at rolling out software updates, meaning the Epix 2 will have all of the latest features, even though it's not the newest watch. Read our Garmin Epix 2 review here to find out more, as well as our Garmin Epix 2 vs Apple Watch Ultra face-off.
Not for you? Check out the team's favorite Amazon Prime Day deals here.