Only a day to go until Prime Day, but early deals are already showing great discounts. One category, which I myself like to keep an eye on, is robot vacuums. Having tested the latest technology, I know how expensive the best robot vacuums can get — but, during Prime Day robot vacuums can drop to the lowest prices we've ever seen.
Of course, you shouldn't just buy a robot vacuum based on price alone. It's a waste of money if it can't perform at the end of the day. You need a robot vacuum which collects all traces of dirt, debris and hair in a single pass, and yet manages to navigate its way around your home without issue. It shouldn't be crashing into the walls or delicate furniture as it follows its route, but it should reach well into the corners and against baseboards. If there's a mop function available, it should leave streak-free results behind.
But, how can you tell you're getting all that? The truth is you can't — not without trying the product for yourself. That's where we can help. We've tested a wide range of robot vacuums, from entry-level models all the way to premium designs to find those that deliver in every respect. And because it's almost Prime Day, we've kept a close eye on the sales to see where you can get the best of both worlds. So if you want a great price as well as a robot vacuum you can rely on, these are the deals I'd recommend.
If you still want to see what else is out there, check out our Prime Day robot vacuum deals page for more options.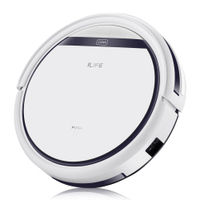 iLife V3s Pro: was $159 now $99 @ Amazon
The iLife V3s Pro took the top spot as the best robot vacuum for pet hair, and right now you can get it for less than $100. That's a great price for an outstanding performer. It collected 99.5% pet hair and achieved an overall pick up score of 97% in our tests. So, whatever it encounters, it will collect in one swoop. True, it lacks some of the smarter features you get with more premium offerings. But, considering what it brings to your floors, there's little to complain about. Check out our iLife V3s Pro review for more info. This is also the cheapest price we've ever seen for this model.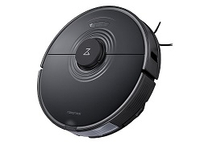 Roborock S7: was $649 now $359 @ Amazon
The Roborock S7 is the best hybrid vacuum/mop we've tested. Usually, we would recommend sticking to independent machines, but this is a rare exception. It has a good vacuum removal rate, scoring 93% overall in our tests. Plus, when the time comes to mop, it achieves good coverage and leaves spotless results behind. A self-emptying base is available if you want to pay extra for the s7+ model. Check out our full Roborock S7 review for more, and remember to click the on-page coupon to get this discount.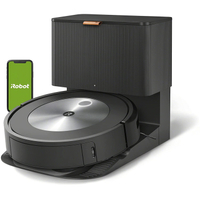 iRobot Roomba j7+: was $799 now $649 @ Amazon
If you want the latest technology, but don't want to break the bank, this is a deal worth your consideration. What separates the iRobot Roomba j7+ from the crowd is its intelligence. With built-in object recognition, it can learn and report on its encounters. In fact, iRobot has introduced a Pet Owner Official Process, (P.O.O.P), which guarantees a replacement should it fail to avoid pet waste. So, you don't need to worry about messy accidents with one of these cleaning your floors. Check out the iRobot Roomba j7+ review for full details on its performance — it was particularly impressive with large debris.
How do we test robot vacuums?
Testing robot vacuums is by no means a straightforward process. Each model has to collect measured amounts of Cheerios, kitty litter and pet hair from both hard floors and carpet. This is so we can assess how it copes with various sizes of debris across different surfaces. We then let it work its way around our home, to check the overall coverage and accuracy of navigation, considering the noise as it goes. If there's a self-emptying base included, we try this out as well — some of these can be as loud as a full-size vacuum.
If no base is included, we empty and refit the dust bin to check for ease of use — we don't want to see the majority dispensing into the atmosphere in the process. We take the design of the app into consideration too; it should be easy to navigate and straightforward to control the robot vacuum from. Finally, if a mop is included, we let it make the finishing touches to our floors, checking how well it picks up spills and stains and the quality of finish it leaves behind. Needless to say, our winners need to earn their positions in our buying guides. So if one does happen to go on sale, it's worth your attention. That's why we've highlighted the above Prime Day robot vacuum deals.