I've been reviewing video games since 2006 — a fact that makes me feel decrepit. In all that time, I can safely say GTA 5 is the best one I've ever played. So it's handy that Rockstar's open-world masterpiece is now half price in a tempting Prime Day deal.
If you're quick, you can buy GTA 5 for $19 at Amazon. This deal covers both the PS5 and Xbox Series X versions of the Los Santos-set classic.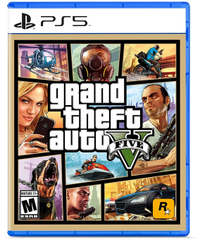 Grand Theft Auto 5: was $39 now $19 @ Amazon
This open-world game is set in Blaine County; Rockstar's take on a fictional California. Over the course of its campaign, you take on the role of three low level criminals who end up becoming unlikely allies during increasingly elaborate heists. Away from its single-player action, the GTA Online side mode has become widly popular over the years.
Other retailers: $19 @ Walmart
Rockstar remade Franklin, Michael and Trevor's sandbox for the next-gen consoles last year, and the developer did a mighty fine job. Originally released all the way back in 2013 for PS3 and Xbox 360, the recent remaster sees GTA 5 running at 4K resolution at 60 fps. You can even play the game with ray tracing enabled in the RT Performance mode.
I can't believe I'm trying to convince people to take a 'chance' on GTA 5 in 2023. After all, this is one of the five best-selling video games of all time. In the world of fiction, only a couple of movies involving Iron Man punching a large purple person have come close to making as much money as Grand Theft Auto 5 during the last decade.
As I found out recently though, there are some PS5 and Xbox Series X owners who have yet to sample GTA 5 including three of my friends here in the UK that bought PS5s during the pandemic.
Over the course of the last couple of years, I've walked them through 20 years of gaming classics — BioShock! Batman: Arkham Asylum! Shadow of the Colossus! — that are all playable in some form on Sony's latest console. For context, these are pals who haven't picked up a controller since the PS2 era.
Naturally, GTA 5 and its online spin-off GTA Online came up in the conversation. Ever since I convinced them to buy the game during a PlayStation Store sale, we've steadily been plugging our way through various criminal Blaine County pursuits on Thursday evenings.
First we were briefly obsessed by its surprisingly good golf mini-game, then we tried our hands at some wave modes and right now, we're dipping our toes into GTA 5's online heists for the first time. It's generally been a ball, but oh boy could Rockstar ever simplify the game's needlessly cluttered online matchmaking menus.
Prime Day sale or not, Grand Theft Auto 5 has given me some of my favorite ever gaming memories. As much as I love its online mode, I cherish its single-player campaign even more. Over the course of 69 expertly judged missions, this sandbox opus plays out like a slapstick version of Michael Mann's 1995 movie Heat. I'm so obsessed with it, I've completed the game on PS3, PC, PS4 and most recently, PS5.
Yes, I clearly have way too much time on my hands.
If you're in the mood for more gaming discounts, be sure not to miss our best Prime Day PS5 deals and best Prime Day Xbox Series X deals.