The 11 Best Galaxy Note 10 and Galaxy Note 10+ Cases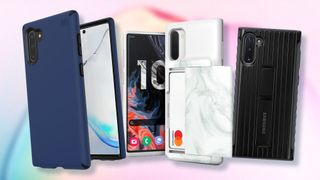 Best Cases for Galaxy Note 10 and Note 10+
The Galaxy Note 10 and Galaxy Note 10+ are officially coming on Aug. 23, promising killer performance; gorgeous, bezel-free displays; and stunning new camera features. And with screen sizes of 6.3 inches for the Galaxy Note 10 and 6.8 inches for the Galaxy Note 10+, they'll certainly take up some room in your pocket or bag.
But with big, premium designs comes a risk of damage. And if you're ready to fork over $949 or more for a new device, you'll want to keep it safe.
So, we've compiled the following list of the best Samsung Galaxy Note 10 and Galaxy Note 10+ cases. From slim to ultraprotective, these cases will keep your smartphone safe.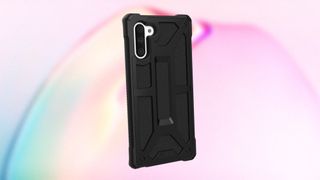 UAG Monarch Series
UAG's Monarch Series is one of the company's more popular case options. It comes with five layers of protection to reduce chances of dings and scratches and has both leather and metal hardware components. According to UAG, the case provides twice the level of protection as the requirements for military drop-test standards, and it comes with a 10-year limited warranty. Best of all, it works with both Samsung Pay and Samsung's Fast Wireless Charging.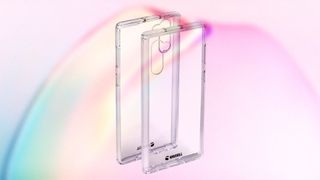 Krusell Kivik Cover
If you're looking for a case that doesn't detract from the Galaxy Note 10's unique design, consider picking up the Krusell Kivik Cover. The case has a clear finish, so you can see the phone's design, as well as a combination of TPU and scratch-resistant finishes to reduce the chances of damage. The Kivik isn't a bulky case, so it works fine with wireless charging. It even comes with a lifetime warranty.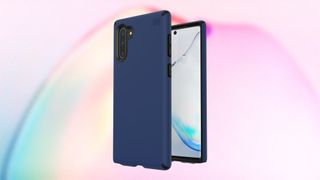 Speck Presidio Pro
Speck's Presidio Pro is a thin case that provides plenty of protection. It has a soft finish and matte design to reduce scratch concerns. And with a raised bezel around the screen, it should keep the display safe if you drop it flat. Additionally, Speck's case comes with a 13-foot-drop protection guarantee and has a Microban feature for killing bacteria that might otherwise build up on the case.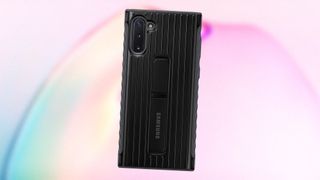 Samsung Rugged Protective Cover
Looking for an official case from Samsung? Consider the company's Rugged Protective Cover. The case has a reinforced design to protect it from drops and dings. It's a little on the bulkier side, so it might add some heft to the case in your pocket. Samsung also noted that removing the case will improve wireless charging, so keep that in mind. But with a kickstand on the back that's designed to help you watch programming without holding your phone, it's a compelling option.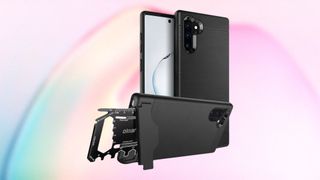 Olixar X-Ranger
If you're someone who plans to take your Galaxy Note 10 into rugged terrain, you might want to consider the Olixar X-Ranger. The case has a rugged finish for keeping your phone safe and a kickstand, so you can prop up your phone whenever you want. But arguably its most important feature is a "multi-tool" built in, which can act as everything from a screwdriver and knife blade to a butterfly wrench and saw blade. If it's the one-stop shop of cases you want, the Olixar X-Ranger is the way to go.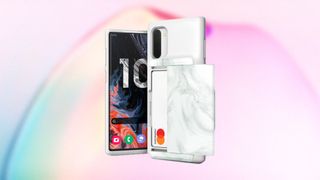 VRS Design Damda Glide Shield
VRS Design's Damda Glide Shield has a marble design and a smooth, glossy finish to make it look decidedly unlike most other cases. It has built-in shock absorption and a special component on the back to protect the rear cameras. The case also has another compartment on the back to house your credit card for easy access. It even works with wireless chargers.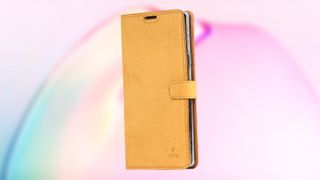 Snakehive Vintage Leather Wallet
Snakehive is all about leather. And if you want a case that has a folio design to protect your screen, the Snakehive Vintage Leather Wallet is for you. It has a cowhide nubuck leather design with a latch that ensures the case remains closed. You can use it to cover the device's screen and wrap around the Galaxy Note 10 when the case is closed. When it's open, you can store everything from credit cards to cash in the folio case, making it an all-in-one solution.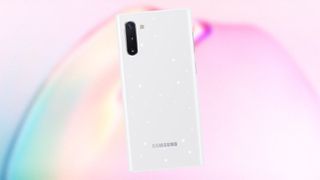 Samsung LED Back Cover
Another Samsung option, the LED Back Cover case, is a great choice for anyone who never wants to miss a notification. The case protects your smartphone, of course, but its chief feature is an LED backplate that drives notifications from the phone to your case. So, if you have your phone screen down, you can see notifications from the phone displayed on the back of the case. Aside from that, the case shows mood lighting and even gives you a countdown so you know when the camera will take your picture.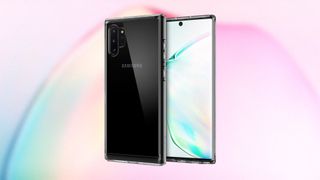 Spigen Ultra Hybrid Case
The Spigen Ultra Hybrid Case is all about providing a balance between protection and good looks. The case does that by delivering a clear finish, so you can still see the smartphone's design through the protective layers. The case itself has what Spigen calls a "rigid back" to make it last longer, and its military-grade certification means it should hold up fine when you drop it. The Spigen case works with both wireless and reverse charging.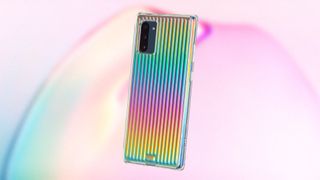 Case Mate Tough Groove
If you want something a little more colorful in your life, look no further than the Case Mate Tough Groove. The case has a rugged finish to keep the Galaxy Note 10 safe, but the grooves on the back are rainbow-colored, which creates an iridescent effect unlike any other case in this roundup. The case has 10-foot-drop protection and uses a tactical surface to reduce the chances of it slipping out of your hands. And like many other cases in this roundup, it works with wireless chargers.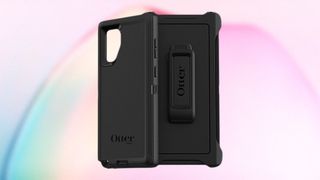 OtterBox Defender Series
This case wraps around Samsung's smartphone and has an inner hard shell and outer slipcover to protect the device. It also features a holster, so you can clip the phone to your belt. Best of all, it features port covers to reduce the chances that dirt or dust will build up inside the smartphone.