Is the Tesla Model 3 worth having? If you're enthusiastic about joining the growing army of Tesla owners, or simply just keen to own an electric car, the Tesla Model 3 makes a great place to start. This is the lower key model that comes with a price tag that won't break the bank. The Tesla Model 3 is sensible, unremarkable even, but it's still pretty decent.
Tesla Model Y: Specs
Release Date: Available now
Price: From $35,690
Power: Dual motor, AWD
Battery range: 353 miles
0 to 60 mph: 5.3 seconds
Smarts: Autopilot, Optional FSD Autopilot upgrade, Tesla Premium connectivity
At the same time, the Tesla Model 3 also gives you a taste of what the fuss is all about, and with buying into this brand you also get access to the Tesla charging network. That's always going to be a bonus, especially if you've got previous experience of charging EVs. Convenience and speed are everything, and Tesla superchargers offer both.
While increasing numbers of us are ditching traditional four-door sedans in search of something higher and with plenty of SUVs to choose from Tesla's Model 3 might not look like an obvious choice. However, it's decent value, has plenty of range, can handle fast charging and packs in performance to boot. Let's take a look under the 'frunk' and see what's on offer.
Latest Tesla Model 3 news (updated July 20)
Tesla Model 3: Price and availability
The Tesla Model 3 is the 'entry-level' model as it's the cheapest model the company currently produces. Parting with $35,190 gets you a 'Standard Range Plus' model, minus many of the frills found on cars higher up the model list. There's a Long Range edition, which costs $44,190, but you'll need to shell out $52,690 if you want to own the decidedly peppy Performance model.
The Tesla Model 3 is by no means a newcomer to the product line. It's been around in production form since the middle of 2017, but has since gone on to become hugely popular around the globe. In fact, it enjoyed a status as the world's top selling plug-in electric car between 2018 and 2020. By the end of 2020 it also gained the accolade of the best-selling electric car in history.
The Model 3 is now built at both Tesla's Fremont manufacturing facility in California as well as the company's Gigafactory in Shanghai, China.
Tesla Model 3: Power and performance
You'll be able to expect solid performance and a decent amount of power from the Tesla Model 3 and that includes the Standard Plus model. All cars in the Model 3 range feature twin motors, with the Standard having just two-wheel drive. The Long Range and Performance cars gain all-wheel-drive, which means the power delivery is more dynamic and the driving experience that little more thrilling.
Nevertheless, even in its base-level guise the Standard Model 3 gets you a Tesla that'll do zero to 60mph in just 5.3 seconds, with icing on the cake provided by a 140mph top speed. The Long Range car delivers 0-60mph in 4.2 seconds while the Performance edition does the same in just 3.1 seconds. Top speed increases with each model too, with the former achieving 145mph and the latter an impressive 162mph.
Tesla Model 3: Battery and range
The Tesla product portfolio is well known for boasting cars with impressive range capabilities and the Model 3 is no exception. It obviously depends on the model you choose and the amount of money you want to spend. Nevertheless, a Standard Range Plus Model 3 has a range of 263 miles with power coming from a 52kWh battery
Newer cars, like the 2021 Long Range and Performance models come fitted with an 82kWh battery pack. That means you get much more range with 353 and 315 miles on offer respectively. Another benefit with a Tesla is the supercharger network for when you're out on the road and need to replenish the car's battery. Lookout for Tesla's 250kW superchargers, which can recharge the Long Range and Performance models pretty quickly.
Tesla reckons the Model 3 can achieve 175 miles of range with just a 15-minute charge, using the high-powered charging outlets. However, the Standard Range Plus Model 3 will take longer as it's limited to using a 170kW charging speed. That should get you around 118 miles in 10 minutes or so, which still isn't bad. Tesla's Supercharger network currently numbers 25,000 worldwide, which is impressive and growing all the time.
Tesla Model 3: Design and interior
Viewed from some angles the Tesla Model 3 is often mistaken for other models in the range, like the Model S and the Model Y. There are similarities, but the consistency helps to keep a common design theme between the cars.
Current Model 3's have been honed slightly now that the car has been around for a few years, with distinctive 20-inch so-called Uberturbine Wheels and beefier brakes adding a fresh edge. The carbon-fiber spoiler also has a job to do on the high performance models.
Inside the Tesla Model 3 it's all pretty minimalist as is the brand's style. The full glass roof is a cool touch without doubt, while gaining access to a Model 3 using your smartphone as a key makes sense too if you're rarely parted from your cell.
Tesla Model 3: Tech and safety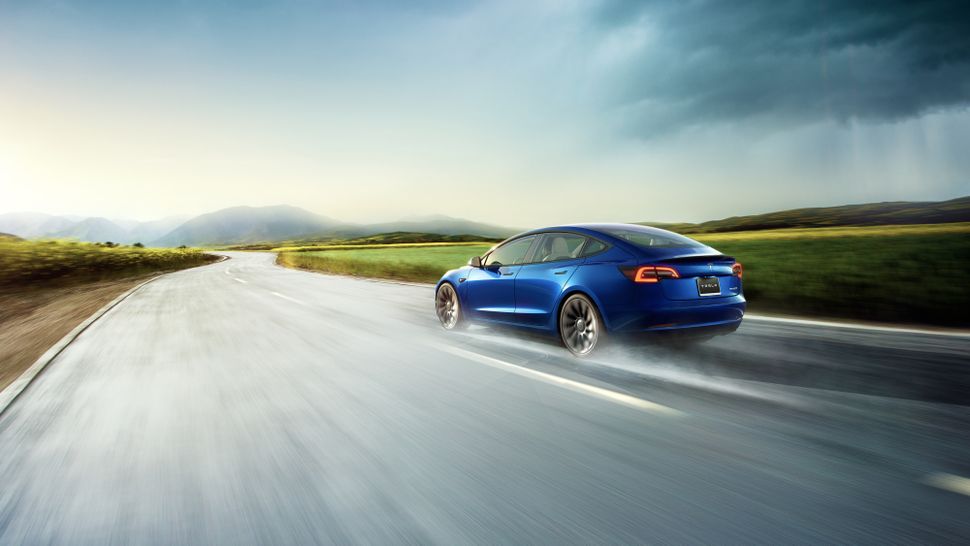 If you're buying into the Tesla brand then chances are you'll be all set for the on-board tech that comes in a Model 3. For day-to-day convenience the connectivity delivered by the car is largely excellent, with a dynamic range of live traffic and satellite-view maps helping you get from A to B. The Tesla Model 3, like the other cars in the range, is dominated by the 15-inch touchscreen display, which benefits from over-the-air software updates.
The Tesla Model 3 also sports video and music streaming, the slightly bonkers in-vehicle 'Careoke' option plus an internet browser. While you'll get one year's free internet access on the other models, the Standard Range edition only offers a miserly 30 days of free access.
Elsewhere, there are 360-degree rear, side and forward facing cameras. Teslas are well-known for their Autopilot feature too, which can offer the driver a wealth of supplements such as basic autonomous steering along with acceleration and braking.
Collision warnings and blind-spot alarms add to the everyday practicality of the system, while those who feel ready for it can also choose the Full Self-Driving package. Note, however, that this is not a complete Level 5 autonomous driving solution, although features such as automatic lane changing and parking are impressive nonetheless, even though they've been around for a while now.
Elon Musk has also confirmed that the 'Auto Shift out of Park' feature, which lets the Tesla Model S (and soon Model X) automatically shift from park into drive or reverse will not be exclusive for long. He says it will come to all Tesla cars with FSD capabilities, which includes the Model 3. However, Musk did not specify a timeline on when it might occur.
When it comes to safety considerations the Tesla Model 3 has also achieved a 5-star overall NHTSA rating and boasts 12 ultrasonic sensors that compliment the rating. The system helps to detect other cars nearby, potential collisions and also assists with parking chores.
Tesla Model 3: Outlook
The Tesla Model 3 has had a good run so far in terms of sales and continues to prove popular with buyers around the world. However, following Tesla's decision to omit radar sensors from Model 3 and Model Y cars built after April 27, public opinion of the Model 3 appears to have been dented slightly. Indeed, according to Consumer Reports the car is no longer featuring the Tesla Model 3 as a Top Pick.
Tesla has removed the radar sensor tech and is replacing it with a camera-focused Autopilot system in the North America. The knock-on effect of that, according to the US manufacturer, is that some of the driving aids might have limited functionality. However, the automaker maintains that these will be addressed via software updates in the very near future.