CES 2016 Day 3 Wrap: Best 14 Stories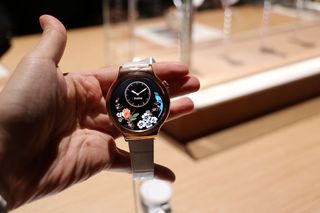 CES 2016 Day 3 Wrap: Best 14 Stories
On the third day of CES 2016, gadgets seemed a lot more pragmatic, yet incredibly innovative. Somehow, MSI managed to slice a few tenths of an inch off the GS72 Stealth's profile, making it the thinnest 17.3-inch laptop in the category. Meanwhile, to help Twitch gamers simultaneously play and broadcast live gameplay, CyberPower squeezed two PCs into one massive desktop tower.
In cameras, a new gadget from Vuze is the cheapest device yet to capture 360-degree 4K video for use in VR headsets. And in sports, a fitness sensor from Lumo gives runners unprecedented levels of data on their jogging form.
Believe me when I say Day 3 of CES 2016 was the best day yet for innovative new tech. Here's all the clever gadgetry we saw yesterday.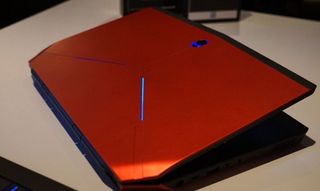 Alienware 13's Bright OLED Display
The Alienware 13 gets updated with premium OLED screens that, as our Street Fighter IV demo foreshadowed, will add inky blacks and crisp, cutting colors to some of the industry's best gaming laptops. Typically, OLED costs a premium, but look for the souped up Alienware 13 with OLED to start at $1,449.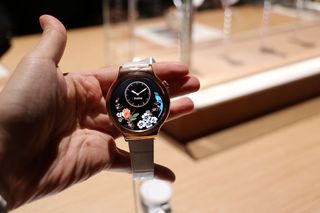 Huawei Watches Make Calls
Huawei's new set of smartwatches, the $500 Elegant and the $600 Jewel, each house a speaker and a microphone to make live phone calls from your wrist. The Jewel comes swathed in Swarovski crystals, and both devices wear thinner 18mm bands for a more charming, classy fit.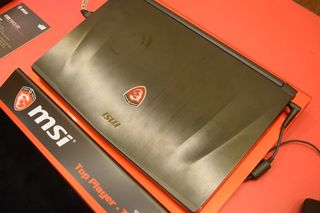 MSI GS72 Stealth Gets Skinny
All the goods that make the MSI GS72 Stealth special remain: black brushed-aluminum chassis, full-size SteelSeries keyboard, Nvidia GeForce GTX 970 graphics card. Now it comes in a slim, 0.78-inch profile, making the Stealth the sleekest, slimmest 17.3-inch gamer on the market.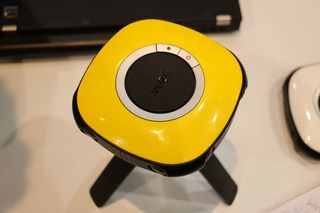 Vuze VR Camera Shoots 360-degree 4K Video
Want to develop your own content for the Oculus Rift, Gear VR or HTC Vive? The Vuze VR Kit records 360-degree video at a max 4K resolution, and because Vuze's device boasts the lowest price point for stereoscopic, full-panorama video, you'll pay only $800.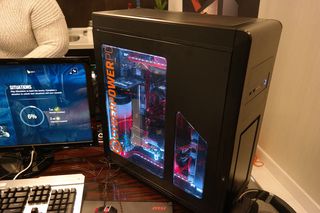 The Desktop for Twitch Streamers
Gamers who broadcast gameplay to YouTube and Twitch often use one PC for gaming and another for streaming video. The hefty Pro Streamer system fits two desktop PCs into one tower — that's two motherboards, two graphics cards and two storage bays — so that game broadcasters can stop stressing lag and start stressing wins.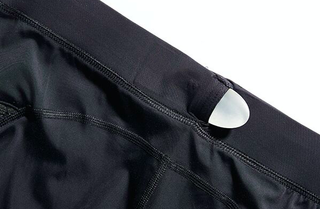 Lumo Run Shorts Track Your Form
Inside Lumo's Run shorts, and Run capris for women, sits a small sensor about the size of a quarter that tracks tons of performance data. Lumo's bottoms can tell if you bounce too high as you run, if your stride is uneven, or if your pelvis turns awkwardly while you're beating the pavement.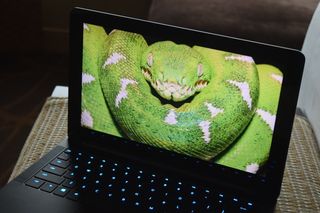 Razer Blade Stealth Gaming for Less
The $999 Razer Blade Stealth includes a Core i7 CPU, a 4K display with an amazing 3840 x 2160-pixel display and a Chroma keyboard with individually backlit keys. What you don't get is a GPU. That piece of the puzzle resides in Razer's Core graphics amplifier.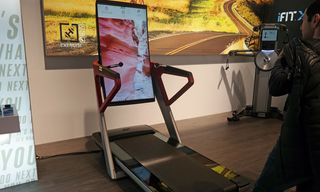 Nordic Helps Treadmill Runners Escape
Runners on treadmills get bored, so NordicTrack's Escape Treadmill uses a 60-inch, curved OLED display to show runners lush outdoor trails via Google Maps Street View as they work out.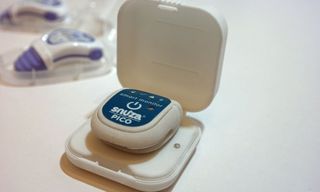 Snuza Pico Tracks Babies' Fitness
A new wearable for babies, the Snuza Pico clamps to diapers and alerts parents to changes in sleep position, skin temperature and even abdominal movements. The company plans to launch a $9.99 per month subscription service for the little guy that will supply you with monthly reports.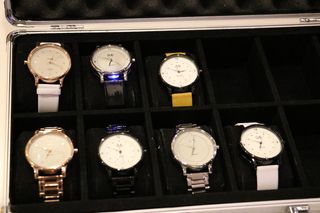 Martian Kindred VIP: Subtle Smart Watches
Though they house accelerometers for fitness tracking, each watch in the Martian Kindred VIP collection wears an "old-fashioned" analog face. Since there's no touch screen, Martian's new wearables use a small LED light at the 6 o'clock position to indicate new notifications on your smartphone.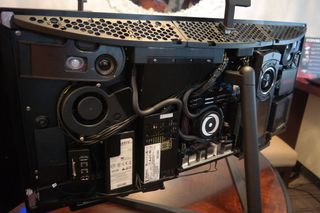 Origin Omni Curvy and Customizable
The Origin Omni has just one spec written in stone and that's the 34-inch curved display with a killer ultra-wide 3440 x 1440-pixel resolution. The jet-black all-in-one PC's remaining components are all customizable, that includes the webcam (a handy USB port sits atop the monitor to hot-swap cameras) and the graphics processor (available up to the almighty Nvidia Titan X).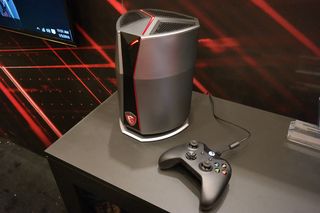 MSI Vortex: 4K Gaming for the Den
Meet the mini — but still mighty — MSI Vortex. We know this tiny gaming desktop looks like a "futuristic coffee pot" but the hardware it hides makes it a frame-rate domino for the living room, one that kicked out immaculate 4K game play of The Witcher 3 at visual levels we'd never see on an Xbox One or a PS4.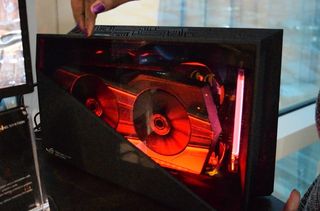 ROG XG Station Amplifies Asus Graphics
The Asus ROG XG Station 2 adds max-quality gaming graphics to any Asus laptop with a USB Type-C port. Though the XG Station 2 is a bring-your-own-GPU party, we expect it to support any AMD or Nvidia card, including the top-of-the-line Titan X.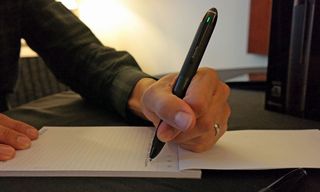 Livescribe 3 Takes Notes to the Future
The most notable changes in the Livescribe 3 Black Edition are its striking good looks. The pen still digitizes your notes as you write them, as well as syncs audio notes to that digital file. But what we loved most was its shell of covered metal and plastic, its pen clip of glass-reinforced plastic and its new-and-improved smooth writing experience.