5 Reasons to Buy a Moto G6 (and 2 Reasons to Skip)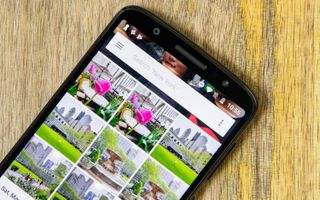 A closer look at Moto's bargain phone
Maybe you busted up your current phone and you need a quick replacement. Or maybe you need a cheap device for a young person in your life or you haven't got a ton to spend. Hell, maybe you just don't think phones need to cost upward of $700. If any of those statements apply to you, the Moto G6 is the perfect budget handset for you, thanks to its swift performance, thoughtful approach to ergonomics and practical, modern software — all for the low, low price of $249.
Of course, given that price, the Moto G6 requires you to make a few compromise. However, it's also as close to perfect a phone as we've seen in this price range. Here is a slew of reasons you should make the Moto G6 your next handset, along with a few reasons you might want to be wary before you buy. (Photo Credit: Tom's Guide)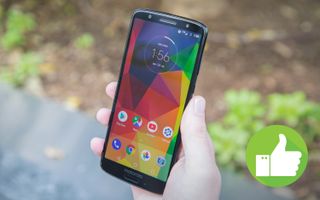 Comfortable, compact design
The Moto G6 hits a sweet spot for size that most phones don't. The 5.7-inch display is plenty large, but because of the thin bezels at the top and bottom, the overall footprint is very compact. Motorola impressively found a way to shoehorn a slim fingerprint sensor right below the screen. That's more convenient than a rear-mounted scanner, because it can also be used for gesture navigation. Add to that the device's rounded edges and Gorilla Glass curved back, and the Moto G6 is phenomenally comfortable to manipulate in one hand. Still, it offers the largest-possible display to help you work and play harder than you can with other, similarly priced budget offerings, like the Nokia 6.1. (Photo Credit: Tom's Guide)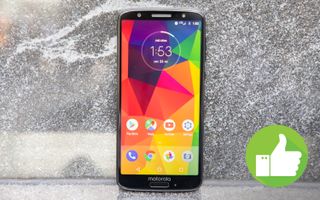 Large, sharp 18:9 display
We're finally starting to see 18:9 displays trickle down into less-premium handsets. That's a great thing, because you shouldn't have to pay top dollar for an immersive viewing experience. The Moto G6's 5.7-inch, 2160 x 1080 LCD panel equals the pixel density and color reproduction you find in a lot of higher-end LCD-powered devices, even though this phone costs a third of the price of your average Android flagship. At 413 nits, the G6's screen is not the brightest — though those who like their colors more saturated than realistic can opt for the Vibrant display setting on the phone for delightfully vivid photos, videos and games. (Photo Credit: Tom's Guide)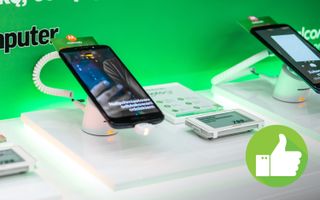 Low price
Motorola's G-series handsets have always been rather cheap, but given the new features offered with each passing generation, the Moto G6 is probably the company's best buy yet. At $249, the device offers a number of perks you wouldn't expect to see in such an inexpensive phone. We've already discussed that display, but then there's the inclusion of NFC for Google Pay contactless transactions, a dual-lens rear camera that can capture shallow depth-of-field portraits, a USB Type-C port for the latest accessories and fastest-charging adapters, and a loud and clear bottom-firing speaker. The Moto G6 is also one of a very limited number of unlocked phones that works just as well on CDMA networks, like Verizon and Sprint, as it does on GSM carriers, like T-Mobile and AT&T — making this phone the perfect cheap handset for just about anyone. (Photo Credit: Shutterstock)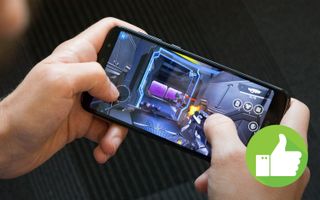 Great performance for the money
OK, I know what you're thinking: The Snapdragon 450 processor inside the Moto G6 doesn't sound terribly powerful. The thing is, Qualcomm's latest entry-level chipsets actually perform just as well as last year's 600-series chips, one of which powered the G5 Plus. That translates to the same speedy performance as before, only with 3GB of RAM as standard unlike the 2GB in the older model, for better multitasking. The result is a budget handset that can more than hold its own for everyday users and even run some moderately demanding games surprisingly smoothly. (Photo Credit: Tom's Guide)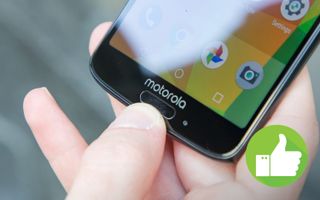 Quality software experience
You can rarely go wrong with the software in Motorola's phones, and the G6 is a prime example of why. Rather than bogging down the experience with bloatware, useless gimmicks and ugly stylistic changes, the Moto G6 keeps Android fast, light and faithful to its roots. The device launches with Android 8.0 Oreo, improved with some thoughtful gesture shortcuts and quick actions that are as satisfying to use as they are time-saving. Many other Android experiences are just frustrating by comparison. (Photo Credit: Tom's Guide)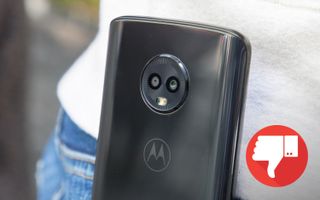 Cameras aren't the best
For all the Moto G6's flagship-features-for-less ambitions, the simple fact is that good smartphone cameras are expensive. And Motorola's attempts to sidestep that reality with clever software work just about as well as they do on the phone's budget competitors — which is to say, not very.
The Moto G6's dual 12- and 5-megapixel rear sensors capture reasonably crisp shots but often exhibit oversaturated hues and wonky white balance. The Portrait Mode offers nowhere near the quality you get from high-end handsets, like the iPhone 8 Plus or Pixel 2. And although we appreciate that Motorola gifted the G6 with object recognition for search purposes, the company's own Smart Camera technology is much slower and provides less-accurate results than Google Lens. Strangely, even though Google Lens is available in the G6's stock Google Photos app, it's not present within the camera. (Photo Credit: Tom's Guide)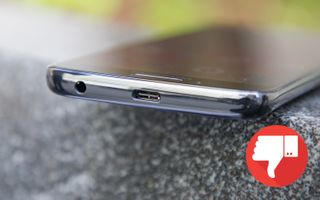 Not the longest battery life
Despite the G6's more efficient Snapdragon 450 silicon and 3,000-mAh battery, we were surprised to find that this phone lasted just 9 hours and 25 minutes in our proprietary battery test. That's 23 minutes less than the smartphone average and more than 2 hours less than the G6's predecessor, the Moto G5 Plus, which employed a power pack of the same size. There's really no reason for the speedier drain, and other new budget options, like Nokia's Android One-powered 6.1, will last you longer on a charge. At least the Moto G6 can top up quickly again, thanks to Quick Charge technology. (Photo Credit: Tom's Guide)