CES 2010: Television Bonanza!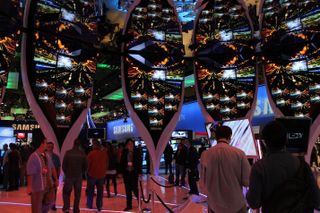 Introduction
CES 2010 is a giant event, taking up all three halls of the Las Vegas Convention Center. This year, the Central Hall was almost entirely dominated by TV manufacturers. Sure, Samsung, LG and Sony had plenty of other tech wares to show off, but their centerpieces were most definitely the television.
There's a lot of ground to cover when talking television at CES, but most of the news and innovations come from a handful of companies, including Sony, Panasonic and Toshiba. Of course, there are a few smaller companies out there that brought impressive offerings, so we were sure to include them in this mega roundup as well. Oh, and you might just see a few projectors thrown in for good measure. More On CES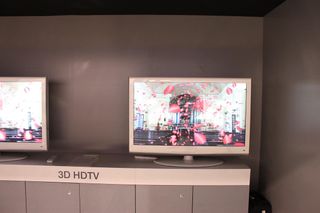 Haier 3D TV
Haier might not be the first name you think of when it comes to televisions...or any sort of electronics, for that matter. But the company was out in force at CES, and the company's TV tech was surprisingly eye-catching.
Here we see Haier's 3DTV effort. Unfortunately, the section was un-manned and roped off, so the details are slim. However, it's good to see even the "little guys" getting into the 3D TV business.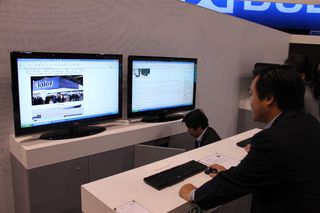 Haier Computer LCD TV
Here, Haier is demoing an LCD TV with a built-in computer. Rocking an Intel Atom processor, 1 GB of memory and an undisclosed hard drive, this is a promising device for the streaming/torrenting crowd. Of course, that Atom CPU needs to be paired with Nvidia ION graphics if it wants handle HD content, so we'll keep an eye out for that. If the hardware is there, all you need is Mplayer Classic software and the CCCP codec pack and you're good to go for nearly any and all digital content.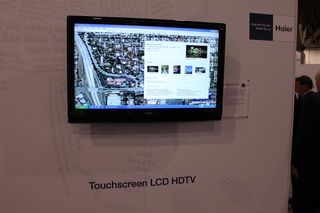 Haier Touchscreen LCD TV
While we aren't sure if this Haier model has a built-in computer or was just hooked up to a PC somewhere in the back, the touchscreen is pretty cool nonetheless. Using Infrared Touch technology, the touchscreen TV can sense when the IR field on the screen is broken by a finger or stylus, and uses the information to move around a menu, or in this case navigate through Windows XP.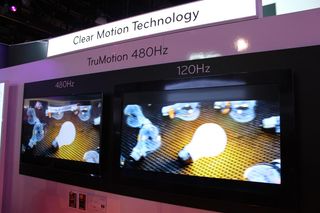 LG 480 Hz Display
It took TV makers several years to get LCD TVs to 120 Hz. Since that breaking point, companies have released 240 Hz sets, and now even 480 Hz displays. the LE9500 from LG is one such LCD TV, refreshing its screen 480 times per second. The specific tech behind the new panel isn't known yet, but LG does utilize a "flickering backlight" in many of its 240 Hz LCD TVs, so it wouldn't be a surprise to see that with a 480 Hz panel.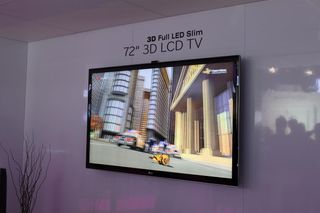 LG LED 3D
Going along with this year's big trend, LG had several 3D displays to show off, including this LED-based 3D display. At 72-inches, this should provide more than enough real estate for even the most ardent home theater enthusiasts.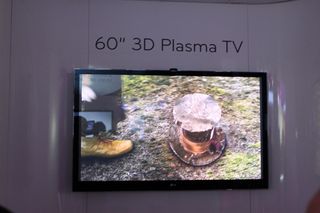 LG 3D Plasma
While 3D may define TVs in 2009, most companies are only offering one display type for their 3D displays. LG has decided to offer both LED and plasma 3D displays, like this 60-inch model. Plasma TVs are traditionally better for gaming, and produce very deep black levels. However, even in 2010 they consume a lot more energy than their LCD/LED brethren. The choice is yours to make!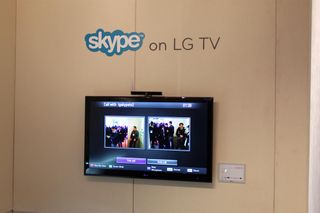 Skype on LG TVs
TVs with Internet connectivity and functionality are pretty commonplace in the market today. So, it seems like Skype on your TV is the next logical step after streaming video and Internet widgetry. Of course, you will need a special camera supplied by LG in order to use the service. No word yet whether after-market webcams will work (but probably not).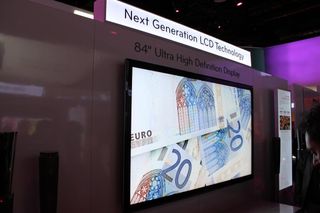 LG UltraHD LCD
Sure, 3D and Internet connectivity are important...but we want more pixels! Never fear, as UltraHD, a technology also known by the names QuadHD and 4k by 2k, is right around the corner. UltraHD TVs, like this prototype model from LG, display four times as many pixels as a 1080p set. That means the total resolution is a staggering 3840x2160. My hope is that all the silly names are done away with, and that everyone simply calls it "2160p".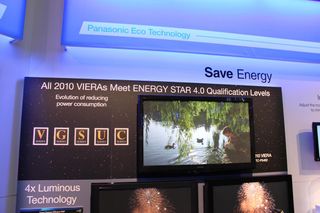 Panasonic Goes Green
While Panasonic does make some LCD TVs, most of its TV line is composed of plasma displays. That said, it's good to hear that all of Panasonic's TVs this model year are Energy Star 4.0 compliant. The one major drawback to plasma TVs is power consumption, so it's reassuring to see the worlds biggest plasma display maker making headway into energy usage in its products.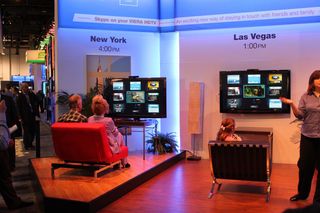 Panasonic has Skype, too!
If you covered the manufacturer's label on the LG and Panasonic Skype displays, you would be hard-pressed to find a difference between the two. Regardless, Panasonic is utilizing similar webcams, fashioned to the top of the demo sets. Now all of your friends and coworkers are just a TV Skype call away...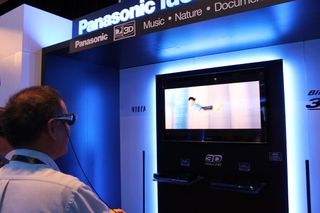 Panasonic 3D
Panasonic's TC-P50VT25 3D Plasma display, pictured above, was a huge hit at CES 2010, culminating in winning several "Best of CES" awards. Since most of the TV manufacturers are using similar glasses, the difference really comes down to the display and the 3D rendering hardware. While we can't speak to the 3D rendering chip(s) being used by Panasonic, the company is famous for the high quality of its V and G lines of plasma displays, so this is a large reason why Panasonic has a bright future in the 3D space.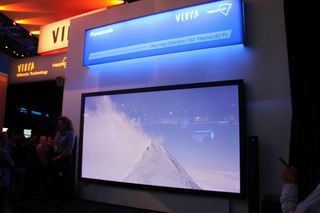 The 152-inch Behemoth!
If you think that 60-inch LCD you just bought was big, think again. In what has become a CES tradition, Panasonic has unveiled yet another giant plasma display. This time however, the 152-inch titan comes with a 2160p resolution. So, if you have the 100 grand or so that this monolith will surely cost, at least you're getting four times as many pixels as Full HD displays.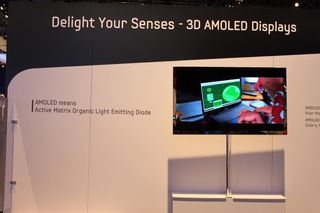 Samsung AMOLED
Sony was the first to introduce an OLED TV back in 2007, but Samsung is taking it to a whole new level. It's AMOLED (Active Matrix Organic Light-Emitting Diode) displays, at 14 and 31-inches, are razor-thin and 3D capable. Much like the Sony OLED TVs, these are either prototypes or unattainably expensive, so don't drool too much.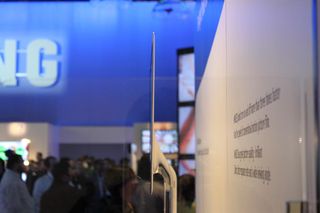 Samsung AMOLED - Side View
This should give you an idea of how thin AMOLED TVs really are...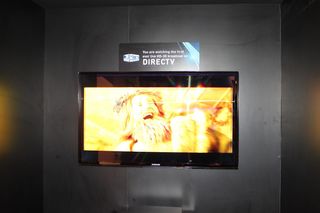 Samsung and DirecTV...in 3D!
So what good is a 3D TV if there's no 3D content to watch? Luckily, DirecTV thought of this, too, and is putting all its weight behind 3D content. While the cable giants are sure to follow, it looks like the satellite TV users will get non-Blu-ray 3D programming first.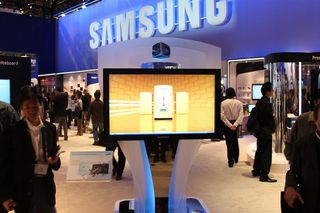 Glasses-Free 3DTV
Shutter glasses are all the rage in 3DTV land right now, but a few companies are trying 3D with no glasses at all. Still listed as "prototype", this glasses-free 3DTV from Samsung is Autostereoscopic. This means it works in the same way as the other 3D televisions, but the material you would find in stereoscopic 3D lenses is applied to the actual display. One drawback: this glasses-free 3D can be very finicky depending on where you stand relative to the screen. We will stick with the glasses for now.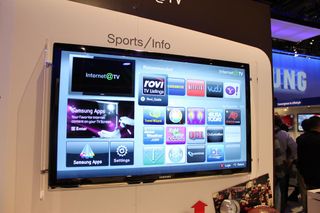 Samsung Internet@TV
If 2010 is the year of 3D, then 2009 was the year of Internet-connected TVs. Yahoo widgets and other Internet services like Netflix and Pandora turned the TV into the true center of your entertainment universe. Now, the TV makers are improving the services with each new model. Internet@TV is Samsung's latest effort, and it incorporates wire service from the likes of the AP to overlay the latest in headlines over whatever you're watching. Now, the next time some baseball player admits to using steroids, you won't miss a beat, even when watching your favorite movies.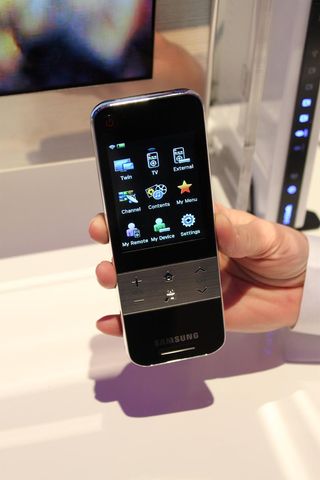 Samsung Touchscreen Remote
While it may not be a Logitech Harmony One or 1000, this new touchscreen remote from Samsung is a step in the right direction. The remote has a three-inch LCD touchscreen (sorry, no AMOLED), and can even display whatever content is playing on your TV. The remote even includes an accelerometer to make watching content on your remote widescreen-friendly.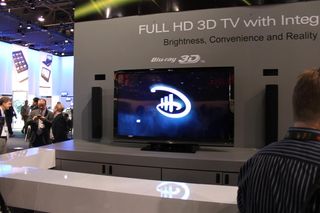 3DTV from Sharp
Compared to the likes of Samsung and LG, Sharp's booth was pretty low-key this year at CES. However, that doesn't mean Sharp isn't on the 3D bandwagon like everyone else. The 3D from Sharp wasn't bad by any means...but there was nothing to make it stand out from the pack, either.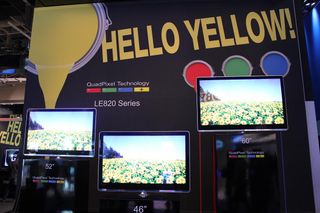 Sharp's QuadPixel
Up until now, all LCD TVs have used RGB (Red-Green-Blue) pixels. Sharp is changing that, however, with the introduction of its QuadPixel technology. Sure, RGB-based TVs can handle millions of colors, but QuadPixel displays and their RGBY pixels can handle trillions. The QuadPixel TVs start at 40-inches and $1800.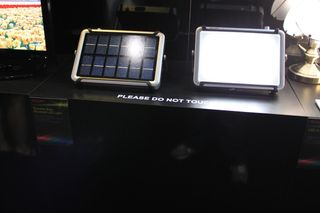 Solar LED Lighting
Sure, it's just a simple light right now, but in a few years that could turn into a solar-powered LED TV. Less than 12-inches diagonally, this solar-powered LED could mean the beginning of outdoor-friendly sun-charged LED TVs. One can only dream...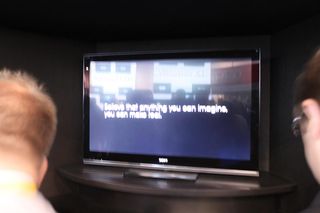 LX900: Sony's 3D flagship
Sony had three lines of TVs at CES this year, and the LX line is the the top of the pack. Coming "3D Integrated", the LX series, or in this case the LX900, comes with the emitter and shutter glasses you'll need in order to watch 3D content. That, and being a true 240 Hz display among other things means that the LX series is the new king when it comes to Sony TVs.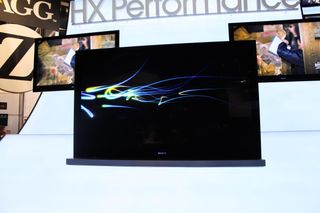 Sony's HX: Nice, Buy Only "3D Ready"
The HX lineup from Sony, with true 240 Hz Motionflow and dynamic LED backlighting, will make plenty of TV buyers happy over the next year. However, the HX models are "3D Ready," meaning they can handle 3D but you need to buy the emitter and shutter glasses separately. If you want a high-end LED TV but could care less about 3D, then the HX series is worth a second look.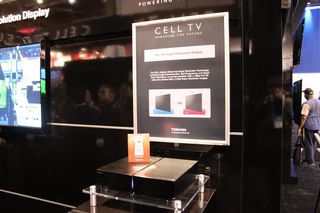 Toshiba's Cell TV - "The Box"
Some of you may have already heard about Toshiba's Cell TV products. Available with a 55 or 65-inch LED display, Cell TV really comes down to the control box. This black behemoth, bigger than an average HD cable box, houses a Cell processor and a 1 TB hard drive for storing media. The Cell processor is used for a number of different tasks, including real-time 2D to 3D conversion, HD upscaling, 4k x 2k upscaling, and 3D rendering.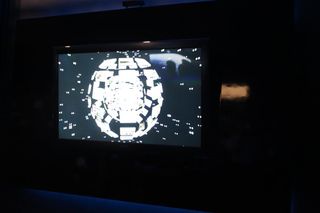 Toshiba's Motion Gesture Menu
This was probably my favorite demo at CES. During a Cell TV walkthrough, one demo showed off a motion-controlled, globe-like menu. The user would calibrate the motion sensor based on where he/she normally sits when watching TV. then, simply with a few hand gestures (and no Wiimote-like device), the user can access menus, skip/rewind through content, and other tasks. This won't be available on this year's Cell TVs, but the future of Toshiba TVs looks very promising.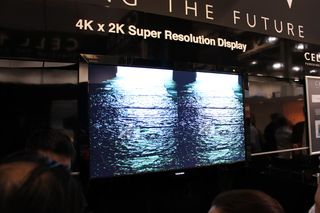 4K x 2K: Toshiba's UltraHD
Again, there's no unified name for the next HD resolution, but one accepted moniker is 4K x 2K. This name is used by Toshiba to describe its 2160p displays that will eventually be partnered with the Cell TV box. All the content going to the display will be upscaled in real time by the Cell box into 3840x2160.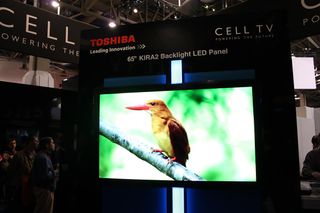 There's the Cell Box, Where is the Display?
The name of the displays that are a part of the Cell TV family is KIRA2. These 55 and 65-inch LED displays are true 240 Hz panels, and have 512 LED lighting zones. To compare, last year's flagship model from Toshiba has 96 lighting zones. Also, the KIRA2 displays promise a heart-stopping contrast ratio of 9000000:1. Yes, that's nine million to one...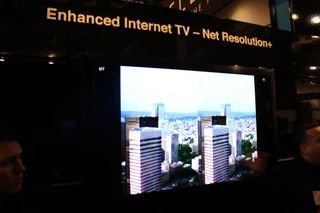 Improving YouTube Video on your TV
Another feature of the Cell TV tech is Net Resolution+. NR+ promises to drastically improve web video when watched on a Cell TV. This is done by "retracing" the lines in the video, which should make for a much smoother Youtube experience. The above-pictured demo doesn't help the argument for NR+ very much, and from what we saw with our own eyes, there wasn't a drastic improvement over the original video.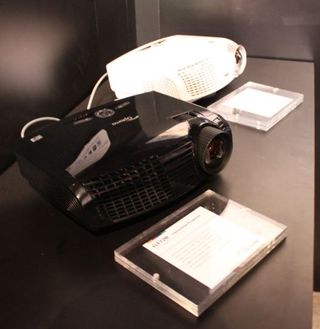 Optoma 3D Projectors
3D isn't all about LCD and plasma TVs, however. Several companies are releasing 120 Hz 3D projectors, based on DLP technology from Texas Instruments. Optoma, a big name in the low-end projector market, showed off two such projectors, the GT720 and the GT360. The 720 has a 1280x800 resolution, and uses the same shutter glasses as most of the 3D displays being shown off. Same goes for the 360, although its 800x600 SVGA resolution might keep it relegated to 3D Wii duty.