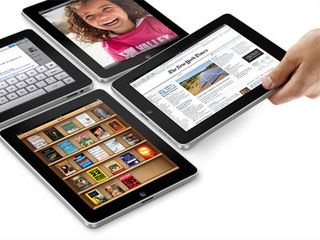 What better way to promote your own product than to publicly bash the competitor? Both Dell and HP have reportedly resorted to these tactics, taking major jabs at Apple and its iPad line this week while speaking fondly of their own tablet offerings.
First up to bat is a comment by Dell's global head of marketing Andy Lark on Tuesday while speaking to Lisa Banks of CIO Australia. "Apple is great if you've got a lot of money and live on an island," he said. "It's not so great if you have to exist in a diverse, open, connected enterprise; simple things become quite complex."
During the interview, Lark said that the iPad will fall prey to "open" competitors even though the iPad line itself actually created the market and built up consumer enthusiasm for the new sector. "But longer term, open, capable and affordable will win, not closed, high price and proprietary," Lark added. "[Apple has] done a really nice job, they've got a great product, but the challenge they've got is that already Android is outpacing them."
Dell entered the tablet sector last year with the struggling 5-inch Android-based Streak hybrid which combines the functionality of a smartphone and a tablet. The company is currently showcasing a 10-inch tablet, and is placing all bets on its planned multi-OS strategy. "We will do Windows 7 coupled with Android Honeycomb, and we're really excited," he said. "We think that giving people that choice is very important."
On the HP front, senior vice president of HP's Americas Solution Partners Stephen DeWitt told CRN that Apple's relationships with partners is absurd and completely transactional. "Apple doesn't have an inclusive philosophy of partner capabilities," he said at HP's Americas Partner Conference in Las Vegas.
Even one solution provider stepped forward to side with HP, saying that the company doesn't function like Apple. "HP is very channel friendly," the unnamed provider stated. "And if you have an issue with HP, you can pick up the phone and talk to someone. That's something that's impossible with Apple. As an Apple partner, I can say that it really feels like they're holding you hostage sometimes."
Another provider wasn't quite so chummy with HP. "I don't hear much about webOS in the marketplace, and it's going to be tough to build a mobility practice around it," the unnamed partner admitted. "Apple and Android are the two established marketplaces out there. On the tablet side, why wouldn't you just get an iPad?"