A somewhat new product, Mozilla VPN comes from the same world-famous developers that created the privacy-focused Firefox browser, and it's already a VPN worthy of taking a look at. Mozilla VPN delivers excellent speeds, has solid network coverage, and is committed to privacy and security.
Initially Mozilla VPN was a browser extension, but it has now developed into an independent product that provides protection for all major operating systems - Windows, Mac, Linux, Android, and iOS - and offers a workable network of around 400 servers in over 30 countries. That said, read on to see how it performs and if this VPN is the right pick for you.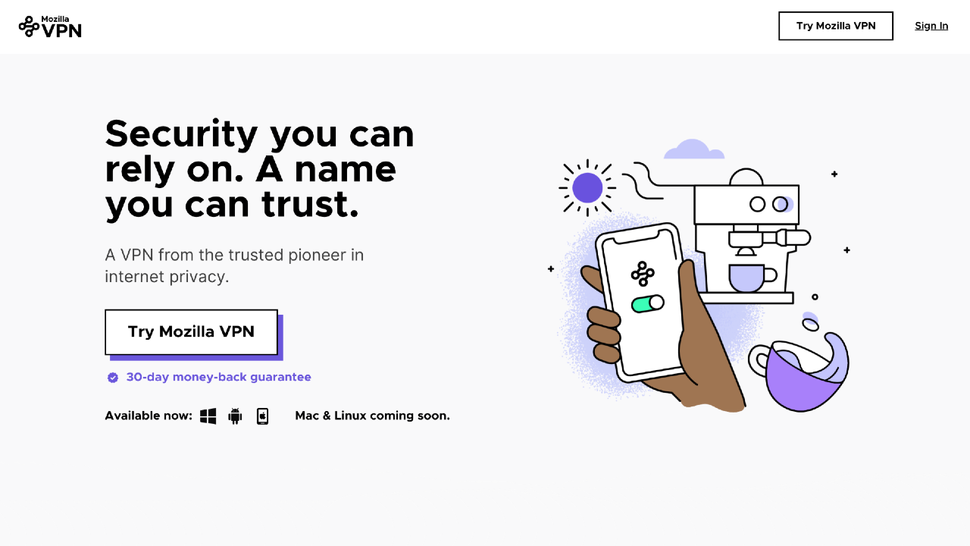 Mozilla VPN 1-minute review
Mozilla VPN's server coverage consists of over 400 servers placed in around 40 locations, which isn't as big as some other competitors but it should be enough for most users. More experienced users will be glad to know that Mozilla VPN uses Mullvad's VPN servers, which is another well-known and trusted brand. Mozilla VPN only uses WireGuard protocol, the absolute best for performance and security.
P2P is supported and you can even use a multi-hop VPN that allows you to enter from one location and exit from another, which keeps your location even more secure.
Features include a kill switch that can be set to deploy in the event that the VPN drops out. However, if this advanced-level security isn't required for all your tasks, split tunneling ensures you can carry on browsing using a standard connection too.
Be aware that although Mozilla VPN works with up to five devices, they all need to be registered. So, if you're already at the maximum capacity, you'll need to deregister one of the devices before you can add another. Some providers, like KeepSolid VPN Unlimited, have similar rules, but most, like ExpressVPN, don't force you to register a device before you can use it, which makes the process far simpler.
Pricing is a pretty standard $9.99 for a monthly account which drops to $7.99 for a six month plan, or go for a full year and it's the equivalent of $4.99 per month. All rather average then. However, you will benefit from a 30-day money-back guarantee with no hidden catches, so you can test the service to see if it fits.
Mozilla VPN on paper
Client software platforms: Windows, iOS, Android, Mac and Linux
Supported protocols: WireGuard
No. of servers: 400+
No. of countries: 30+
Country of registration: USA
Payment options: Credit card
Real name necessary? Through credit card, yes
Encryption protocol: AES-256
Data usage: Unlimited
Bandwidth usage: Unlimited
Max. no. of registered devices: Five
Customer support: Knowledgebase and email
Privacy policy: No logging
More: If you're on Apple, check out the top Mac VPN
Privacy and logging
Mozilla being a trusted brand is one of the main advantages of this VPN, and due to the partnership with Mullvad, which is another privacy-focused provider, the credibility of this product is bolstered even more.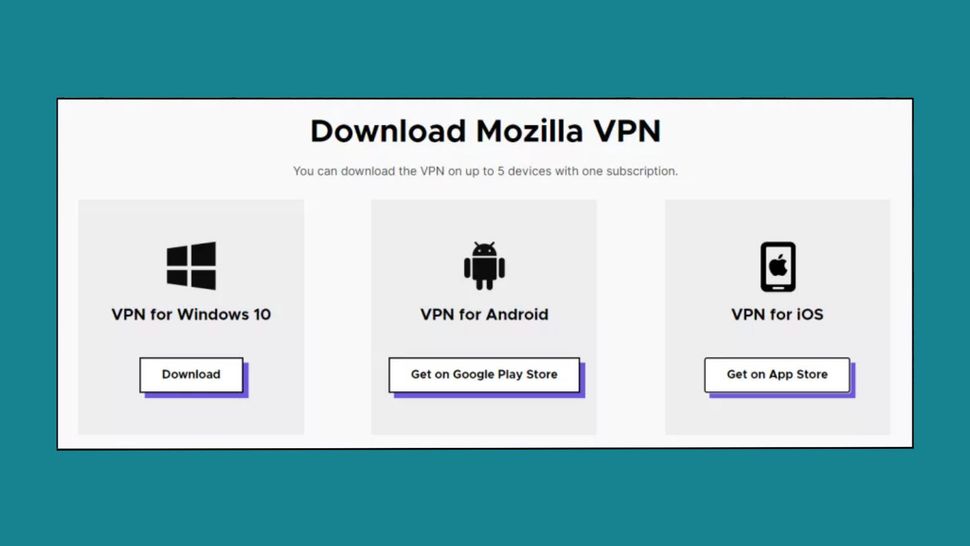 When signing up, your IP address is registered by Mozilla VPN, along with your operating system and hardware configuration, and some interaction data. That said, mirroring Mullvad's privacy policy, there's no traffic logging, nor IP address, bandwidth, and DNS requests logging. In addition, no information regarding session times is logged.
Mozilla VPN also encourages users to consider Mozilla's general Privacy Principles.
Although not as technical as some other providers', the company's privacy commitments are comprehensive. However, unlike many others this privacy policy is backed up by a third party audit of its apps by Cure53.
In fact by August 2021 it had published not one but two audits, the most recent of which can be found here. Essentially it found that the apps had a few vulnerabilities and potential improvements were suggested – these issues have now been fixed.
How good are Mozilla VPN's apps?
You'll need to create a Firefox account if you wish to use Mozilla VPN. After we did this, we paid the subscription price and were redirected to the Downloads screen. It only took us several seconds to download and install the Windows client.
The Windows client was user-friendly and as such was easy to navigate, mostly thanks to the nice interface. In the pop-up box, you'll see your location, and in the same place, you can change the location and turn the VPN on and off.
The speed of the service compensated for any niggling issues, and we were connected in under three seconds. Comparably, OpenVPN connections take around five seconds, while some other protocols can take over 20.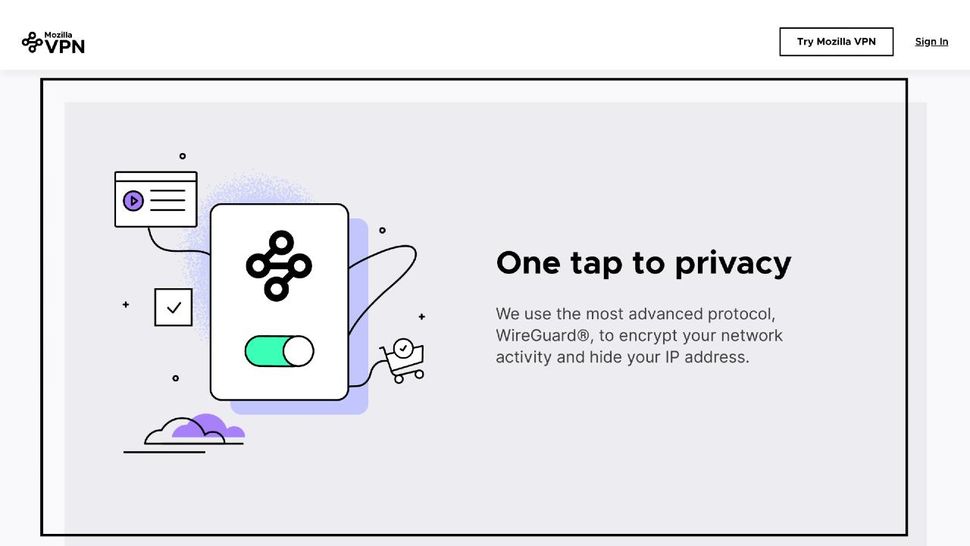 You can choose to be alerted if your device connects to an unsecured Wi-Fi network, turn on or off IPv6, and optionally access devices on your local network. This simplicity will be welcomed by most, but seasoned users might expect a little more control.
The app has an Automatic feature which will select the fastest server for you. But the lack of search box or favorites system to quickly find previously used connections is a shame. A small console displays your default location and a big On/Off button can be used to connect and disconnect manually as needed, with icons clearly showing if you're connected or not.
Unusually, the Windows client's kill switch can't be turned on or off. It's not regular, but it makes sense. If you have a VPN running why would you want to disable a feature that blocks unprotected internet traffic?
The presence of WireGuard and the VPN's basic design made it difficult to test the kill switch using our regular technical methods – which, really, was a problem for us to solve and no bad thing on Mozilla's part. However, experimenting with some new techniques, we did discover that occasionally when the Mozilla VPN Broker service failed and connection dropped out, we were only notified through a message on the client interface.
If you weren't able to see the interface, you wouldn't know about the risks. That aside, though, the client worked extremely well almost all of the time thanks to its basic design, which mitigates any major issues. On top of this, the connection itself is managed by another Windows client for enhanced reliability.
The interface of the Android app is almost identical to that of the desktop client. This was a well-thought-out design choice that not all VPN providers make, and the consequence is that although it's still relatively new, there don't seem to be any lingering functionality issues that can often crop up in mobile versions of VPNs.
The lack of a notifications on Android is a little frustrating as you don't get an alert if connected to a new network – something mobiles likely do a lot. There's also a lack of kill switch here, but of course you can just use Android's built-in kill switch.
The iOS app is even more basic, with no split tunnelling, no custom DNS setting and no ability to enable access to devices on your local network. On the plus side you can raise notifications for server switches and there is IPv6 support. Just expect it all to be very basic.
How good is Mozilla VPN for streaming?
The main selling points for Mozilla VPN are security and privacy, and the service is marketed like that, so it might not be that much of a surprise that its unblocking capabilities are poor. In our review and testing, Mozilla VPN failed to grant us access to any of the popular streaming services - Netflix, Disney+, Amazon Prime Video, and BBC iPlayer.
So, if you're looking for a good streaming VPN, look elsewhere. However, Mozilla VPN is still relatively new when compared to most competitors, and this part of the service may get more development in the future.
How fast is Mozilla VPN?
Mozilla VPN's speed testing was a joy to see. Using the WireGuard protocol we got some amazing speeds, during our multiple tests.
For the UK, the service reaches up to 520Mbps, while in the US it's even better, reaching speeds of up to 860Mbps, which makes Mozilla VPN one of the best fast VPN services out there, with only a few providing better performance.
Final verdict
Mozilla VPN is a privacy-focused service from a well-known brand in that circle, so it's already worth a look for privacy-conscious users, especially when you add the Cure53 audit in the mix. In addition to that, it's easy to use and the performance was amazing, one of the best in fact.
All is not great though. Its inability to unblock any of the popular streaming services will likely put off many users. Furthermore, the apps are rather basic and bland, missing some of the features, especially advanced ones, when compared to some other big-name VPNs. Mozilla VPN still has a way to go to catch up with the big names but it's still a solid VPN, especially if privacy is your main priority.