If you've been experiencing lag while playing games online or if it takes much longer than you'd like to download new games for your PS5 or Xbox Series X, you may be considering upgrading your Wi-Fi router. This makes sense as one of the best Wi-Fi routers can help boost the download and upload speeds of your laptop, smartphone and other connected devices.
Right now though, you have quite a few choices to make when it comes to your Wi-Fi router, with devices that support Wi-Fi 5, Wi-Fi 6 and even Wi-Fi 6E readily available. While Wi-Fi 5 is now nine years old, Wi-Fi 6 was released back in 2019 and Wi-Fi 6E came out the following year.
Both Wi-Fi 6 and Wi-Fi 6E have a maximum download speed of up to 9.6 gigabits per second (Gbps). However, Wi-Fi 6E includes a new 6GHz band alongside the 2.4- and 5GHz bands. Since this new band is less congested, Wi-Fi 6E devices can take full advantage of its extra bandwidth.
For those who have been considering upgrading to one of the best Wi-Fi 6E routers to give their PS5 or Xbox Series X a speed boost, you may want to hold off as neither console supports this extended implementation of Wi-Fi 6. Fortunately though, one of them does ship with Wi-Fi 6 support.
Next-gen console, last-gen Wi-Fi
Microsoft and Sony released their respective ninth generation consoles back in November of 2020 with the launch of the Xbox Series X and the PS5. They offered better graphics, faster load times and other noticeable improvements over the last console generation. However, only one of them got a significant Wi-Fi upgrade.
The Xbox Series X is Microsoft's most powerful console yet but surprisingly, it uses the same Wi-Fi spec as its predecessor. Yes, you read that right: both the Xbox Series X and the less powerful Xbox Series S ship with Wi-Fi 5 — the same Wi-Fi spec used in the aging Nintendo Switch. Sony was a bit more forward thinking with the PS5 as it shipped the device with Wi-Fi 6 support.
We could see a Wi-Fi spec increase if Microsoft or Sony decide to release 'Pro' models of the PS5 and Xbox Series X though. While the PS4 and Xbox One both shipped with 802.11n (retroactively renamed Wi-Fi 4), the PS4 Pro and Xbox One X were upgraded with 802.11ac (Wi-Fi 5) support.
As game consoles take years of planning to put together, it makes sense that neither the PS5 or Xbox Series X support Wi-Fi 6E which was adopted the same year they both launched. However, including Wi-Fi 5 over Wi-Fi 6 in the Xbox Series X does seem like a missed opportunity on Microsoft's part.
Both PS5 and Xbox Series X have gigabit Ethernet ports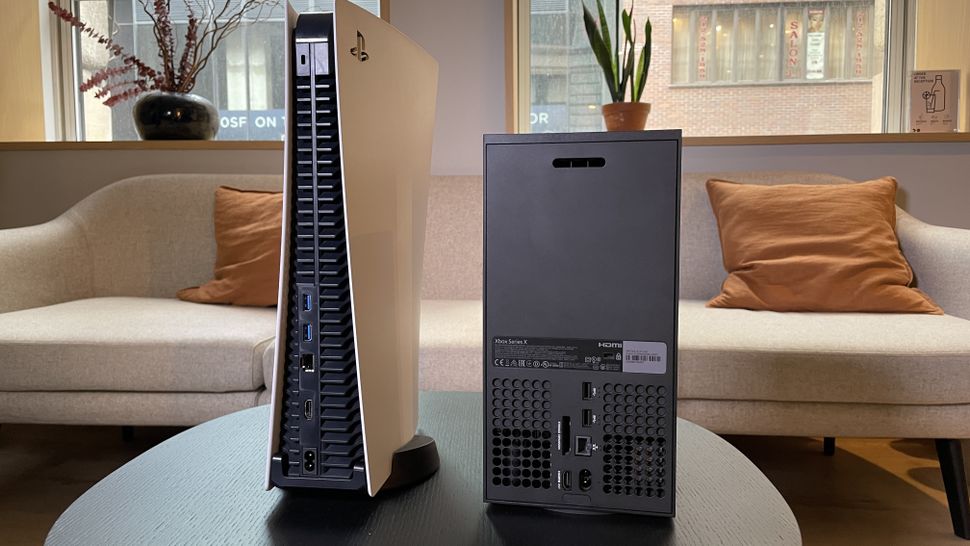 Although upgrading to a Wi-Fi 6 router can speed up your downloads on PS5 and give you a better online experience, you can still get better speeds on Sony's console and the Xbox Series X by hardwiring them to your router.
This is because both the PS5 and Xbox Series X have a gigabit Ethernet port that can reach speeds of up to 1000 Mbps or a gigabit. While this may be inconvenient depending on where your router is located, there is a way to make things easier.
Unlike with a traditional Wi-Fi router that needs to sit next to one of the best cable modems, the best mesh Wi-Fi systems give you even more flexibility. The reason being, a mesh Wi-Fi system is made up of several devices that work together to spread your home internet connection over a larger area. While one of these devices acts like a regular router, the other devices in a two or three-piece mesh kit act as satellites which extend your Wi-Fi coverage further.
Regardless of which mesh router you get, their satellites often have extra Ethernet ports that you can use to hardwire devices regardless of how far away they may be from your router. This way, you don't have to run a long Ethernet cable all the way from your router to your console. Instead, you can place one of the satellites near your console and connect the two together using a shorter Ethernet cable.
If you're using your Xbox Series X or PS5 with one of the best gaming monitors though, it's likely close enough to your router that you won't have to go this route. Either way, hardwiring your console will likely get you better download speeds since your PS5 or Xbox Series X isn't vying with other devices on your network for wireless bandwidth.
Console makers need to prioritize Wi-Fi, not just graphics
When a new console generation arrives, graphics are one of the first things companies show off as gamers expect a major boost when comparing games from the previous generation to the next one. However, connectivity should be just as important.
These days, more people are downloading their games digitally than buying them at brick and mortar stores. Slow Wi-Fi makes this difficult and can be frustrating for gamers. Even if you do prefer physical games, they require updates you need to download in order to play them.
We'll have to wait and see if Sony and Microsoft release new iterations of their current consoles but the next Xbox and PlayStation will need to support Wi-Fi 6E or even Wi-Fi 7 to give gamers the best online experience possible.