A new MacBook Pro 14-inch and MacBook Pro 16-inch are on the way. Each laptop packs a powerful M2 Pro chip, and you can upgrade to the even more powerful M2 Max processor. We'll soon have our own test results, but according to Apple, the new MacBook Pros promise to be the most powerful and longest-lasting Apple laptops yet.
The new MacBook Pros are certainly enticing, given that they offer dazzling mini-LED displays and an HDMI port and SD card slot on top of faster processing and graphics. You also get Wi-Fi 6E. However, a new rumor has me wondering if I should wait for something that's potentially better.
According to DigiTimes, the MacBook Air could get an update in "the second half of 2023" with Apple's next-gen chip. The site claims the new MacBook Air will use an Apple M3 processor, what we assume to be the next generation of Apple silicon, replacing the Apple M2 series that debuted in mid-2022. This would apparently be made with a 3-nanometer process, a big advancement from the 5-nanometer process used by the M2 series, that would allow for even more power and efficiency from the same-sized chip.
I was on the fence about whether or not I wanted one of the new MacBook Pros. But if this rumor is true, then I think it's best if I wait until the end of the year before getting a new MacBook.
Here's why I'm skipping the MacBook Pro 2023 for the rumored M3 MacBook Air.
The MacBook Air is easier to travel with
The MacBook Pro 14-inch easily fits in a backpack but it's somewhat hefty at 3.5 pounds. The 16-inch model weighs in at 4.8 pounds.
In contrast, the latest MacBook Air M2 is true to its name by being as light as air, metaphorically speaking, at 2.7 pounds. We don't know anything concrete about the rumored M3 MacBook Air, but I think we can safely assume it'll also be a light notebook.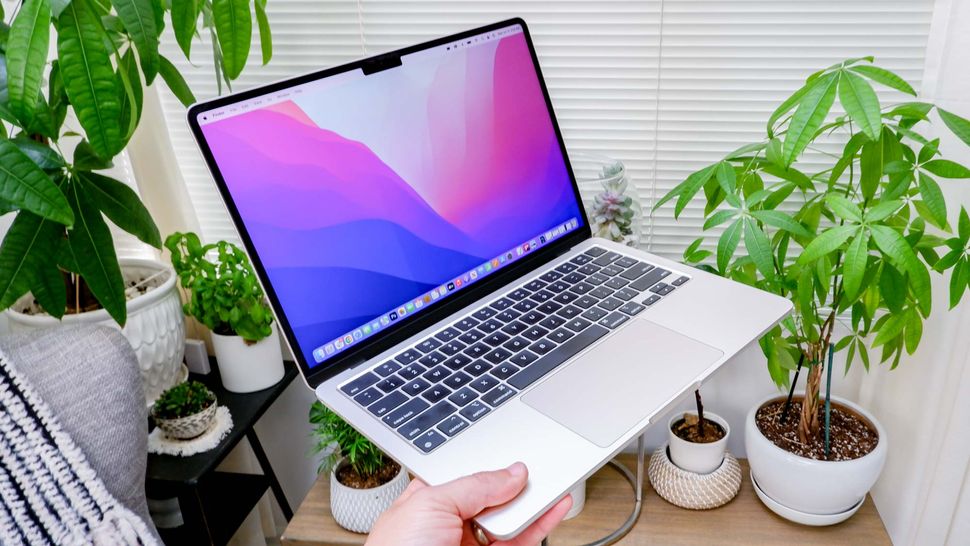 The 2023 MacBook Pros feature the same updated design as their 2021 predecessors. Since the MacBook Air M2 also sports a new design (which is similar to the latest Pro laptops), it's reasonable to assume its follow-up won't feature any drastic stylistic changes. This is a big selling point since I prefer the Air M2's flat chassis over the tapered design of the MacBook Air M1.
If the MacBook Air M3 is effectively the MacBook Air M2 with a better processor, then it'll suit me better in terms of portability and aesthetic appeal.
The M3 should be plenty powerful for my needs
MacBook Pro M2 Max looks mighty powerful in first benchmark results, courtesy of iMore. You can read the results in the linked article, but suffice it to say that the new Apple silicon chips mean serious business.
While the best laptops packing the latest and greatest components always get me excited, I don't necessarily need a lot of computing power for my everyday needs. Sure, I like playing the best PC games, but I can't play titles like Cyberpunk 2077 or Marvel's Spider-Man on a Mac. The MacBook Pros are, for the most part, ideal for professional video editors, photo editors and developers... and I certainly don't fall into those camps.
The M1 Pro and M1 Max chips are more powerful than the regular M2 processor. To that end, it's likely that the M2 Pro and M2 Max chips will be more powerful than the rumored M3 processor. The regular M2 chip delivers impressive power and performance, and the M3 will no doubt offer more power than its predecessor. Because of that, a potential MacBook Air M3 would be ideal for my use case, as it should offer plenty of performance for a presumably lower cost.
Outlook
Given how I previously wrote that the MacBook Air 2022 could make me ditch Windows laptops, this rumored M3 successor could fill that same role. After all, I still need a MacBook of my own. The new MacBook Pro 14- and 16-inch look to be the most powerful MacBooks yet and I'm eager to check them out. But as I said above, a MacBook Air would suit me better for everyday use.
But it's possible my mind will change once the new MacBook Pros are officially released on January 24. Keep an eye out for our upcoming reviews to see how these notebooks fare and where they'll rank on the list of the best MacBooks.