The iPadOS 17 public beta is now live, which means you can try the new features coming to compatible iPads this fall. Granted, many of these "new" features come from the best iPhones, but they offer more customization and productivity options than before. Even if iPadOS 17 isn't terribly exciting, it's a decent enough update to check out before its official launch.
If you're interested in what iPadOS 17 has to offer and are willing to deal with any potential issues that might arise during the beta phase, we've put together this list of 5 new features to try first. Make sure to read our how to download the iPadOS 17 public beta — along with my iPadOS 17 hands-on preview to get yourself ready.
And with that, here are 5 iPadOS 17 public beta features to try first.
Personalized lock screen
iPadOS 17 borrows the lock screen experience from iOS 16 — giving you a slew of customization options that make the lock screen more personal and functional.
For example, a new photo shuffling option cycles through different photos throughout the day. There's also a live photo option that slowly zooms in on the lock screen wallpaper — giving the photo a semi-3D experience in the process. It's a small thing that looks impressive in person.
If you really want to tinker with the lock screen to make it even more personal, you can select the fonts, font weight, colors and color combinations. You'll now get real-time notifications directly on the locks screen. This is a nice touch since you won't have to unlock the tablet to see messages that may have arrived. That said, you can always disable this feature if you want to watch a movie or work in peace.
Of all the new iPadOS 17 features, the personalized lock screen is my favorite so far. The slow-mo zoom in feature is neat and I like now I can add different widgets to the lock screen proper. Yes, this is all stuff I can already do on my iPhone 13 Pro, but it's good to see iPads now have customizable lock screens.
Interactive widgets
Speaking of widgets, they're now a bit more useful on iPadOS 17 — mainly because I can now place and use them on the lock screen.
To be clear, widgets aren't new to iPads. However, you can now interact with them on the lock screen. Widgets on both the lock screen and home page also blend better with the background. For instance, on my lock screen featuring a Martian sunset, widgets are extremely transparent and don't obscure the alien landscape. On my lock screen, widgets are semi-transparent; they appear as part of the background but also as singular apps.
Being able to interact and use widgets on the lock screen without unlocking the iPad is also very useful. For instance, you can launch the weather app right from the lock screen without unlocking the iPad to use the weather widget. This is another small feature that can make a big difference.
Stage Manager
Stage Manager launched last year on iPadOS 16 and macOS Ventura and promised to help you be more productive on iPads and Macs. While I think the feature hasn't lived up to its potential, some of the quality-of-life upgrades for Stage Manager on iPadOS 17 and macOS Sonoma are welcome.
You're now able to place windows anywhere on the screen and can resize them via pinch and zoom gestures. If you don't want to spend brain power coming up with the perfect layout, there are a number of preset window arrangements to choose from. There are different available presets depending on the kind of apps you're using at the moment, which is pretty nice.
In my own experience with iPadOS 17, I found moving and resizing windows easy and intuitive. I still don't find Stage Manager particularly useful on iPad since I rarely use more than one app at a time, but if you're one of the many folks who uses iPads as a laptop replacement, then the refined Stage Manager could streamline your workflow.
Health app
It's strange that the Apple Health app is just now arriving on iPads via iPadOS 17. After all, tracking your progress on a tablet's larger display seems preferable to doing the same on one's phone — even if you own the iPhone 14 Pro Max with its spacious 6.7-inch display. That said, you can switch between tracking your progress on an iPhone and iPad since all your data gets synced between devices.
I don't use the Apple health app as much as I should — which is to say I don't use it at all. However, I've enjoyed checking how little exercise I actually do thanks to this app. I don't think I'm going to change my habits anytime soon, but if I ever decide to become proactive about my health, I'll track how well (or poorly) I'm doing on the iPad's version of the health app.
FaceTime Reactions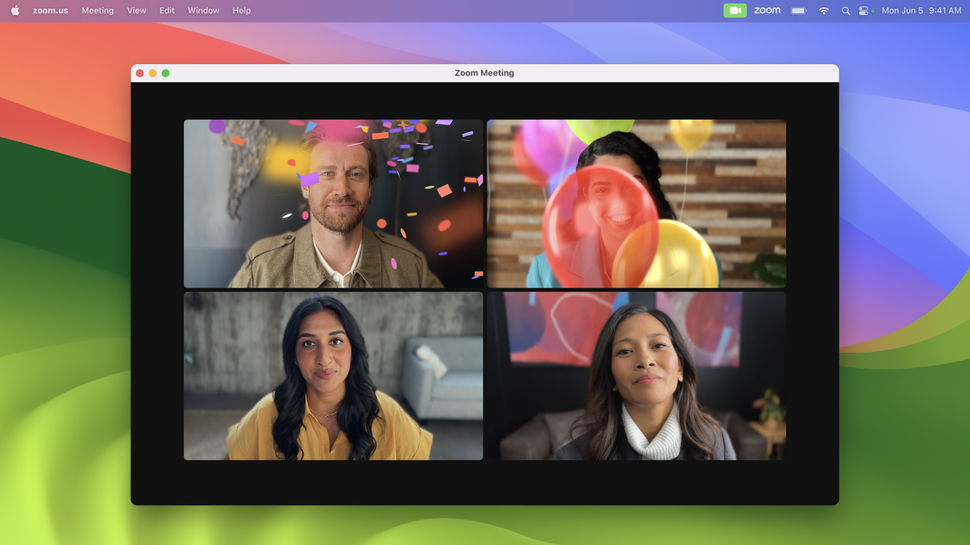 FaceTime Reactions are a fun feature for iPadOS 17 and macOS Sonoma. With simple gestures like a thumbs up, you can trigger effects like balloons, fireworks, rain and more. The best part is that Reactions isn't relegated to Apple's FaceTime app since it also works with third-party video calling apps.
One caveat I want to add is that I was unable to get Reactions to work on iPadOS 17 and macOS Sonoma. Given how both of those operating systems are in beta, I can forgive that Reactions didn't work as intended. That said, I don't expect my situation to be true for everyone. If you can, give Reactions a shot and see who you can delight (or annoy) during video calls.
More from Tom's Guide