Even if you use the best components available at the time, sooner or later, even the best gaming PCs are due for an upgrade. Whether it's your graphics card, your CPU or even your case's cooling, switching out those old parts for new ones can make a heck of a difference.
Lately, I found that the best PC games just weren't running like they used to on my computer. I tried fiddling with the settings and turning the graphics down but maintaining a stable frame rate of 60 frames per second or higher wasn't possible with my aging gaming PC.
One of the reasons for this was the fact that I went with an ultrawide monitor as opposed to a standard monitor when I originally built it. While I love playing PC games in my downtime, every computer I build is for work first and being able to game on them is an added bonus. This time around, I went with a wider display so that I could have two programs side by side instead of having to switch back and forth between them.
Even though I know it's likely time for me to build a new PC, I'm not quite ready to let go of my current rig as it has served me well over the years. While I could upgrade my graphics card, at this point the other components in my PC would act as a bottleneck and limit its performance. This is why I chose to downgrade my monitor instead of upgrading my graphics card.
Building a PC at one of the worst times imaginable
When it comes to building PCs, I prefer to take an all in approach where I buy everything at once instead of component by component. Sure, I do leave room for upgrades down the road but to be honest, I usually build a new PC and leave it at that.
Before the pandemic and the global chip shortage that followed shortly thereafter, 2018 was one of the worst times to build a new PC. If you don't remember just how bad things were for PC builders then, getting a high-end graphics card was almost impossible as they were all bought up by cryptocurrency miners.
Even though I had the money to get a more expensive graphics card, I just couldn't convince myself to pay more than MSRP for a GPU, which is why I ended up getting a GTX 1070 TI bundled with a motherboard. It was a big upgrade from my GTX 970 but it still wasn't really that powerful.
While I cheaped out on my graphics card, I can't say the same for my monitor. As I've been able to use every monitor I've purchased for years without any problems, I got a 34-inch LG ultrawide with a resolution of 3,440 x 1,440. Since using the display for work was my main goal, I didn't mind if I wouldn't be able to play games at the highest settings on it.
From one ultrawide monitor to another
My new ultrawide monitor and freshly built gaming PC did serve me well at first for playing games like Halo: The Master Chief Collection and Rocket League.
While others may be more concerned with faster refresh rates and having their graphics settings turned up to ultra, I've found that nothing beats the experience offered by the additional screen real estate that comes with an ultrawide monitor.
While my graphics card didn't give me the best visuals possible, I used the Hue Sync app to have the lightstrip behind my monitor sync up with the games I played for yet another extra layer of immersion. Still though, the games I played just didn't run as smoothly as I liked.
I knew something had to give and upgrading my graphics card didn't make sense considering the age of the other components in my PC. With a resolution of 3,440 x 1,440 on my ultrawide monitor, my GPU had to work extra hard to drive 4,953,600 pixels at a time which led my frame rates to struggle as the years went on.
I love the ultrawide experience for both work and gaming and didn't want to give up by going with a standard, 16:9 monitor instead. However, this would have made sense as a 1080p monitor only has to push 2 million pixels compared to the almost 5 million my ultrawide does.
Although I had brushed off the idea of using a 1080p ultrawide monitor when I first upgraded, it began to make more and more sense. Yes, I would be downgrading to a screen with a lower resolution but I wouldn't have to sacrifice the ultrawide experience in the process. So that's exactly what I did.
Smoother gameplay, same productivity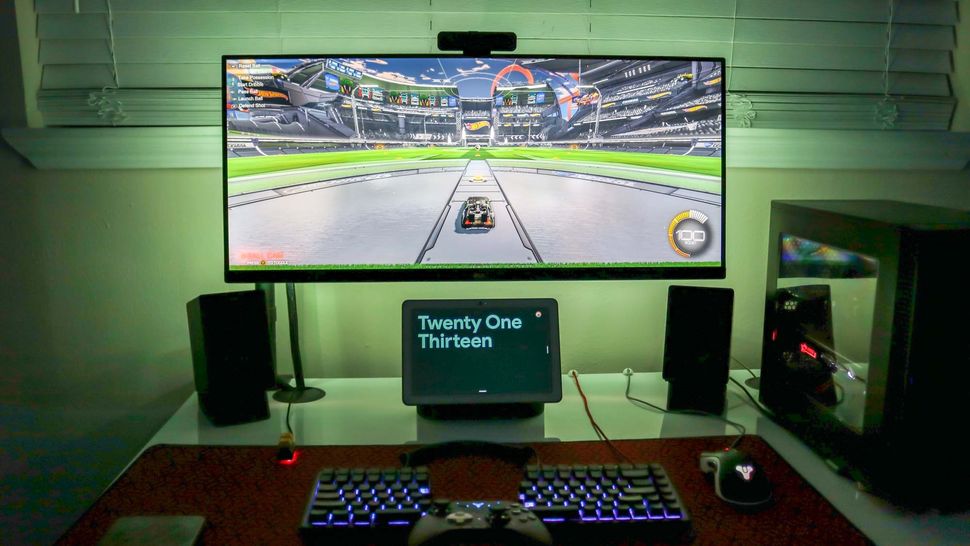 Switching from an ultrawide monitor with a resolution of 3,440 x 1,440 to one with a resolution of 2,560 x 1,080 served two purposes as my decision to get a new, lower resolution monitor coincided with my start at Tom's Guide.
While most people can get by with one computer or even a desktop and one of the best laptops, I prefer having multiple desktops for work. Besides testing the best VPN services for our reviews, I also build, set up and review the best standing desks. With multiple PCs and monitors, I can put together a new desk setup for a review without having to break down my main computer.
I ended up purchasing the LG 34WN650-W UltraWide Monitor ($299, Amazon) to use with my gaming PC for work while my older ultrawide and my previous PC would be free for standing desk reviews.
Even though my new ultrawide monitor has a smaller resolution, it's really bright with a sharp picture and weighs a lot less. Also, since it only has to drive 2,764,800 pixels as opposed to almost 5 million, I'm able to turn up the graphics settings in SkaterXL and the other PC games I play frequently. I still can't run the latest games with the best graphics but by downgrading to a monitor with a lower resolution, I might be able to get a few more years out of my current PC until I have to build the next one.
While I went from one ultrawide monitor to another, you could do something similar by going from a 1440p monitor back down to a 1080p one if you're not quite ready to upgrade your own graphics card or build a new PC.
When upgrading to one of the best monitors, you want to make sure that your PC is powerful enough to drive it. Otherwise, you might end up following in my footsteps and having to downgrade to a display with a lower resolution later if a new graphics card is out of the question.
More from Tom's Guide