Barbie is the biggest movie of the year, and it's enough to make even those suspicious of movies that appear to be about toys consider if they should hit the theater. And while I enjoyed a particularly unique screening, I've also talked to more than enough people who saw it at other theaters to get a sense of whether it's worth watching on the big screen or waiting for it to hit the best streaming services.
Watch or Wait?
Welcome! This column is part of a series where we aim to help you determine if the latest movies are worth seeing in theaters or if you should wait until they are available to stream in the comfort of your own home. Be sure to check out our previous entry where we looked at Mission: Impossible - Dead Reckoning Part One.
You may have seen the same trend I've seen — men and women and children adorned in neon pink and other bright hues — everywhere this past weekend. It's felt akin to some kind of non-jarring cosplay, where people are wearing their fandom on their sleeves, tops, pants, fanny packs or hats. Not to mention the folks who went the extra mile in elaborate Barbenheimer (or 'Boppenheimer') outfits.
But none of that speaks to the quality of the film or whether it benefits from the big screen and the theatrical experience. That's why I'm going to break down my experience, and help you make this choice.
The Barbie movie sings on the big screen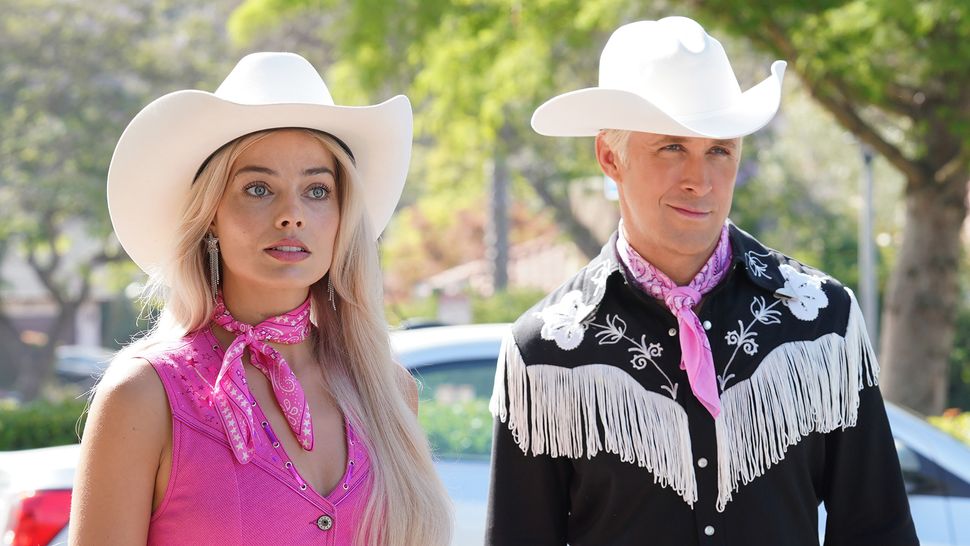 In an era of weird CGI — The Flash and Ant-Man 3 practically fought to have this year's worst visual effects — Greta Gerwig's Barbie embraces practical effects in the best way: as camp. From the obviously plastic "wave" on the beach to the transition scenes when Barbie and Ken go on the road, everything in Barbie is bright and looks exactly as intended.
So, a point for the "see it on the big screen" column, as Barbie's bright, colorful aesthetic is truly a success, and deserves to be viewed in the best conditions possible.
Storywise, this Barbie movie is a deceptively clever one. What's advertised as a meme-heavy, super-cast comedy turns out to be a truly emotive and powerful movie. It all begins in Barbie Land, where Barbie (Margot Robbie) experiences intrusive thoughts and physical changes that have other Barbies screaming.
This all sends her, accompanied by Ken (Ryan Gosling), on an adventure to our world. Their story, with its twists and turns, is far better than any Barbie movie ever needed to be— unless you're a die-hard fan who already knew about Ken's friend Allan (Michael Cera). Then, it's the Barbie movie you've only dreamed of.
The Barbie movie Ken should be a communal experience, too
As is rarely the case, the other people you see Barbie with in theaters are likely to be one of the best parts of the ride. Of course, your Barbie convertible's mileage may vary on this.
I saw Barbie on Friday night of the opening weekend, where audiences were practically levitating off the buzz of merely being there in the room. It felt reminiscent of the mood at Captain America: Civil War or The Dark Knight, but more positive. Seeing Barbie with a theater full of folks ready to laugh (and probably not ready for the tears that streamed later in the film), it felt like a big event. Like the party that Barbie throws in the first act, and the therapy session that Ken truly needs.
I may be overhyping this a tad because the opening night screening I attended was a little different. What seemed at first to be a normal, fun screening at the Alamo Drafthouse in Brooklyn — pink berets and heart-shaped sunglasses were placed at every seat — turned into something bigger.
As a "Welcome to the Barbie Blowout Party" image adorned the screen, a blue-jumpsuit-clad Greta Gerwig (mic in hand) took to the stage. Emotionally, she welcomed the audience to the theater and was almost at a loss for words about it all. See for yourself.
Outlook: Don't miss the Barbie movie experience
Your screening won't have the above razzle-dazzle. I get that. But trust me on this one: The Barbie movie is a blast deserving your time and money in the theater.
Of course, there's a chance you might not realize exactly why that is. Author Ally Carter tweeted out the perfect explanation for the value and brilliance of what's happening in theaters with Barbie, writing "My takeaway from Barbie (and Taylor) is that we are starving for community and shared experiences. Calling out 'Hi Barbie!' and exchanging friendship bracelets with strangers shows that we are not alone. We can still love — and experience — things together. And we've needed that."
In 2023, moments like these may slip through your fingers if you're not careful.
More from Tom's Guide