The countdown to the iPhone 15 launch is now in the single digits, with Apple's September event just a week away as of this writing. And as we get closer to laying eyes on Apple's latest iPhones, there's likely a rumored new feature you're eager to see above all others.
Maybe it's the A17 Bionic chip and the performance gains it promises to bring to the iPhone 15 Pro models. Or maybe you want to see what effect the rumored periscope telephoto lens on the iPhone 15 Pro Max has on zoom shots. Perhaps you just want to finally see an iPhone equipped with a USB-C port. We've all got different tastes and interests.
Me, I'm eager to find out about the battery in the new phones. Specifically, I'm interested to see if Apple can do anything to improve the battery life in the 6.1-inch models.
How long the current iPhones last on a charge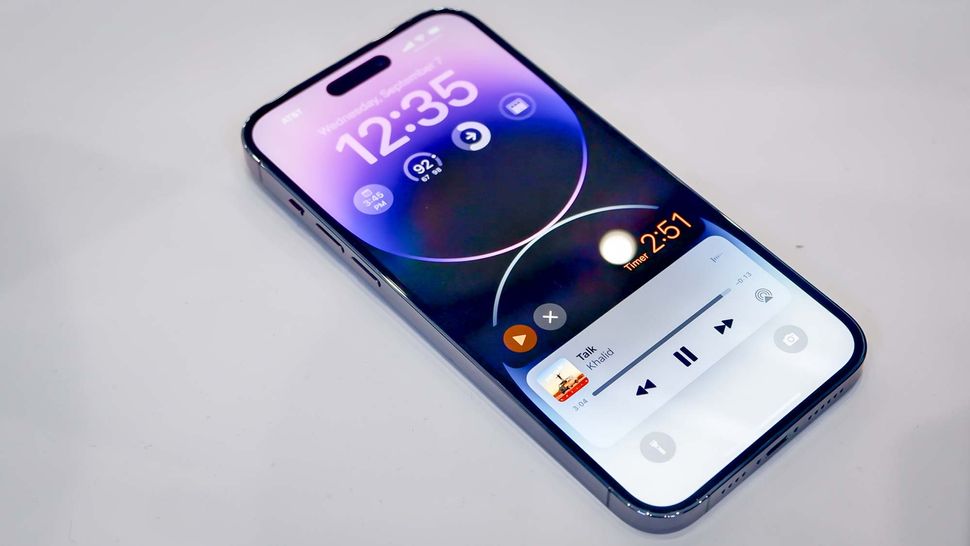 As you may recall, the iPhone 14 Pro Max and iPhone 14 Plus deliver stellar battery life. On our battery test, in which we have fully charged phones surf the web over cellular until they run out of juice, the iPhone 14 Pro Max posted a time of 13 hours and 39 minutes, while the iPhone 14 Plus turned in a time a few minutes shy of 12 hours. Both results earned those iPhones a place on our best phone battery life list.
The iPhone 14 and iPhone 14 Pro didn't last as long. At least the Pro model beat the average smartphone with a time of 10 hours and 13 minutes. With its 9 hour, 28 minute time, the iPhone 14 finished about half-an-hour behind the category average.
You don't have to cogitate too long to figure out what happened here. The Pro Max and Plus models, with their bigger size, had enough room to accommodate bigger batteries. The more compact iPhone 14 models have to make do with smaller batteries. Our battery test times reflect that limitation.
So how does Apple resolve things and boost the battery life on its smaller models. From the sound of it, two main factors figure to have an influence on iPhone 15 battery life — new chipsets and larger batteries.
A17 Bionic and A16 Bionic
Let's look at the chipset first. We've already mentioned the A17 Bionic slated for both iPhone 15 Pro models. That chipset is being built on a 3nm process, compared to 4nm for the A16 Bionic. Usually, when a chipset gets smaller, its performance and power efficiency improve since the transistors become more densely packed. And that's what Apple seems to be betting will happen for the iPhone 15 Pro models.
We'd anticipate a very long battery life for the iPhone 15 Pro Max — or iPhone 15 Ultra, if that's what Apple calls it — since Apple's premium phone wasn't exactly suffering from less efficient power management. But if the A17 is able to perform more efficiently than the A16, that should help the iPhone 15 Pro eke out more battery life.
Speaking of the A16 Bionic, it's the chipset likely to power the standard iPhone 15 model. You'd think that the step-up from the A15 Bionic in the iPhone 14 will push the 6.1-inch iPhone to a battery life that's closer to what the iPhone 14 Pro was able to achieve in last year's tests.
Bigger batteries coming?
The other way Apple could give its iPhone 15 models a battery boost is by increasing the capacity of the cells that power its phones. That would seem to difficult to do given the space limitations — none of the iPhones are expected to get any bigger this year. So how would Apple pull off such a feat?
The answer, according to rumors, involves stacked batteries. Electric cars use that approach, but it's apparently being scaled down to work in the more limited space of smartphones, too. Stacked batteries produce greater energy density, though that also means a lot of heat in a compact space, so Apple would need to figure out a way to keep things cool.
Swipe to scroll horizontally
| | | |
| --- | --- | --- |
| Model | iPhone 14 battery size | iPhone 15 battery size (rumored) |
| iPhone | 3,279 mAh | 3,877 mAh |
| iPhone Plus | 4,323 mAh | 4,912 mAh |
| iPhone Pro | 3,200 mAh | 3,650 mAh |
| iPhone Pro Max | 4,323 mAH | 4,852 mAh |
Regardless of how Apple pulls it off, an iPhone 15 battery rumor points to all four models have larger power packs than their iPhone 14 equivalents. In the case of the 6.1-inch models, the standard iPhone 15 would see its battery increase to 3,877 mAh — a significant jump from the 3,279 mAh power pack found inside the iPhone 14. The iPhone 15 Pro battery wouldn't be as big — 3,650 mAh — but that's still more capacity than the iPhone 14 Pro's 3,200 mAh cell. (Keep in mind that Apple doesn't post battery sizes, so we're using capacities gleaned from iPhone 14 teardowns.)
At any rate, iPhone 15 rumors suggest Apple is turning to an age-old solution to get more battery life, even if it's using a new technology to achieve it — if you want more power in a mobile device, simply give it a higher-capacity battery.
iPhone 15 battery outlook
Unlike a lot of the new features coming to the iPhone 15, battery life isn't something we'll be able to test until after the iPhone 15 release date, once we've had a chance to put all four new models through our battery test. I'm willing to wait — battery life is one of the biggest selling points of any new phone, and I'm eager to see what the iPhone 15 is capable of offering.
More from Tom's Guide