An iPhone 15 Pro Max vs. iPhone 14 Pro Max preview will get you ready for one of the most eagerly anticipated phone launches of the year. Apple's top iPhone 15 Pro flagship is rumored for some pretty hefty upgrades over the iPhone 14 Pro Max, which is currently one of the best phones you can buy. And we're going to break down the biggest expected differences between the two Pro Max models.
So what can we expect from the most premium flagship in the iPhone 15 family? The reports and leaks we've seen suggest that we'll get a refreshed design, a breakthrough A17 Bionic chip and — a first for iPhones — a periscope zoom lens. But not that's all the enhancements in store. Here's everything you need to know
Periscope zoom lens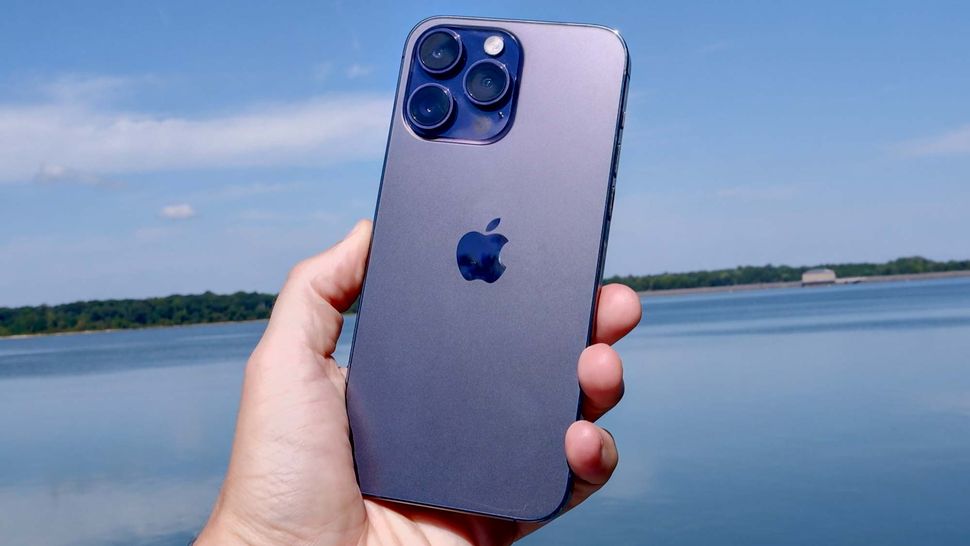 Yes, Apple is way behind the competition when it comes to telephoto zoom lenses on the best camera phones. But it appears that the iPhone 15 Pro Max should be catching up in a major way. Rumor has it that the iPhone 15 Pro Max will boast a periscope zoom lens with 6x optical zoom, a big jump from the 3x telephoto camera on the iPhone 14 Pro Max.
We haven't heard what the digital zoom will be for this camera, but we hope that Apple closes the gap with the Google Pixel 7 Pro (30x SuperRes zoom) and Samsung Galaxy S23 Ultra (100x Space Zoom). The iPhone 14 Pro Max maxes out at 15x digital zoom, so going up to 30x would be a very nice upgrade.
A17 Bionic power — and a world's first
The A16 Bionic chip inside the iPhone 14 Pro Max is already the fastest in a phone, but the new A17 Bionic chip for the iPhone 15 Pro Max is tipped to take Apple's performance to the next level. For one, this is supposedly the world's first chip in a handset based on the 3nm process, which should mean even more performance. Plus, Apple has reportedly gobbled up all of the stock of this chip for itself, so we're talking a possible world exclusive.
DigiTimes (opens in new tab) reports that the 3nm technology being used to make the A17 Bionic will "enable significant specification upgrades in the upcoming iPhone series." Those updates are significant enough that suppliers are anticipating increased demand for the iPhone 15 Pro and iPhone 15 Pro Max.
USB-C
It's nearly a lock that Apple is ditching the Lightning port for USB-C. After all, the EU is mandating that Apple embrace USB-C by the end of 2024. And Apple has admitted that it will bring USB-C to the iPhone, although it hasn't said to which models.
The rumors point to Apple delivering USB-C to all four iPhone 15 devices, though it's possible that Apple could reserve faster transfer speeds for the iPhone 15 Pro and Pro Max. More likely is the scenario where Apple will only guarantee the fastest charging and transfer speeds if an iPhone 15 USB-C cable or accessory is MFi (made for iPhone) certified.
Regardless, we can anticipated faster charging over USB-C with the iPhone 15 Pro Max vs.the iPhone 14 Pro Max. And we'll have to see about transfer speeds when it comes to connecting things like cameras or external drives.
Longer battery life
The iPhone 14 Pro Max is already one of the longest lasting phones around. It turned in a very impressive 13 hours and 39 minutes in the Tom's Guide battery test, which involves continuous web surfing over 5G at 150 nits of screen brightness. That's good enough to land near the top of our best phone battery life list.
So how much better could the iPhone 15 Pro Max be? The new 3nm A17 Bionic chip is said to be as much as 35% more power efficient compared to TSMC's 5nm N4 process — i.e. the components used in the A16 Bionic. So this will almost certainly result in an even longer runtime.
Titanium design (now with less sharp edges)
There's nothing wrong with the iPhone 14 Pro Max's stainless steel sides, but we're excited for the prospect of a titanium alloy body for the iPhone 15 Pro Max chassis. Titanium is super strong while weighing less than aluminum, so it should result in an overall lighter big-screen phone from Apple. Well, provided the new periscope zoom doesn't add too much weight.
Another positive rumor has the iPhone 15 Pro and Pro Max getting more rounded edges, which should make the handset more comfortable to hold. Some users have complained about the sharper, squared off edges of the iPhone 14 Pro and Pro Max, which can dig into your hands.
Solid state buttons
Yes, you read that right. The iPhone 15 Pro Max could forego mechanical buttons altogether in favor of solid state buttons. The benefit is that the Pro Max will be more durable over time with less of a risk that the buttons will get stuck, which has happened to me with my iPhone 12 Pro Max.
Assuming the design is executed well, you'll still feel a sensation when pressing down due to haptic feedback. But you hopefully won't miss the fact that they're not really buttons at all. And we could see a higher water resistance rating as a result for the iPhone 15 Pro Max, because presumably there's less of a chance that water will enter the handset.
iPhone 15 Pro Max vs iPhone 14 Pro Max: Outlook
There's clearly lots of things we still don't know about the iPhone 15 Pro Max, including a rumored price. Apple could very well decide to charge more for this handset, especially since the Galaxy S23 Ultra already costs $100 more than the iPhone 14 Pro Max. But we'll have to see which upgrades actually materialize and whether Apple is daring enough to charge an even higher price.