If your current iPhone is starting to show its age, you're probably wondering whether it makes sense to buy an iPhone 14 Pro or iPhone 14 Pro Max now or wait for the new iPhone 15 Pro and iPhone 15 Pro Max this fall.
As you'll see in our iPhone 14 Pro review and iPhone 14 Pro Max review, there are plenty of reasons to take the plunge now. With their strong cameras, fast performance and excellent battery life, it's easy to see why these flagships earned spots on our best phones list.
On the other hand, the rumors and leaks point to some pretty compelling upgrades for the iPhone 15 Pro series, as you can see in our iPhone 15 Pro vs iPhone 14 Pro comparison. Rumored improvements for the new iPhone 15 Pro models include the chip, telephoto zoom camera (for the Pro Max) and design. Based on what we've heard so far, here's my advice on whether to buy now or wait.
Reasons to buy iPhone 14 Pro now
Great cameras
The iPhone 14 Pro and Pro Max both deliver excellent cameras. In fact, they topped our best camera phone list until the Galaxy S23 Ultra and its massive 200MP sensor came along.
With the current iPhone Pro models, you get a stellar 48MP main sensor that can deliver stunning detail, especially when you engage the ProRAW setting in the camera. Check our the results from my iPhone 14 Pro 48MP ProRAW camera test and you'll get a very good sense of what's possible, enabling you to crop in pretty far without losing much detail.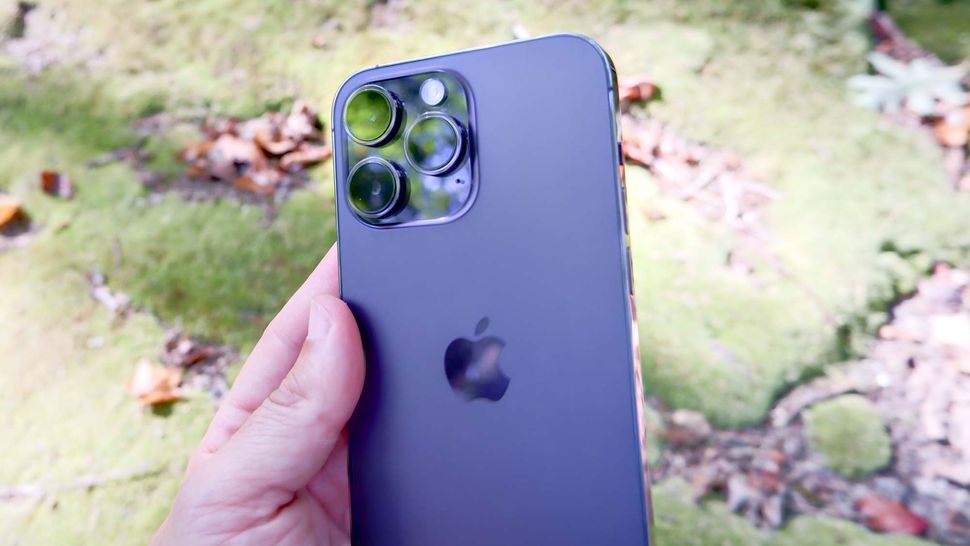 The image above is just one example, with a winged basket atop a building with a baby inside. The ProRAW image is super sharp, and that's before any editing. Even if you shoot in 12MP mode you'll see bright and vivid images.
Other iPhone 14 Pro highlights include a 12MP ultrawide camera that's nearly twice the size and a 12MP TrueDepth camera that now offers autofocus, plus better low-light images across the board via Apple's Photonic Engine.
The A16 Bionic is fast enough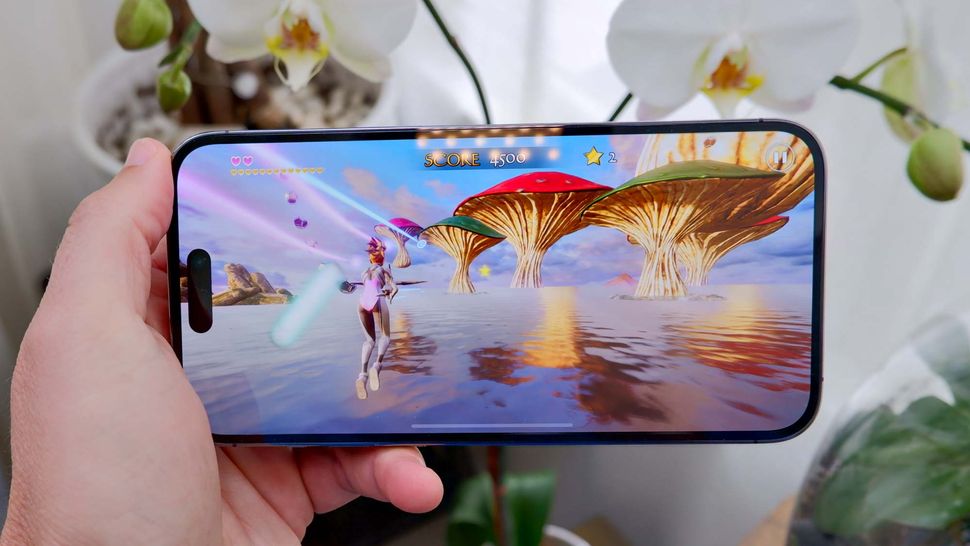 The A16 Bionic chip that powers the iPhone 14 Pro and Pro Max delivers the fastest performance in a phone, beating even the Snapdragon 8 Gen 2-powered Galaxy S23 Plus and S23 Ultra on key tests like Geekbench and our own video transcoding test.
Swipe to scroll horizontally
Geekbench (CPU)

| | | | |
| --- | --- | --- | --- |
| Row 0 - Cell 0 | Geekbench Single-core | Geekbench Multicore | Video transcoding (time) |
| iPhone 14 Pro Max | 1882 | 5333 | 0:30 |
| iPhone 14 Pro | 1891 | 5469 | 0:26 |
| Samsung Galaxy S23 Ultra | 1396 | 4882 | 0:40 |
You'll also be hard pressed to find a game that doesn't play smoothly on the iPhone 14 Pro and Pro Max, from Call of Duty Mobile to racing games like Asphalt 9.
Stunning displays with Dynamic Island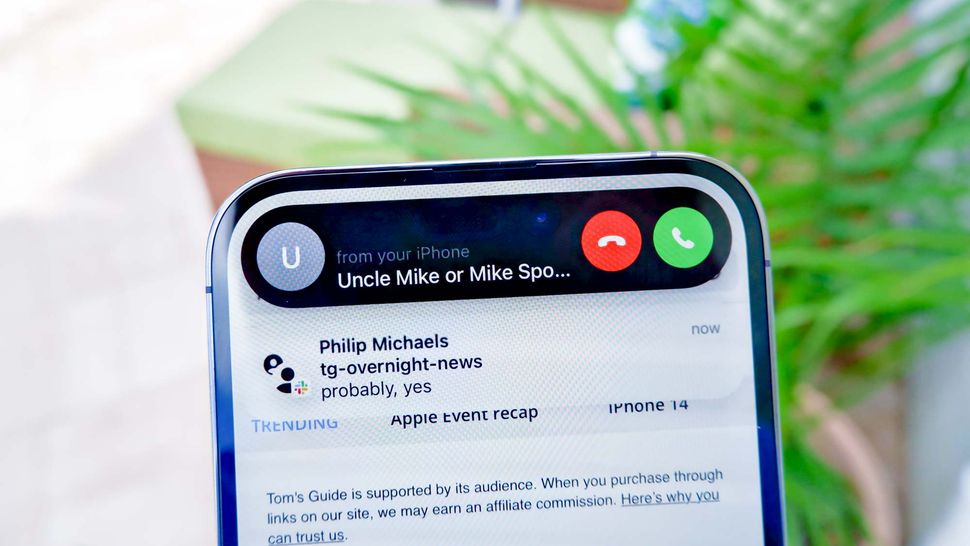 The iPhone 14 Pro and Pro Max have among the brightest and most colorful displays you'll find on any flagship. We're talking nearly 1,300 of peak brightness when display HDR content and a strong 83.2% of the DCI-P3 color space. And the accuracy is great as well.
There are two key innovations with the iPhone 14 Pro series' displays that I really appreciate. One is the always-on display, which lets you review the time, battery status and weather at a glance, as well as notifications if you want them.
The other is Dynamic Island, which delivers alerts and live activities at the top of the display around the notch. With this feature you can see incoming calls at a glance, as well as check sports scores and the ETA of your Uber without diving into an app.
Strong battery life (especially on Pro Max)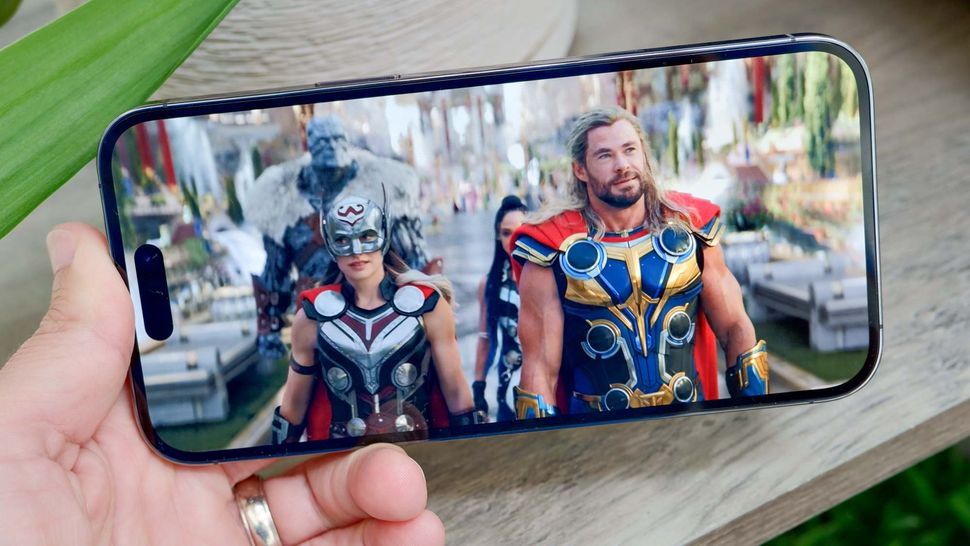 We tested the battery life of all four iPhone 14 models, which involves continuous web surfing over 5G at 150 nits of screen brightness. And the iPhone 14 Pro Max offered a stellar runtime of 13 hours and 39 minutes. That's strong enough to make our best phone battery life list. (Anything above 11.5 hours is really good.)
The iPhone 14 Pro endured for 10 hours and 13 minutes, which is decent but that's what happens when you have a smaller 3,200 mAh battery inside a smaller 6.1-inch phone. The iPhone 14 Pro Max's 6.7-inch size has room for a larger 4,323 mAh pack.
Reasons to wait for iPhone 15 Pro
Powerful periscope zoom (Pro Max only)
Yup, this upgrade is long overdue, but if you've been waiting for a more powerful zoom from Apple to rival what Samsung phones feature, this could be the year. The iPhone 15 Pro Max will reportedly boast a periscope zoom lens with 6x optical zoom, a big upgrade from the weaker 3x telephoto camera on the iPhone 14 Pro series.
Just note that the periscope zoom is reportedly an exclusive for the iPhone 15 Pro Max, so the regular iPhone 15 Pro could be left out.
So what about digital zoom? We bet it will be a lot better than the current 15x for the iPhone 14 Pro and Pro Max. While we don't have any details yet, I would bet Apple goes for at least 30x to match the Google Pixel 7 Pro, even if it doesn't reach the crazy high 100x Space Zoom on the Galaxy S23 Ultra.
USB-C (finally)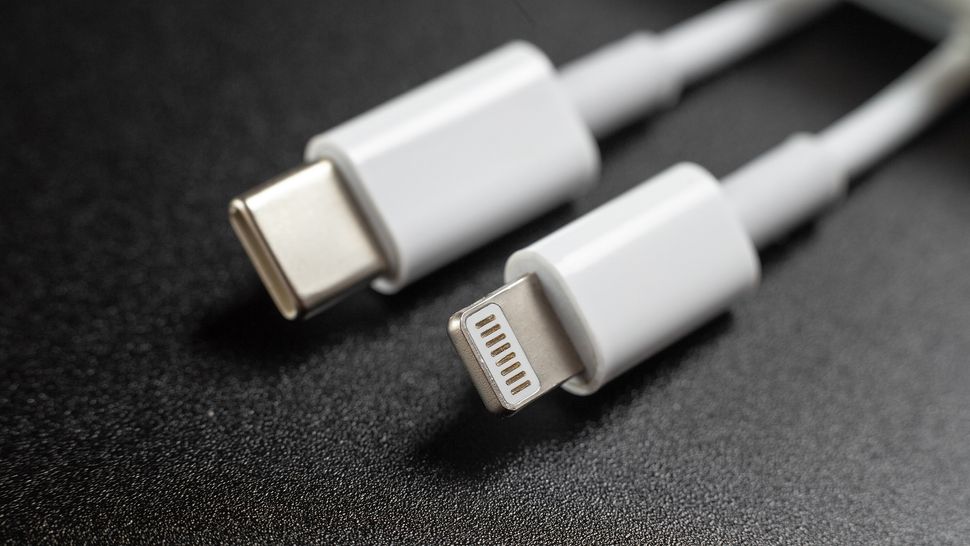 It's been widely reported that Apple is finally ditching its Lightning port for USB-C, and it's easy to see why. The EU is mandating that Apple embrace USB-C by the end of 2024. And Apple has said that it will bring USB-C to the iPhone, even though it didn't provide timing.
So the hope is that Apple will offer faster charging on the iPhone 15 Pro and Pro Max. We've also heard that the iPhone 15 Pro series may get faster transfer, but that rumor is by no means confirmed.
The 3nm A17 Bionic chip
You'll have to forgive the technical mumbo jumbo, but this is pretty key for the iPhone 15 series. The rumored A17 Bionic chip for the iPhone 15 Pro is tipped to be the world's first based on the 3nm process. This should mean more transistors packed in and therefore better performance than the 4nm A16 Bionic.
If the first leaked Geekbench benchmark scores for the A17 Bionic and iPhone 15 Pro are legit, this phone could blow away previous iPhones and every Android phone on the market.
It gets better. The new 3nm A17 Bionic chip is reportedly 35% more power efficient compared to the A16 Bionic. So both the iPhone 15 Pro and Pro Max should last longer on a charge.
More durable and comfortable design
While I like the design of the iPhone 14 Pro and Pro Max, the sharp edges can dig into your hand when holding it. Fortunately, it looks like the iPhone 15 Pro and Pro Max could be getting more rounded edges, which means a comfier design for you.
The iPhone 15 Pro and Pro Max could also feature a titanium alloy body. Titanium is even tougher than aluminum while weighing less. So it's possible that both iPhone 15 Pro models will be lighter and stronger.
Bottom line
As someone who owns an iPhone 12 Pro Max, I'm personally torn around the question of whether you should buy an iPhone 14 Pro or Pro Max now versus waiting for the iPhone 15 Pro series.
I really like the cameras, display and performance offered by the iPhone 14 Pro — and I appreciate the always-on display more than I thought I would. But I've also been waiting for a more powerful zoom, as the Galaxy S23 Ultra has made me a bit jealous.
If your phone is 3 years old or older, I think the iPhone 14 Pro and Pro Max will more than satisfy if you upgrade now. But if you're on the fence, it could pay to wait a few more months for the iPhone 15 Pros.