The Samsung Galaxy Tab S8 is reportedly on the way with a bunch of upgrades. The Android tablet market is a lot less competitive these days, but nevertheless, Samsung is still churning out the best competitors to the Apple iPad.
With the release of the Samsung Galaxy Tab S7 and Galaxy Tab S7 Plus last fall, our attention is now turning to the upcoming Samsung Galaxy Tab S8. The Samsung Galaxy Tab S8 prices just leaked ahead of Unpacked 2022, which we expect will happen in February 2022. We've also spotted specs and images referenced in an FCC filing, suggesting the Samsung Galaxy Tab S8 launch could be soon.
Though it has not been officially announced yet, via SamMobile we've learned that Samsung may have in fact leaked the existence of the Galaxy Tab S8 itself. It's a fairly safe bet to say the device is on the horizon.
Though its release isn't likely to be imminent, there are already a handful of rumors flying around. Upgrades for the Galaxy Tab S8 will likely include a faster Snapdragon 888 chip and possibly software upgrades for better multitasking.
Here's everything we know so far about the Samsung Galaxy Tab S8, as well as a few things we want to see from the device.
Samsung Galaxy Tab S8 rumored release date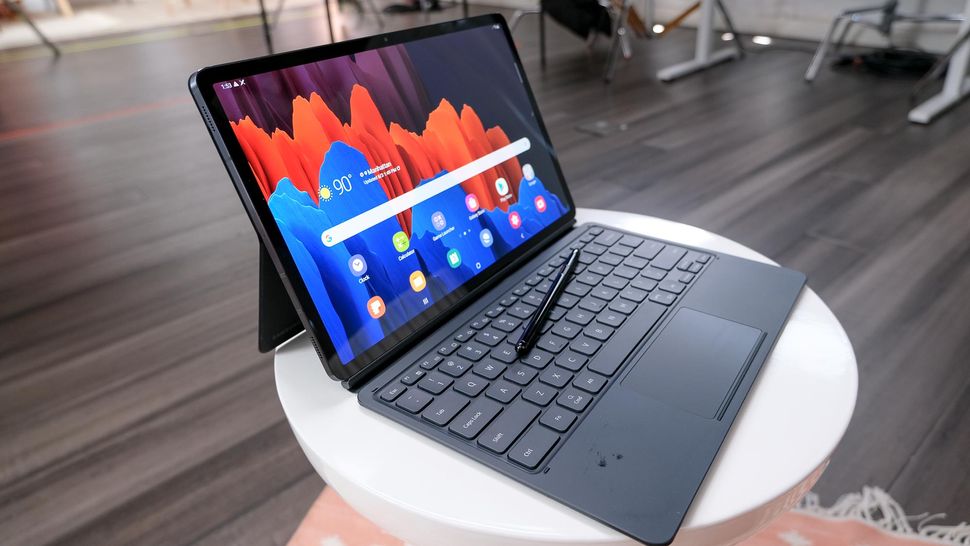 According to leaker Ice Universe, the Galaxy Tab S8 line could be alongside the Galaxy S22 phone lineup at the Samsung Unpacked 2022 event. And that's looking like February 2022.
Both the Galaxy Tab S7 and Galaxy Tab S6 launched in August of 2020, but it's possible Samsung pushed the launch of a successor into 2022 due to the global chip shortage.
Samsung Galaxy Tab S8 price
According to information obtained by Appuals, the base Galaxy Tab S8 will cost between €680 and €700 (US $778-$801) and come with 8GB of RAM, 128GB of storage and Wi-Fi connectivity. Three other configurations were listed, and there will also be a 5G version.
Alleged prices for the Samsung Galaxy Tab S8 Plus were also included with this leak. The base version is said to cost between €880 to €900 ($1,100) and come with 8GB of RAM, 128GB of storage and Wi-Fi connectivity The 5G version will run between €1,090 to €1,110 ($1,250) and feature 8GB of RAM and 256GB of storage.
Lastly, there's reportedly a Samsung Galaxy Tab S8 Ultra with a 14-inch screen that's available in two configs: The first will apparently cost between €1,040 to €1,060 ($1,190) and feature 8GB of RAM, 128GB of storage and Wi-Fi connectivity. The second, a 5G version, reportedly comes in at €1,200 to €1,220 ($1,380).
If these prices are legit, then the Galaxy Tab S8 will be a steeply-priced tablet, especially compared to past pricing.
Remember, the Galaxy Tab S7 started at $649.99 / £619 / AU$1,149, whereas the more expensive Galaxy Tab S7 Plus started at $849.99 / £799 / AU$1,549, so there's reason to expect the Galaxy Tab S8 would be somewhere in the same ballpark.
However the general trend for the Tab range has been a price increase with each new generation, so we'd not be shocked if the Galaxy Tab S8 costs more than its predecessor.
Samsung Galaxy Tab S8 specs
The allegedly leaked specs outlined above are backed up by a relatively unknown YouTube channel, The Galox, which may have leaked the Galaxy Tab S8 specifications. However, we suggest taking a skeptical approach to this information, as it's most certainly not guaranteed.
If these rumors are to be believed, it appears the Galaxy Tab S8 will be powered by the Snapdragon 888 chipset, and offer 8GB RAM in the standard model and 16GB RAM in the Plus variant.
The Galaxy Tab S7 was powered by Qualcomm's Snapdragon 865 Plus, and based on the afore-mentioned leaks SamMobile now claims that some listings confirm the presence of the Snapdragon 8 Gen 1 chipset in all three upcoming Galaxy Tab S8 tablets, along with multiple versions covering Wi-Fi-only and 5G compatible models and different RAM/storage combinations. If that proves true, they should be able to deliver plenty of performance.
Storage options will range from 128GB to 256GB to a fairly substantial 512GB at the top end. According to Samsung's own leak, spotted by SamMobile, the Galaxy Tab S8 will feature a microSD card slot that supports cards of up to 1TB. The tablet will also feature a nano-SIM card slot, and support for 5G connectivity is a given.
These were seemingly confirmed by additional leaked Galaxy Tab S8 specs from WinFuture, which allege that the two smaller models will have 8GB of RAM and 128 or 256GB of storage, while the Tab S8 Ultra will have 16GB of RAM and 512GB of storage.
Samsung Galaxy Tab S8 display
In our Galaxy Tab S7 review we were full of praise for the tablet's beautiful 120Hz display, so we're expecting the Galaxy Tab S8 will continue to impress.
The Galox says that Galaxy Tab S8 will offer a 11-inch 120Hz LCD, while the Plus model will feature a 12.4-inch 120Hz AMOLED panel. However, some leaked images which purportedly showed pre-release versions of the S8 tablets suggest they will come in three different screen sizes: 11-inch, 12-inch and 14.6-inch displays respectively, each of which we expect to have the same 120Hz refresh rate.
WinFuture says the smallest model will have a 2,560 x 1,600 LCD panel; the 12.7-inch version will have a 2,800 x 1,752 AMOLED display, and the massive 14.6-inch version will have a 2,960 x 1,848 AMOLED screen.
The fingerprint sensor would also be identical to the Galaxy Tab S7; it would again be located in the top edge power button.
Leaker Evan Blass posted images of what the tablets will look like on Twitter. The Galaxy Tab S8 and Tab S8 Plus are in line with the Galaxy Tab S7's design, but the larger Galaxy Tab S8 Ultra has a notch for the camera like the renders posted by Steve Hemmerstoffer (more commonly known as OnLeaks).
Samsung Galaxy Tab S8 battery and charging
Rumors, again coming by way of The Galox, suggest that the battery capacities of the Galaxy Tab S8 and the Galaxy Tab S8 Plus will be unchanged from the Galaxy S7 range.
That would mean 8,000mAh for the Galaxy Tab S8 and 10,090mAh for the Galaxy Tab S8 Plus. The Tab S8 Ultra is expected to have a massive 11,200 mAh battery.
In disappointing news, it's also claimed that the tablet's fast charging capabilities will be downgraded to 25W. We already saw the removal of 45W fast charging on the Galaxy S21 Ultra, so this certainly seems likely.
Samsung Galaxy Tab S8: what we want
By the time the Galaxy Tab S8 launches, the latest iPad will almost certainly be out. so Samsung will have to bring its A-game in order to continue competing with Apple's juggernaut tablet.
Here's what we think Samsung needs to do to stay in the race for tablet supremacy.
More ports: One of the biggest advantages of the Galaxy Tab compared to the iPad is that it's much better suited as a laptop replacement. However, the lack of ports on the Galaxy Tab S7 hurt the versatility of the tablet with just a single USB-C port on offer. For the Galaxy Tab S8, we'd like to see at least one additional USB-C port, and we wouldn't say no to the reintroduction of a headphone port either (though that seems pretty unlikely).
Standardized AMOLED: The AMOLED display on the Galaxy Tab S7 Plus is gorgeous, it's one of the tablet's key features. However, the standard Galaxy Tab S7 comes with an LCD screen instead. While it would likely raise the price of the range or at least the price of the vanilla Galaxy Tab S8, we'd like to see the AMOLED display offered on both models as standard.
A better keyboard cover: Okay, this one isn't strictly related to the Galaxy Tab S8 itself, but as the Book Cover Keyboard is such an essential accessory we still want to see improvements. We felt the layout on the Galaxy Tab S7's keyboard cover was rather cramped, so we'd love to see slightly larger keys if the Galaxy Tab S8 launches alongside a new variant. Taking some cues from Apple's Magic Keyboard when it comes to adjustable hinges would be wise.