You many already have Prime Video thanks to your Amazon Prime subscription, but that doesn't mean you should overlook this streaming service. New to Prime Video (and Freevee, its free ad-supported streaming TV channel) are a number of great movies, TV shows, and sports.
Some of the notable picks this month include a movie about a coked-out bear, seven Saw films, a couple of classic Billy Crystal vehicles, and the prequel to The Sopranos.
Those who are into sports should check out Destination NBA: A G League Odyssey, which looks at some promising young basketball players, and at the end of the month, the NFL returns with a preseason game between the Philadelphia Eagles and the Indianapolis Colts.
When Harry Met Sally (Aug. 1)
The ultimate romantic comedy stars Billy Crystal and Meg Ryan as two casual acquaintances who become friends and finally partners, though the through line isn't always clear. This movie also stars Bruno Kirby, Carrie Fisher, and New York City, which is as much a character as everyone else in the film.
If you're in the mood for a Billy Crystal double feature, you should also check out City Slickers, where three buddies (which include Daniel Stern and Bruno Kirby) go on a cattle drive out west and get more than they bargained for. Jack Palance won an Oscar for his role as the surly trail boss Curly.
Saw I - VI (Aug. 1)
While it's not all of the Saw movies, Amazon is getting the bulk of them in August, so you can get your fill of Jigsaw and his fiendishly lethal traps that test his victims both physically and mentally. However, those who are caught in his puzzles aren't always as innocent as they seem. It's a series of films not for the squeamish.
The Many Saints of Newark (Aug. 1)
What makes Tony Soprano the way he is? While there was plenty left unresolved about the mobster's psyche at the end of the HBO series, creator David Chase revisits the capo as a young man in 1960s Newark. The young Tony is played by the son of the late James Gandolfini, which adds a somber note to the proceedings, as we watch the impressionable boy get slowly pulled into the underworld. Still, it's fun to revisit the Sopranos-world and see characters as their younger selves, including Vera Farmiga as Tony's mom, Ray Liotta as Dick Moltisanti, and Corey Stoll as Junior Soprano.
F9: The Fast Saga on Freevee (Aug. 1)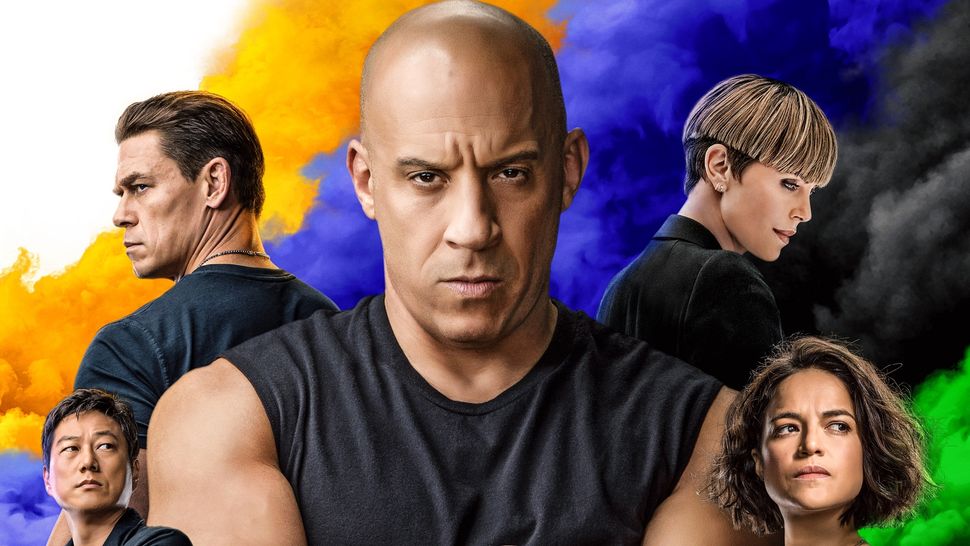 Watching the Fast and Furious movies in order is a real pain, as they're scattered across multiple streaming services — and in some cases, aren't even available online. Here's your chance to see at least one of them for free. F9 brings the gang back together — including Han, back from the dead — and introduces John Cena as Jakob, Dom's estranged brother. Because as we know, this series is all about family.
Destination NBA: A G League Odyssey (Aug. 8)
Who's going to be the next big NBA star? Destination NBA: A G League Odyssey goes deep into the NBA's developmental league to follow a number of prospects as they try and make their way to the big time — as well as a former star looking to return. Starring Seth Curry, Spencer Dinwiddie, Jalen Green, and Gary Payton II, among others.
Red, White & Royal Blue (Aug. 11)
Someone call Lifetime Original movies and ask if something's missing. The synopsis for this flick reads "Red, White & Royal Blue centers around Alex (Taylor Zakhar Perez), the president's son, and Britain's Prince Henry (Nicholas Galitzine) whose long-running feud threatens to drive a wedge in U.S./ British relations. When the rivals are forced into a staged truce, their icy relationship begins to thaw and the friction between them sparks something deeper than they ever expected."
It's based on a New York Times bestseller, and also stars Uma Thurman. This should be catnip for those who try and ship the scions of presidents and the House of Windsor.
Cocaine Bear (Aug. 15)
A movie that had Snakes on a Plane vibes. Based very loosely on a true story of a narco plane that went down in the woods with kilos of coke, Cocaine Bear follows the erstwhile ursine as it goes on a drug-fueled bender and runs into criminals, police, and others who are trying to recover the drugs for themselves.
Directed by Elizabeth Banks, this surprisingly gory film features Ray Liotta in his final performance, Keri Russell, O'Shea Jackson Jr., Margo Martindale, and Isiah Whitlock, Jr.
The Black Demon (Aug. 22)
Missed Shark Week, or simply can't get enough of this predator of the deep? The Black Demon stars Josh Lucas as a father who takes his family on a trip to an oil rig in Mexico. (Whose idea of a fun time was that?) Once there, they discover that they've unwittingly entered the territory of a megalodon. Who will make it out alive?
Thursday Night Football (Aug. 24)
Thursday Night Football is often the worst football, and preseason football is even worser. So preseason Thursday Night football doesn't exactly have us running for the remote. But still! Football is back with this match between the Philadelphia Eagles — the defending NFC champions — and the Indianapolis Colts in their final preseason game. It's unlikely that we'll see much of Jalen Hurts, Philly's starting QB, but we could see a bit of Anthony Richardson, who was the fourth pick of the draft this year, and is projected to be Indy's starter for the season.
Dungeons & Dragons: Honor Among Thieves (Aug. 25)
This is not the first time the classic role-playing game has been adapted for the big screen, though with a Rotten Tomatoes score of 91, it's one of the better-received ones. (The 2000 flick with Jeremy Irons has a score of just 9).
This delightful fantasy flick has some medium-wattage stars, including Chris Pine, Michelle Rodriguez, and Hugh Grant, as they embark on a quest (of course) to find a lost relic. In his review for the Chicago Sun-Times, Richard Roeper said that "Even if you're never once rolled the dice in the role-playing game, there's a solid chance you'll enjoy the whiz-bang fantasy adventure that is "Dungeons & Dragons: Honor Among Thieves."
Women Talking (Aug. 29)
If you liked The Handmaid's Tale, then put this movie on your shortlist. Directed by Sarah Polley, Women Talking follows a group of women in a repressive religious community as they try and decide if they should break out, or stay and fight the system. Women Talking has a loaded cast, including Rooney Mara, Claire Foy, and Frances McDormand. Released last year, it won the Oscar last year for best adapted screenplay.
More from Tom's Guide