Update: Check out our Apple Event live blog for the latest from Cupertino on the iPhone 15 and more.
The iPhone 15 release date is right around the corner if the steady stream of rumors is any indication. We already know that there's an Apple event happening later today (September 12) and if history repeats itself, then the phones themselves should launch not long after.
As to be expected with any major Apple release, a bunch of new features have already been rumored for both the standard iPhone 15 and Plus models as well as the iPhone 15 Pro and Pro Max, including a USB-C port, Action button, upgraded camera array and more.
Below, we've recapped some of the most significant new features and changes anticipated to hit the iPhone 15 lineup. And if you're eager to learn more about Apple's potential plans for next month's event, check out our round-up of the new products we expect Apple to unveil.
Action button
According to a growing number of rumors, Apple's planning on ditching the mute switch with the iPhone 15 Pro and iPhone 15 Pro Max and replacing it with a new solid-state "action button." Based on the leaks we've heard so far, the action button will still be able to toggle your phone's ringer on and off, just as you could with the mute switch. But now you'll be able to program the button to do a bunch of other handy functions, such as enabling Do Not Disturb or Low Power Mode and more.
With this change, the iPhone 15 Pro models could mark the end of an era for smartphones. The mute switch has been on every iPhone model since Apple debuted the original back in 2007. But while a physical toggle has its benefits, Apple and other smartphone manufacturers have been steadily stripping away its contemporaries from their handset's designs for years. Soon the mute switch could go the way of the headphone jack and 30-pin charger.
So it comes as little surprise that Apple would want to swap it out for something more state-of-the-art, especially given the long-standing rumors about Apple's plans to eventually replace all iPhone buttons with solid-state alternatives.
USB-C charging
With the iPhone 15 series, Apple's expected to finally ditch its proprietary Lightning charging port for a standard USB-C one. The long-requested switch comes as new EU rules force Apple to fall in with every other phone maker and adopt the USB-C port before the end of 2024.
Earlier this week, leaked images of the iPhone 15 USB-C port showed off another noteworthy upgrade: Thunderbolt connectivity, which could bring much faster potential data transfer speeds to iPhone users. Thunderbolt over USB-C supports up to 40Gbps, compared to the USB 2.0 480Mbps speed cap on Lightning and the 10Gbps baseline for USB-C. That could make it easier than ever to quickly transfer large files from the best iPhones.
It remains unclear whether all four iPhone 15 models will get Thunderbolt or if Apple or if Apple will limit the functionality to its high-end models, as it's done with the iPad Pro and recent Macs and MacBooks. While the leaked USB-C connector looks identical across iPhone 15 models, only the iPhone 15 Pro was tipped to get Thunderbolt 3 support in previous leaks.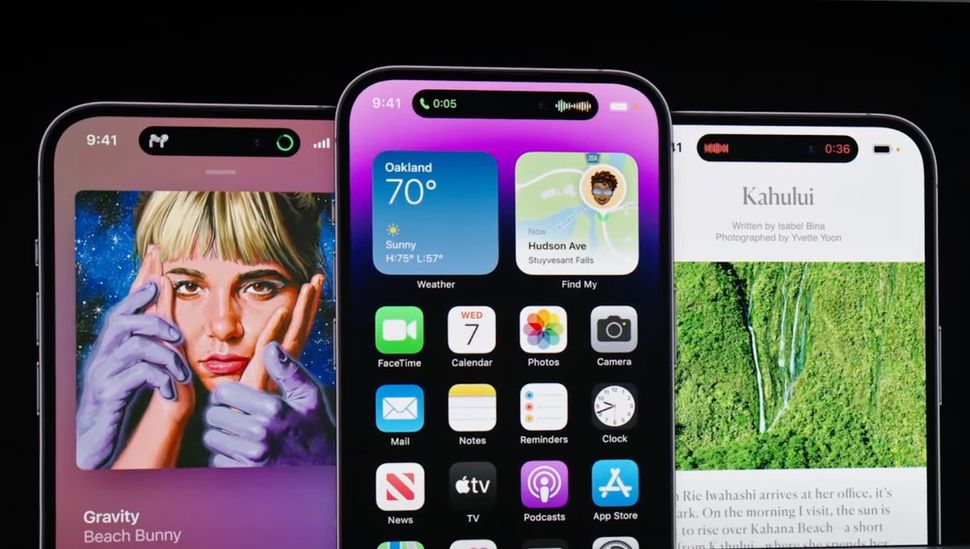 Dynamic Island comes to all models
The Dynamic Island is one of the iPhone's newest and most novel features, replacing the notch with a more streamlined way for users to access notifications and mini-players. Unfortunately, when it was introduced with the iPhone 14, Apple limited it to the iPhone 14 Pro and Pro Max.
That could change this time around. According to several sources and purported photographic evidence, the Dynamic Island is coming to the iPhone 15 and iPhone 15 Plus as well as the Pro models. So with the iPhone 15 series, we can expect to see a more unified-looking family of phones, at least from the front, with all the extra screen space and features allotted by the Dynamic Island.
Periscope zoom camera
Rumor has it the iPhone 15 Pro Max will get an exclusive feature not seen on any other iPhone 15 models: a new periscope telephoto camera that will allow for as much as double the optical zoom of the iPhone 14 Pro Max.
Tipsters claim the periscope mechanism, which enables Apple to pack a more powerful zoom lens in the iPhone's slim body, will allow up to 5x or 6x magnification. Another leak claims Apple will move to a hybrid lens design with the iPhone 15 Pro Max, using a combination of glass and plastic parts to increase the image quality compared to competitors without adding bulk to the handset's slim design.
Meanwhile, the smaller Pro iPhone is rumored to stick with the current 3x telephoto zoom available on the past couple of Pro iPhone generations.
Stacked battery system
And finally, on the battery front, the iPhone 15 series promises to introduce some of the longest-lasting phones on the market. That's saying something considering the iPhone 14 Pro Max was the only true flagship phone to crack the top five in our best phone battery life list, reaching an impressive mark of 13 hours and 39 minutes on Tom's Guide's battery test.
Rumor has it we can expect larger batteries on all iPhone 15 models. The standard iPhone 15 is tipped to pack a 3,877 mAh battery capacity, while the iPhone 15 Pro Max's could clock in at 4852 mAh. The iPhone 15 Pro and 15 Pro Max's battery longevity could be attributed, at least in part, to a new stacked battery system that employs the same tech that powers electric vehicles. And with the A17 Bionic chip, Apple's first chip to leverage the 3-nanometer manufacturing process, rumored to be headed for the Pro models, we could see as much as a 35% boost in power efficiency in their battery life as a result.
More from Tom's Guide