While iPhone 15 rumors haven't exactly been hard to come by, we've reached that time of year when everything comes together into physical dummy units.
Dummy units — with dimensions and details intended for case and accessory makers — proved very accurate for the iPhone 14 last June, so you can probably put a lot of trust in the information below. Especially as it matches up with the various rumors and leaks we've seen over the last few months.
The dummy units were revealed in the video above made by MacRumors, and at a glance there's not much change to write home about.
The handsets are of a similar size and shape to the current regular, Plus, Pro and Pro Max models although they are a touch more rounded as leakers had previously suggested. "In the middle between an iPhone 11 and an iPhone 12" is how host Dan Barbera describes it. It's "less sharp" and "more comfortable" in the hand, apparently.
Although these dummy handsets reveal nothing about what's on the inside, they do confirm a couple of things about how you'll interact with the real things when they arrive in September.
As all but confirmed by Apple, USB-C is here thanks to a European Union directive, and Dynamic Island, as promised, is also on the entire lineup this time around.
It also looks like the mute switch has indeed been replaced by a button as anticipated. Though this dummy model may be slightly out of date as it shows a solid volume rocker — something that is now tipped to be delayed to the 2024 iPhones.
While the cameras look the same across the board, Barbera repeats the rumor that the largest model — the iPhone 15 Ultra — will be getting a periscope lens with up to 6x optical zoom. The larger components required might explain the slightly thicker design revealed on a previous dummy unit.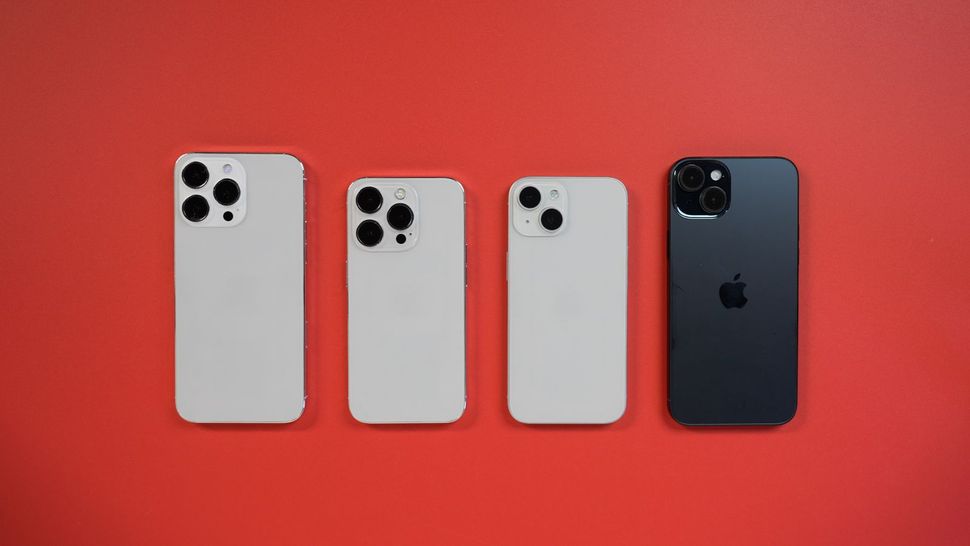 These dummy units have no real circuitry inside, of course, but the real models are tipped to get a substantial speed bump. The Pro and Ultra models are expected to get the A17 chip with speed improvements impressive enough to drive "replacement demand" according to suppliers. The regular iPhone 15 handsets, meanwhile, will likely get the upgrade to A16 that Pro users enjoyed this generation: it's a modest, but welcome speed upgrade.
While all of this should be taken with a pinch of salt until officially confirmed, dummy units are generally extremely reliable as Apple wants a ready supply of cases and accessories to support a new phone's launch. While the presence of the volume rocker suggests this may not be the final design, it would be a big surprise if it wasn't very close indeed.