It's been more than three years since Marvel's Infinity Saga came to an end, but now, Lego is offering an epic way to relieve some of the MCU's biggest moments (outside of Disney Plus, of course.) The company just unveiled its tallest and most minifigure-packed Marvel set to date — and I had the chance to see the fully-assembled structure in person.
The Lego Marvel Avengers Tower 76269 ($499, releasing November 24) is a total showstopper, standing a lofty 3 feet tall. Essentially, it's a realistic replica of the sloped skyscraper formerly known as Stark Tower, with the Avengers 'A' logo branded on the sides. And while the tower itself certainly caught my eye, it's the slew of surrounding minifigures that I think will blow Marvel fans away.
Lego has released sets with 30-plus minifigures before, but none with as many as the Avengers Tower in the franchised Marvel collection. The set comes with practically every Marvel icon you can name from Nick Fury, Black Widow, Hawkeye and Wanda to Thor, Loki, Sam Wilson and Vision. There's even multiple versions of Iron Man and Captain America, capturing them at different moments of the Infinity Saga. Personally, my favorite two are the Hulk and Ant-Man, which are respectively larger and smaller than the average Lego minifigure.
But the standout minifigure from the Lego Avengers Tower is, undoubtedly, Marvel Studios president Kevin Feige. This is the first official time Feige takes minifigure-form, and I think the idea is that you'd hide the civilian-looking character as an Easter egg when you put the set on display.
Since the set is so dynamic, it took me a minute to locate the Feige minifigure myself — it was stood unsuspectingly at the entrance of the tower holding a coffee and snack. Needless to say, I was amused. I made sure you're able to spot Feige in this TikTok video showing off the set at the flagship NYC Lego store on the evening the set was announced. Be sure to check it out from every angle:
I've seen pretty much all of the Lego Marvel sets released in 2023, but I'm not sure any are as impressive in-person as the Avengers Tower. Second-up for me is Captain America's Shield, a 3,128-piece construction that I recently acquired and can't wait to build. It's out now and you can get it on sale for $159 from Amazon, down from $199. Not only will it tide you over until the Avengers Tower releases, but it'll also cost you several hundred dollars less.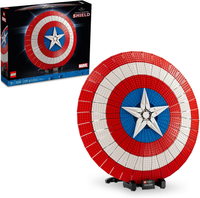 LEGO Marvel Captain America's Shield: was $199 now $159 @ Amazon
The LEGO Marvel Captain America's Shield set is a display-worthy construction that's as great to build solo as it is to piece together with friends.
There's currently an early Lego Black Friday sale on best-selling sets if you're looking to get ahead on holiday shopping with Black Friday deals. Me? I'll be counting down until I can "Avengers, assemble" the heck out of this tower set.
More from Tom's Guide