If you game online but find lag to be your greatest enemy, then Australia's consumer watchdog would suggest you pack your bags and move to Canberra.
The Australian Competition and Consumer Commission (ACCC) has just released its latest quarterly report looking at the current state of NBN services in Australia across fixed-line and fixed-wireless, with the key difference in this version, published on April 5 2023, being that it has placed a greater emphasis on online gaming.
Specifically, the ACCC has now measured latency to various gaming servers — in Australia, North America and Asia — for a selection of popular games, across all NBN connection types and from all Australian states and territories. And the big winner was the ACT.
The regulator also recorded average latency times during all hours and the busy hours for the 11 internet service providers (ISPs) monitored during the previous quarter.
You can view latency speeds recorded to six of the sample group of games in the table below. For the complete table, head to the ACCC's Measuring Broadband report (page 34).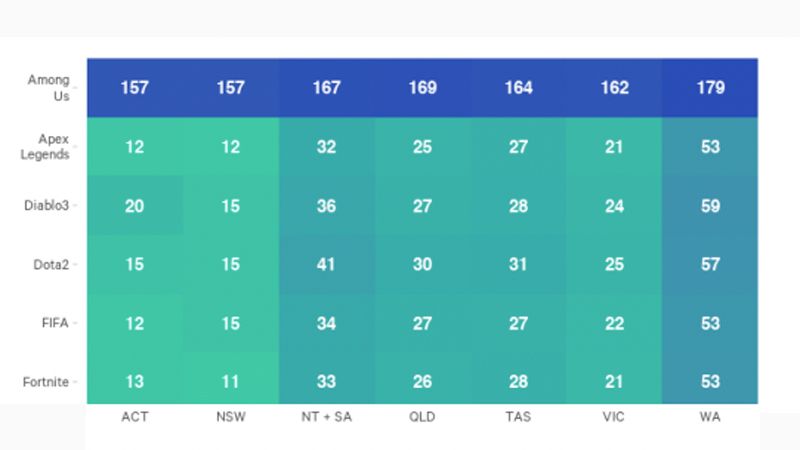 Latency, for those unaware, is the measure of time it takes for data to be sent from a user's device, to the necessary server and back to the device.
Online gamers, naturally, want this figure to be as low as possible to help prevent any potential lag or interruptions affecting their online play. Some of the best NBN providers advertise specific gaming plans or services to help reduce lag, which is most commonly claimed to be achieved by optimising network routing.
The ACCC has ultimately found, however, that the overriding factor that can have the greatest effect on online gaming is — perhaps unsurprisingly — the distance you are from whichever gaming server you connect to for whichever game you're playing. The regulator also found once again that download speed has little effect on online play, although it will of course still prove handy when carrying out large game downloads.
Aside from the distance from the gaming server, the NBN connection type can also have an effect on latency, although the results here may come as a surprise.
FTTC FTW
Due to its lack of copper wiring anywhere in its infrastructure, and instead using solely fibre, one would expect fibre-to-the-premises (FTTP) connections to offer the lowest latency. Indeed, FTTP connections did record low latency figures in the ACCC's reporting data with an average figure of 52.63ms.
But, surprisingly, fibre-to-the-curb (FTTC) connections were found to fare slightly better, with an average latency of 52.3ms. Of course, a difference of 0.33ms is going to be barely noticeable in real-world use, but these findings do go some way to proving that what we would expect to be the best, isn't always the case.
Do note that these latency speeds take into account overseas servers, as well as those in Australia.
If you take a look at online forums such as Whirlpool, some online gamers complain about lag and high ping speeds, and blame their ISP in the process. Many are quick to ask what connection the complainant is on — see here as an example — and often suggest FTTP and hybrid fibre coaxial (HFC) to be the superior options. But, using this recent ACCC data as an indicator, they may have far less impact than first believed.
Location, location, location
The other deciding factor that can determine how lag-free your online gaming sessions can be, is where you live in Australia. As mentioned earlier, the ACCC made the (frankly obvious) observation that your location from gaming servers will impact latency. Those closer to servers will experience lower latency and those further away, higher latency. All this technical jargon doesn't have to be rocket science.
And, because the majority of gaming servers are located in Sydney, residents in NSW and the ACT were found to experience the lowest latency speeds. When recording latency to servers for 16 of the most popular online games, including Among Us, FIFA, Fortnite and World of Warcraft, the ACT actually recorded the lowest average figure of 48.9ms, compared the 49ms for NSW.
WA scored the highest average latency time of 84.9ms.
Again, these speeds take into account overseas servers. When comparing latency by state to servers just in Australia, NSW comes out on top with an average of 13ms compared to the ACT's 14ms. Information regarding latency speeds to Australian servers can be seen in the graph below.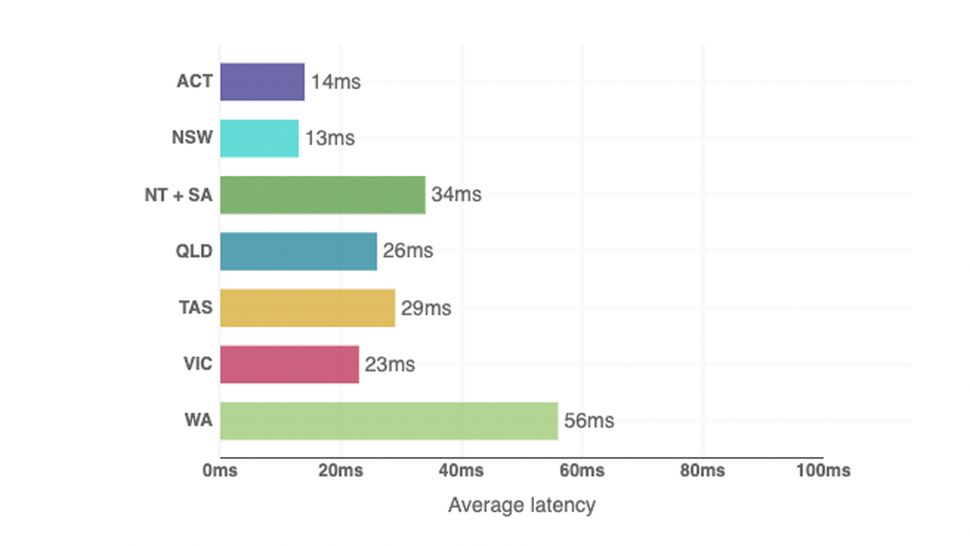 Faster isn't that much stronger
To confirm that connection type and location play a greater role in dictating latency speeds, the ACCC also recorded data based on plan download speed. No matter where the gaming server was hosted, there was very little difference in latency speed across NBN speed tiers from Basic II (max 25Mbps) to Ultrafast (max 1,000Mbps).
The takeaway
This latest report marks the first time the ACCC has provided an in-depth look into the state of latency, specifically in an online gaming context. Until now we've had to base our decision on which ISP to sign up with on real-world customer accounts on online forums, or which makes the best claims in their marketing material.
Now that the data has been released, it could completely change the landscape in Australia. By this, we mean that because FTTP connections aren't necessarily superior to 'legacy' connections such as FTTC, customers on the latter connection and who game online regularly, may feel less inclined to upgrade to the newer technology.
It could also mean that, since connection type and location play a greater role than the ISP itself and download speed, customers may be more likely to seek out the cheapest NBN plans, as opposed to spending in excess of AU$100p/m on a high-speed NBN 250 or NBN 1000 plan.