A Samsung Galaxy S23 vs. OnePlus 11 face-off will be the first fight featuring phones released in 2023, as the two handsets look to top the best Android phones rankings. It could be a closer contest than you might imagine.
The Galaxy S23 figures to draw the most attention. After all, Samsung is the biggest name in Android phones, and the Galaxy S models sit at the top of the heap. This year's edition figures to build off of previous installments with a few key improvements. For the purposes of this face-off, we'll focus on the standard Galaxy S23, though Samsung is also likely to introduce larger Galaxy S23 Plus and Galaxy S23 Ultra models. (We break down the differences in our Galaxy S23 vs. Galaxy S23 Plus vs. Galaxy S23 Ultra comparison.)
In contrast, it looks like there will be just one version of the OnePlus 11 — in other words, no Pro model from the upstart phone maker this time around. But that will allow OnePlus to focus on camera improvements and other enhancements in a phone that figures to be a lower-cost alternative to the Galaxy S23.
Which Android phone will land on top? We can't say for certain until both phones arrive in February. But based on what OnePlus has announced about the OnePlus 11 and what rumors have hinted at with the Galaxy S23, we have a pretty good idea of how a Samsung Galaxy S23 vs. OnePlus 11 comparison will shake out.
Samsung Galaxy S23 vs. OnePlus 11: Specs
Swipe to scroll horizontally
| | | |
| --- | --- | --- |
| Row 0 - Cell 0 | Galaxy S23 (rumored) | OnePlus 11 |
| Screen size | 6.1-inch AMOLED (2,340x1.080) | 6.7-inch AMOLED (3216 x 1440) |
| Refresh rate | 48-120Hz | 1-120Hz |
| CPU | Snapdragon 8 Gen 2 | Snapdragon 8 Gen 2 |
| RAM | 8GB | 12GB, 16GB |
| Storage | 128GB, 256GB | 256GB, 512GB |
| Rear cameras | 50MP main, 12MP ultrawide, 10MP telephoto (3x zoom) | 50MP main, 48MP ultrawide, 32MP portrait with 2x zoom |
| Front cameras | 12MP | 16MP |
| Battery size | 3,900 mAh | 5,000 mAh |
| Charging speed | 25W wired | 100W wired |
| Colors | Phantom Black, Green, Lavender, Cream | Black, Green |
Samsung Galaxy S23 vs. OnePlus 11: Price and availability
The Galaxy S23 and OnePlus 11 could be available around the same time. Samsung is holding an Unpacked event on February 1, where it's all but certain that the Galaxy S23 will make its debut. Meanwhile, the OnePlus 11 has already launched in China, and it's getting a global launch on February 7.
Pricing is a bit more of a mystery for both phones. We'd anticipate the Galaxy S23 would come in for around $799, the same debut price as the Galaxy S22. However, rising component costs could cause Samsung to raise the price of its phones. We just don't know at this point.
In China, you can buy a OnePlus 11 for 3,999 yuan, which is currently just under $600 based on conversion rates. We'd be very surprised if that was the U.S. price of the OnePlus 11, though, considering the OnePlus 10 Pro debuted at $899. (OnePlus has since dropped the price.)
Samsung Galaxy S23 vs. OnePlus 11: Design
We have a pretty good idea of how both new phones might look. In the case of the Galaxy S23, that's thanks to leaked renders of the upcoming phone. Our OnePlus 11 design insight comes directly from photos released by OnePlus itself.
The design approaches by the phone makers couldn't be any more different. The Galaxy S23 figures to look a lot like last year's model, with the biggest change being that the standard and Plus models will adopt the look of the Galaxy S22 Ultra. That means instead of a contour cut-design in which the camera array blends into the side frame of the phone, the rear cameras will sit flush against the back of the S22 with no distinct array separating out the vertically stacked lenses.
The OnePlus 11 features an entirely different design from the OnePlus 10, with the biggest change being a circular camera block in the upper left corner of the phone. The front looks more similar to the OnePlus 10, with curved edges and a camera punch-hole in the upper left corner of the screen. The alert slider makes its triumphant return after OnePlus dropped the feature from the OnePlus 10T.
OnePlus appears to be offering the phone in just green and black. We expect that the Galaxy S23 will come in twice as many options, with beige, black, green and lavender tipped to make up the Galaxy S23 colors.
Samsung Galaxy S23 vs. OnePlus 11: Display
It will be interesting to see how the Galaxy S23 and OnePlus 11 displays distinguish themselves. Both panels are likely to feature a 120Hz refresh rate similar to their predecessors. The OnePlus 11 can scale down to 1Hz when action on the screen is static, giving it a possible edge over the Galaxy S23. If Samsung sticks with the S22's specs, the refresh rate on the Galaxy S23 will only drop down to 48Hz.
The OnePlus 11 should have the larger screen at 6.7 inches, but if the Galaxy S23's rumored 6.1-inch panel is too compact for your taste, you can always turn to the 6.7-inch Galaxy S23 Plus.
Brightness could be the other big differentiator here, as Samsung made that a focus with last year's flagships. We're interested to see if the Galaxy S23 matches the 1,300-nit peak brightness of the Galaxy S22, especially with Samsung showing off a new type of panel that can top 2,000 nits of brightness. (That panel would likely be headed to the Ultra model, and it may be too late to include with the S23 lienup anyhow.) The OnePlus 10 Pro peaked at 734 nits in our testing, so there's room for the OnePlus 11 to improve upon that.
There's one other display-related feature worth addressing. Samsung may include an improved under-display fingerprint sensor on the Galaxy S23 that has a larger footprint, potentially making it more responsive. There's been little talk of the OnePlus 11's fingerprint sensor, which is also located underneath the phone's screen.
Samsung Galaxy S23 vs. OnePlus 11: Cameras
Here's an area where OnePlus could really gain some ground on Samsung, as we're not expecting big hardware changes with the Galaxy S23's cameras. That would put the S23 in line to feature a 50MP main camera, augmented by 12MP ultrawide and 10MP telephoto lenses. The latter would be capable of a 3x optical zoom. (Hey, you want big camera changes, check out the Galaxy S23 Ultra and its reported 200MP main sensor.)
While cameras have traditionally been a weak spot for OnePlus phones, that's changed in recent years thanks to a partnership with lens specialist Hasselblad. Based on camera samples that have come from OnePlus 11 users in China, it seems as if special attention was paid to producing detailed low-light and night-time shots with this iteration of Hasselblad-tuned lenses.
As for the camera hardware on the OnePlus 11, you'll get a 48MP main and 50MP ultrawide lenses. There's a third 32MP camera on the back of the OnePlus 11, which OnePlus is calling a portrait camera. It does feature a 2x zoom, which is a step back from the 3.3x zoom the OnePlus 10 Pro supported.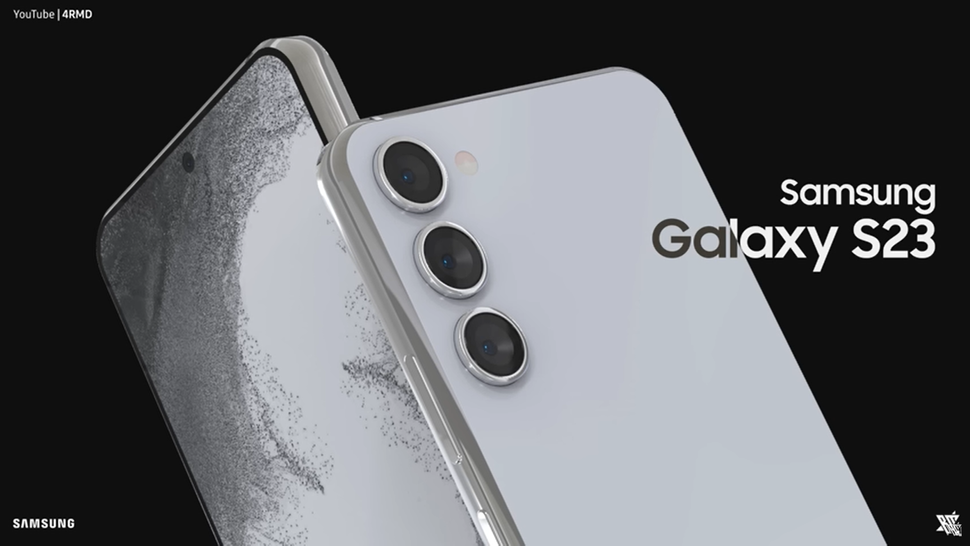 Up front, the Galaxy S23 is getting a boosted 12MP front camera, compared to the 10MP selfie cam on the Galaxy S22. We've heard rumors that Samsung could add a Pro mode for its front camera as well as new features aimed at better low-light selfies. The OnePlus 11's front camera uses a 16MP sensor, compared to a 32MP shooter on the front of the OnePlus 10 Pro.
Samsung Galaxy S23 vs. OnePlus 11: Performance
The two phones should be evenly matched when it comes to performance. OnePlus has already confirmed that the OnePlus 11 is running on Qualcomm's Snapdragon 8 Gen 2 silicon, introduced late last year. We'd expect the Galaxy S23 to also adopt that chipset — in fact, Samsung may dispense with its usual practice of having some models run on Qualcomm silicon and others use its own Exynos chips. One rumor suggests that every Galaxy s23 will feature the Snapdragon 8 Gen 2, regardless of where in the world it's shipping.
That would be good news, as our preliminary Snapdragon 8 Gen 2 benchmarks using a Qualcomm-supplied reference device revealed some pretty promising numbers. (The Snapdragon 8 Gen 2 is also supposed to be much more power efficient than the Snapdragon 8 Gen 1, which should help battery life — more on that below.) As you would expect, our Snapdragon 8 Gen 2-powered test unit produced the best Geekbench and 3DMark Wild Life Unlimited scores we've seen from an Android phone. They also topped an A15 Bionic-powered iPhone 14 in some cases.
Samsung Galaxy S23 vs. OnePlus 11 performance differences could come down to how much RAM is packed into each phone. The base model Galaxy S23 is expected to feature 8GB of RAM, though it's rumored to be of the faster LPDDR5X variety. The OnePlus 11 features 12GB of RAM in its base model, and there's a 16GB option as well. You'd have to get the Galaxy S23 Ultra to get a Samsung phone with 12GB of memory.
If we had to guess, we'd say the extra RAM will give the OnePlus 11 a slight edge in performance testing while making it a little bit easier to jump between apps. But we'll have to run benchmarks on both phones to be sure.
The base model of the OnePlus 11 offers 256GB of storage. One rumor claimed Samsung was going to pull a similar move with its Galaxy S23 models, but a subsequent report dismissed that idea. We do hope that Samsung bumps the base storage beyond 128GB, though.
Samsung Galaxy S23 vs. OnePlus 11: Battery life and charging
The Galaxy S23 is in line to get a slightly bigger battery compared to the S22 — 3,900 mAh vs 3,700 mAh. That, coupled with the power savings from the new Snapdragon chipset, could boost battery life, which would be welcome given that the Galaxy S22 finished 2 hours behind the average smartphone on our battery test. There's talk of Samsung adding a light performance mode to eke out even more battery life from its new phones.
The OnePlus 10 Pro had no such problem, landing on our best phone battery life list. So naturally, we're happy to hear that the 5,000 mAh battery from that phone is back with the OnePlus 11.
However long the phones last on a charge, it's a safe bet the OnePlus 11 will charge more quickly. OnePlus is including a 100W charging brick with its new phone. Meanwhile, Samsung is expected to stick with a 25W wired charging speed for the Galaxy S23, reserving faster 45W speeds for the Plus and Ultra models.
Samsung Galaxy S23 vs. OnePlus 11: Software and special features
Both phones are going to ship with Android 13 featuring their respective skins — One UI for the Galaxy S23 and OxygenOS for the OnePlus 11. Back in November, OnePlus said that select devices released this year would get four OS updates along with five years of security patches. That matches what Samsung offered with the Galaxy S22 and what we assume will continue with the Galaxy S23.
Samsung's phone could stand out in another way, as the S23 models are tipped to get satellite connectivity. Much like a similar feature Apple added to the iPhone 14, Galaxy S23 models would be able to send emergency messages via satellite when there's no cellular connectivity.
Samsung Galaxy S23 vs. OnePlus 11: Outlook
Our Samsung Galaxy S23 vs. OnePlus 11 showdown won't be decided until we have a chance to see both phones. In the case of the S23, that means waiting for Samsung's launch next month, while we're waiting for the OnePlus 11 to make its way out of China.
At this stage, though, it seems like the Galaxy S23 will be the phone to beat, thanks to Samsung's track record with capable cameras. The key question is whether OnePlus can continue to reap dividens from its Hasselblad partnership to produce a camera phone that can keep pace with the Galaxy S23. The price of both the Galaxy S23 and OnePlus 11 also will play a big part in how we regard the two phones.
It figures to be a very close competition. Stay tuned to see who wins.