Amazon Prime Day doesn't officially start until Tuesday, July 11, but that hasn't stopped some extremely enticing deals from cropping up early.
The newest among them? This 24-inch Insignia F20 Fire TV on sale for $64.99 at Amazon — its lowest price ever according to deals tracking website CamelCamelCamel.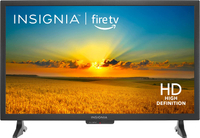 Insignia 24" F20 Fire TV: was $119 now $65 @ Amazon
Don't get it to replace your living room TV, but as a second screen for you kitchen, bedroom or kids room, you won't find a cheaper option than this 24-inch Insignia TV. For just $65, you're getting a 720p smart TV with access to streaming services like Amazon Prime Video, Netflix, Hulu, Disney Plus, YouTube and more. Own a smart home or Amazon Echo devices? It also offers deep Alexa integration and a voice control remote.
The downsides here are pretty obvious: It's only a 24-inch TV with a 720p resolution. It's not the kind of TV that I'd recommend replacing your living room set with.
That being said, for a kids room or a kitchen, a 24-inch Fire TV can be pretty handy. As a smart TV, it will allow you to catch shows on Amazon Prime Video, Netflix and other streaming services, or even cast content from your phone using Apple AirPlay. Plus, if it breaks because of a spill in the kitchen or, well, kids just being kids, you'll only be out $65.
This is the second-best TV deal happening ahead of Prime Day
Interestingly, the Insignia F20 deal is only the second-best one going on this week. The top honors still belong to the $99 Amazon 43-inch Fire TV Omni 4K.
You'll have to get a special invite to buy it (you can register on Amazon with a Prime account), but it's looking like the best Amazon Prime Day deal we're going to see in 2023.
Why shell out for the Omni TV when the Insignia is only $65? Well, for one, you're getting a lot more screen real estate (43 inches versus 24 inches) and you're getting 4K resolution instead of 720p.
In addition to the basics, though, the Amazon Omi TV has HDR support for better color reproduction and vibrancy, as well as Dolby Vision. For folks who like to stream video or gamers looking for a good gaming TV, the Omni is the better choice.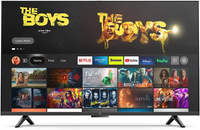 Amazon 43" Fire TV Omni: was $399 now $99 @ Amazon
Request invite! Save $300 on this 43-inch Fire TV by reserving it ahead of Amazon Prime Day. This model offers a 4K resolution, HDR support and hands-free Alexa. For movie lovers, it's got Dolby Vision support and instant access to all the streaming services you could want via the slick Fire TV interface. It also offers deep Alexa integration and can be controlled with just your voice.
If you don't fall into either category — or you just can't pass up a good deal when you see one — we don't blame you for going with the cheaper Insignia TV.