You might be scouring Amazon for the hottest fitness Prime Day deals. But in some cases you'll want to look elsewhere.
I review the best yoga mats for a living, and my favorite Lululemon Take Form yoga mat is $39 off right now @Lululemon.
Sure, plenty of fitness Prime Day deals are available, but Amazon isn't the only way to save money, and this deal isn't to be sniffed at. Lululemon sales don't come very often, and these deals won't last forever.
Unsure whether to take the plunge? I teach on the Take Form, and it's one of my favorite yoga mats of all time.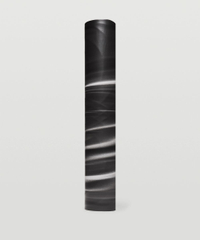 Lululemon Take Form yoga mat was $138 now $99 @Lululemon
The stunning and hugely popular Take Form 5mm mat is now just $99 during Prime Day, and Lululemon is responsible for slashing its price. Using grippy natural rubber and a rippling, tranquil three-dimensional pattern design to improve your positioning and alignment during practice, this one is a firm favorite for me.
The Lululemon Take Form yoga mat has been a staple in my exercise and teaching routine for over a year. One of the latest Lululemon additions, the mat improves positioning and alignment during practice so that you can find your flow state with proper form.
Lululemon is undeniably the maker of some of the best yoga mats and exercise gear on the market, and this model is a testament to their attention to detail, beauty and quality design. 5mm of plush thickness helps you pad down for slower practices like Yin while still firm enough to hold you during advanced practice, balances and inversions.
I teach mobility classes on the Take Form, and the grippy natural rubber texture keeps me positioned properly during vital poses like downward dog, still allowing me to transition from posture to posture without the sticky and restrictive feel of mats like the Manduka PRO Lite.
But let's talk aesthetics — this is one of the most beautiful yoga mats I've reviewed (and trust me, I've tested many). The Take Form uses 3D concentric circles in soothing hues that ripple across your mat like raindrops. But they have a purpose too, featuring soft ridges that help position your body to move intuitively without following printed alignment lines.
If you're wondering how to clean your yoga mat after a few uses, this one wipes clean easily thanks to its smooth polyurethane surface and textured rubber underside. But you still get plenty of grip, and I could just as easily use the mat in a hot yoga class or heated Vinyasa without issue.
As a 5"2 yogi, I don't have to worry about mat sizing, but the spaciousness is noticeable, making transitions like jump-backs a joy. Tall yogis — the Take Form measures 66cm x 180cm (26"x 71"), 5mm (0.19"), if you're interested. As far as yoga mats go, this is about as luxe as you can find, at one of the lowest prices I've seen at Lululemon.
And if you're looking for more Prime Day fitness deals, check out the 7 best home gym equipment Prime Day deals.