Prime Day deals mean now is a fantastic time to save money on home security cameras. But if you're like me, there's a good chance your home is covered in cameras already — so what good is upgrading? I don't know about you, but I've been enticed by eufy's Video Doorbell Dual — particularly since it's over a third off the normal price.
The eufy Video Doorbell Dual is now just $129 on Amazon, down from $199 — $70 less than the usual price. Meanwhile in the U.K. the eufy Video Doorbell Dual is now £119 at Amazon — £60 off the RRP. That means people on both sides of the Atlantic can enjoy a better view of what's happening from your front door, you can also benefit from the doorbell's package detection and Delivery Guard features.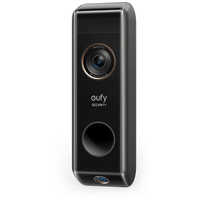 eufy Video Doorbell Dual: was $199 now $129 @ Amazon
Bolster your home security, and keep close watch on all your packages with eufy's dual-camera doorbell. Get alerts when packages arrive, and if someone tries to move them, alongside all the typical video doorbell features. Plus everything's stored locally, which means no pesky subscription fees.
Check other retailers: $129 @ eufy | $199 @ Walmart | $159 @ Best Buy (Homebase bundle)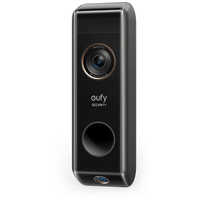 eufy Video Doorbell Dual: was £199 now £119 @ Amazon
Keep tabs on all your deliveries thanks to the second camera lens in this upgraded eufy video doorbell. Not only does the extra lens bolster your home security, it can recognize packages and notify you when they arrive — or if someone moves them. On top of your standard video doorbell features, and subscription-free local storage.
Check other retailers: £119 @ eufy | £229 @ Currys
eufy promises that the Video Doorbell Dual has zero blindspots, with that secondary camera deliberately designed to let you see any packages that may have been left at your doorstep. Because these days delivery people have a habit of leaving packages without bothering to ring the doorbell — which defeats the purpose of having one.
It's a real pet-peeve of mine, because I otherwise have no idea a delivery has happened. Simple motion alerts kept getting too many false positives from my neighbors wandering around that I had to disable them if I wanted to retain any semblance of sanity.
Package detection can tell when something has been left by your door, alerting you to that fact. And in the days where porch piracy is endemic, the Delivery Guard spots (and records) when someone takes the package. It can't physically stop them taking it, but you'll get a clear video of would-be thieves to hand over to the police.
Accuracy of human detection has also been improved thanks to a combination of radar and body heat sensors. And in our eufy Video Doorbell Dual review, we noted that both human and package detection worked very well. Plus the main camera has crisp 2K resolution and HDR, just like single-lens eufy 2K Video Doorbell.
The only thing it doesn't have is any kind of support for solar power, whether that's built-in or via eufy's standalone panels. As someone who doesn't have an existing set of doorbell wires, it means my video doorbell has to be plugged in and recharged every few months. While that's not the biggest hassle, I'd much prefer to never have to do that.
You just have to remember that the eufy Video Doorbell Dual isn't a standalone device — and you will need a eufy Homebase for it to work. If you don't already have one, then you can pick up a bundle for $159 ($100 off) in the U.S. or £169 (£60 off) in the U.K. The upside to this system is that eufy stores everything locally, and means key features aren't locked behind a cloud subscription.