Amazon's January sales are winding down as the month comes to an end, but you've still got time to save on some top-rated tech. And right now it's Amazon's own products that have been discounted the most, including its range of Kindle e-readers designed specifically for kids.
For a limited time, the Kindle Kids e-reader is on sale for $84 at Amazon. That's a saving of $35 compared to its regular retail price of $119, and it's also the lowest price ever for this 2022 model. Alternatively, the Kindle Paperwhite Kids is also on sale for $109 at Amazon — that's $50 off compared to its full listing price of $159.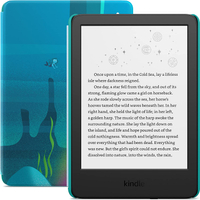 Amazon Kindle Kids: was $119 now $84 @ Amazon
Designed to nurture your kids love of reading, the Kindle Kids is a fantastic e-reader for little ones. It packs a 6-inch glare-free display with adjustable day and night modes. Plus, it can last up to six weeks on a single USB-C charge and is lightweight enough to be held in just one-hand. There's a full suite of parental controls and a purchase comes with a free year of Amazon Kids Plus which offers access to literally thousands of age-appropriate e-books.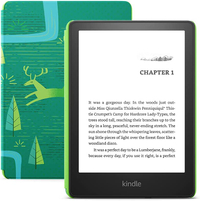 Kindle Paperwhite Kids: was $159 now $109 @ Amazon
The Kindle Paperwhite Kids is Amazon's supercharged e-reader for little ones. It offers a larger 6.8-inch glare-free display, and up to 10 weeks of battery life on a single charge. It's also been designed to withstand accidental immersion in water and comes with a two-year warranty for ultimate peace of mind. If your child is already a voracious reader, then this is the device for them.
The Kindle Kids e-reader is the perfect tool to get your kids excited about reading in 2023. For starters, it's purpose-built for reading without any access to apps or games. It packs a 6-inch high-resolution glare-free display with adjustable light and dark modes for reading both indoors and outdoors.
Designed specifically to encourage kids to read more, the Kindle Kids comes with a wealth of additional features. Vocabulary Builder and Word Wise are included to help young readers build up their understanding of more challenging words and text. Plus, there's an option to set a dyslexia-friendly font that can help keep young readers focused.
Parents will love the two-year guarantee. Amazon promises if your child's e-reader breaks within the first 24 months it will be replaced for free. The Kindle Kids also comes with a colorful magnetic cover that protects the device even when shoved into a schoolbag. And there's a full suite of parental controls allowing to adjust age filters, set a device bedtime and view your child's reading progress.
You don't worry about the cost of buying new ebooks regularly either as Amazon is throwing in a year of Amazon Kids Plus with each purchase. This subscription service gives you include to hundreds of popular kid-friendly reads including Diary of a Wimpy Kid, The Chronicles of Narnia and the Harry Potter series. There's also a selection of audiobooks if your kid likes to listen and read at the same time.
The Kindle Kids 2022 edition comes with 16GB of internal storage — which is enough to hold literally thousands of books — and can last up to six weeks on a single charge. The Amazon Kindle has dominated the e-reader world for over a decade, and this model designed specifically for Kids is a great buy to help encourage your child to discover the joys of reading.
If you're also interested in picking up an e-reader of your own, make sure to check out our roundup of the best Kindles. And be sure to shop the last remnants of Amazon's ongoing January Sale while you still have the chance.