The 12 Biggest Games of September 2019: Gears 5, Borderlands 3 and More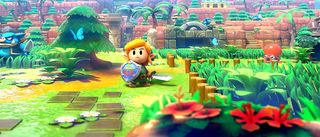 Don't sleep on September
Gaming's busy season is officially here. This month brings us several anticipated titles, including FIFA 20, NBA 2K20 and Gears 5. Meanwhile, there's the gory 2D metroidvania Blasphemous and two Souls-likes in The Surge 2 and Code Vein. There's also the Monster Hunter World: Iceborne expansion, plus both Final Fantasy VIII: Remastered and The Legend of Zelda: Link's Awakening remade on Switch.
Did you think we were done? We also get Dragon Quest XI S: Definitive Edition on Switch, and the loot-shooter Borderlands 3 finally comes out later this month. Make some room, folks.
Final Fantasy VIII: Remastered (Sept. 3; PC, PS4, Xbox One, Switch)
Final Fantasy VIII will get a very significant graphical update early this month. While not the same thing as the full remake that the more popular Final Fantasy VII is getting later on, Final Fantasy VIII: Remastered will feature clear visuals free from the PS1-era wobbly textures, and will include revamped character models with added detail.
Otherwise, this will be a straight-forward re-release of the original Final Fantasy on modern platforms, with only a couple of announced additions that should be familiar to buyers of previous re-releases. For example, you can activate a speed-up mode to run everything to 3X speed; you can also play with infinite hit points and active time battle bars if you just want to blast through the combat. There are no plans for a physical release.
Monster Hunter World: Iceborne (Sept. 6, PS4, Xbox One)
The first and only planned content expansion of Monster Hunter: World will land on PS4 and Xbox One early this month, with a PC release to follow. This expansion will include a new area to explore, new monsters to hunt down, rideable monsters, and – of course – new gear to craft. Iceborne will also add a new difficulty rank, Master Rank.
Iceborne will release as downloadable content for $39.99, and bundled with the base game for $59.99. As part of this expansion, a free patch will be released with Iceborne for owners of the base game; this will include improved multiplayer-difficulty scaling to account for when party members drop from a hunt.
NBA 2K20 (Sept. 10; PS4, Xbox One, PC, Switch)
NBA 2K20 will be released for all major platforms in the middle of the month, giving basketball fans their yearly dose. The improvements this year focus on a lot of the same things other sports games have been refining for the last couple years: making the career modes more detailed on and off the court (Idris Elba has a starring role this time around), adding production value to the voice acting, and giving players more customization choices for their characters.
Also coming to 2K20 is the full Women's National Basketball Association roster. As always, offline and online multiplayer will be included, as will the option to play with classic teams through NBA All-Star history, a robust team manager mode to work through, and custom MyLeague mode with which players can assemble their dream team of players through the league.
Gears 5 (Sept. 10; PC, Xbox One)
The next entry in the Gears of War series, now shortened simply to Gears, will be Gears 5 for Xbox One and PC this month. The gory, cover-based, third-person shooter will give players a lot of what they've come to expect from a Gears title. Gamers will get a full single-player campaign that follows Kait Diaz as she tries to uncover her past ties to the Locust, the primary antagonists of the previous games.
Returning to this edition is the very popular multiplayer that features competitive deathmatch modes and co-op horde modes, which now feature unique hero-based abilities in the vein of Overwatch.
Blasphemous (Sept. 10; PC, PS4, Xbox One, Switch)
Blasphemous is a very disturbing, single-player action-platformer set in the hyper-religious world of Cvstodia where you play as The Penitent One, who wields a large sword named Mea Culpa. Blasphemous uses super-smooth 2D sprite graphics that depict all the gory action and let you explore a nonlinear metroidvania world.
Pre-release footage of Blasphemous shows off a weighty combat system, not unlike Dark Souls, and a deep-upgrade path to develop your character throughout the campaign.
Borderlands 3 (Sept. 13; PC [via Epic Game Store], PS4, Xbox One)
Despite the name, Borderlands 3 is actually the fourth major entry in the series, coming after 2016's Borderlands: The Pre-Sequel. Borderlands 3 takes place after Borderlands 2, post the fall of Hyperion and Handsome Jack, and with 2's concluding promise of many new Vaults across many different worlds. Taking control of one of the four playable characters in this loot-focused, first-person-shooter, you'll travel to these worlds to stop the Calypso twins from taking control of the powerful Vaults.
As with previous entries, you'll collect weapons from fallen enemies and from inside loot chests with randomized properties and stats, keeping the ones you want, and selling or breaking down the many that you don't want. Four-player online co-op returns as the primary focus, allowing you and your friends to work through the game's campaign. New to Borderlands 3 is a scalable difficulty to fit each participant's character level, and the option for individual or shared loot drops.
The Legend of Zelda: Link's Awakening (Sept. 20; Switch)
A remake of the 1993 original Game Boy release, The Legend of Zelda: Link's Awakening will return on Switch with a complete graphical overhaul. In this adventure, as in the original, Link is stranded on a strange island, and must go on a quest to collect eight musical instruments to summon the Windfish so he can return to Hyrule.
The original adventure has been mostly preserved under the updated visuals, but along for the ride are some key new features and mechanics. Link can now jump across gaps, adding a platforming element to the gameplay, there are new sidescrolling segments in certain dungeons and a brand new mode called Chamber Dungeons that lets you assemble your own dungeon rooms together for you to play through (with no multiplayer or sharing component added, unfortunately).
The Surge 2 (Sept. 24; PC, PS4, Xbox One)
The Surge 2 will release later this month as the follow-up to the original 2017 admirable Souls-like. While remaining a single-player experience, The Surge 2 looks to improve upon some of the weaker points of comparison between it and the Souls series by adding in more non-player characterss to find and talk to, a more varied environment to explore, and a soulsign-like system that lets you leave graffitti behind for other players to see during their own playthroughs.
Carrying over from the original release is The Surge's original focus on dismemberment and the high tech, dystopian future setting. In combat, you can target specific body parts to weaken them or to score stronger hits on less-armored sections. If severed, a body part may leave behind a weapon or piece of armor you can claim for yourself and attach to your own mechanical suit.
Mario Kart Tour (Sept. 25 - Android, iOS)
The next big mobile game from Nintendo will be Mario Kart Tour when it lands on iOS and Android devices for free at the end of the month. This touchscreen version of Mario Kart simplifies the gameplay quite a bit, and is designed to be played in an upright-portrait orientation on your smartphone. Players of recent Mario Kart games on traditional consoles will recognize the glider and underwater driving mechanics introduced in recent entries, as well as the kart customization options that let you tweak things like top speed and acceleration.
The touch controls mean that all you have to worry about is steering: By sliding your thumb or finger along the bottom of the screen, your racer will automatically handle acceleration and braking for you. New tracks inspired by major cities around the world will be included, and tracks from previous Mario Kart games will also make return.
FIFA 20 (Sept. 27; PC, PS4, Xbox One, Switch)
This year's entry in the FIFA series will be the first to leave the past generation of consoles behind, no longer releasing on Xbox 360 or PS3. But in return, we get a new main attraction in FIFA 20, dubbed Volta Football. This mode encompasses a lot of the new additions to FIFA 20, including a campaign mode with a fully customizable player character, and new indoor, hard-court football matches with smaller team sizes.
Changes to existing modes include a revamped Manager Mode, now featuring customizable managers to play as plus new systems that govern your players' growth and potential. Also on offer are some side attractions, like FIFA's Take on a King of the Hill mode, and a mode called Mystery Ball that features powered-up players for a more arcadey feel. Switch owners should be aware that their version will be a "Legacy Edition" of FIFA 20 that comes with the usual roster updates and some visual improvements, but none of the new gameplay modes.
Dragon Quest XI S: Echoes of an Elusive Age - Definitive Edition (Sept. 27; Switch)
With a title this hefty, you can expect a lot of extras to be added to this version of Dragon Quest XI for Switch. The base game is already a lot to chew on, being a single-player, turn-based Japanese role-playing game that spans upwards of 80 hours on the first playthrough. The Switch re-release will come with a 16-bit graphical option that changes the modern 3D visuals to 16-bit sprites, an option previously exclusive to the Japan-only 3DS version of the game. It'll also come with options for Japanese voice acting and, best of all, orchestrated music tracks.
If you're just jumping in, you play as The Luminary, who is almost immediately cast out of society as an ill omen by a corrupt ruler. You'll slowly form a band of other misfits and outcasts to rescue the kingdom and your own hometown.
Code Vein (Sept. 27; PS4, Xbox One, PC)
Code Vein is another Souls-like for you to test your gaming skills against. This one stands apart from its inspiration, thanks to an anime-art style and a cool-down based combat-ability system not unlike those seen in massively multiplayer gamess. In Code Vein, you play as one of the Revenants in a future post-apocalypse where you are part of a small faction that is fighting to survive in a world of power-hungry and mindless monsters.
Players will level up character stats and find new weapons to upgrade, using various fighting styles depending on which weapon they choose. The stamina system, bonfire-style saves points, and health recovery items all keep things very Dark Soulsy. If early gameplay is any indication, the difficulty level will play the part, too.