Best Xbox Game Pass Games to Play Now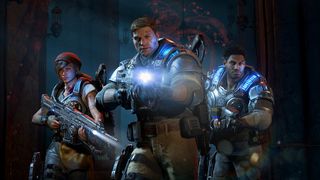 The best games to binge
Xbox Game Pass is quickly becoming the Netflix of gaming, offering Xbox One owners a huge buffet of 100-plus digital games for just $10 a month. Better yet, the service will soon get all of Microsoft's big first-party games the same day that they hit stores. This means subscribers essentially get big titles such as Sea of Thieves, Crackdown 3, and the next Forza and Halo installments for free. That leaves Xbox owners with an extremely good problem: with so much to play, what's actually worth diving into? From blockbusters like Gears of War and Resident Evil to indie gems such as Limbo and Super Time Force, here are the best games to play on Xbox Game Pass right now.
Credit: Microsoft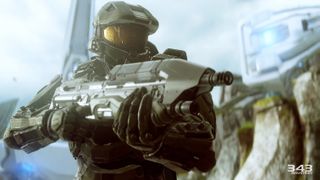 Halo 5: Guardians
Halo 5: Guardians is a multiplayer masterpiece, featuring a robust suite of online modes for competitive and casual players alike and some of the tightest shooting to ever grace Microsoft's flagship franchise. Despite its weak story, the game's campaign is a fun, action-packed romp with big set pieces that are especially delightful in four-player co-op. It certainly doesn't hurt that Halo 5 comes optimized for Xbox One X, complete with full 4K support and silky 60-frame-per-second visuals.
Credit: Microsoft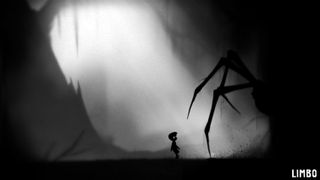 Limbo
Perhaps the defining indie game, Limbo is a harrowing 2D adventure known for its arrestingly bleak art style and challenging puzzle-platforming. This monochromatic masterpiece is a no-brainer for anyone who missed it back in 2010, especially if you're a fan of developer Playdead's more recent 2016 hit, Inside.
Credit: Playdead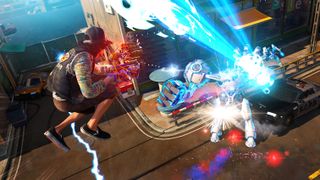 Sunset Overdrive
Sunset Overdrive is one of the best exclusives on the Xbox One, and by far one of the most criminally underplayed. This off-kilter action romp is essentially Tony Hawk's Pro Skater meets Ratchet & Clank, as you'll chain together rail grinds, wall runs and all kinds of ridiculous weapon attacks as you rack up combos in a colorful open world. The game, which tells a story of a zombie apocalypse spawned by an energy drink, is irreverent and fourth-wall-breaking at every turn, making it the perfect candidate for an afternoon of dumb fun.
Credit: Microsoft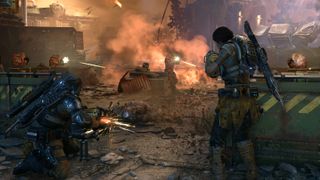 Gears of War 4
Featuring a fresh generation of characters led by Marcus Fenix's son, JD, Gears of War 4 tells a thrilling new story while retaining the series' supremely satisfying third-person cover shooting. The game's multiplayer suite is constantly evolving with new maps, modes and characters, and its Horde 3.0 mode provides endless hours of mowing down monsters in co-op. There's still nothing quite like chainsawing a slimy alien in half.
Credit: Microsoft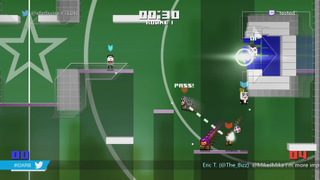 #IDARB
Part NBA Jam, part Super Smash Bros., #IDARB is one of the Xbox One's most wonderfully weird sports games. This pixelated platformer-meets-basketball-game lets up to eight players duke it out in frenetic team battles, and even integrates with Twitch to let viewers disrupt the action with wild "hashbomb" modifiers. #IDARB's roster consists of everything from indie game avatars to The Walking Dead characters, and there's a robust character creator that you can use to build the 8-bit squad of your dream.
Credit: Other Ocean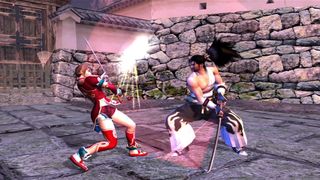 Soulcalibur II HD
Soulcalibur II HD is a slick remaster of one of the best 3D-fighting games ever made. This rerelease features the same robust suite of modes as the original console version. And, for the first time, you can play as platform-specific bonus characters Heihachi and Spawn in the same game. Soulcalibur II's weapon-based combat is as much of a joy to play today as it was in 2002, whether you're battling online or in your living room.
Credit: Bandai Namco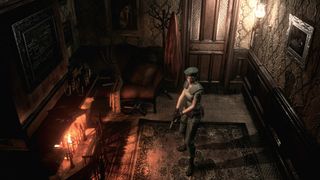 Resident Evil
Resident Evil HD is the definitive version of the most iconic horror game out there. Based on the 2002 GameCube remake of the original Resident Evil, this Xbox port adds even slicker visuals and an optional, more-intuitive control scheme that lets you ditch those janky tank controls. But everything else that makes Resident Evil great remains untouched, including its spooky atmosphere, satisfying exploration and puzzles, and unforgettable jump scares.
Credit: Capcom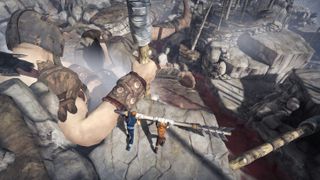 Brothers: A Tale of Two Sons
Brothers: A Tale of Two Sons is a touching indie game unlike any other you've played. You guide two brothers through a colorful fantasyland, with each thumbstick controlling a different brother. This creates what's essentially a single-player co-op experience, as you'll twist your brain solving puzzles that require you to utilize each brother's unique skills. This is the rare game whose mechanics actually add emotional weight to the story, and while you can wrap this title up in a few hours, its powerful ending will stay with you far longer than that.
Credit: 505 Games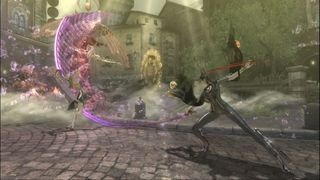 Bayonetta
Sexy, stylish and incredibly over-the-top, Bayonetta just might be the quintessential action game. Created by the key minds behind Devil May Cry, this slick hack-and-slash features an incredibly satisfying combo system that lets you combine guns, swords and Bayonetta's own hair (seriously) in all kinds of dazzling ways. Bayonetta is dripping with polish and attitude, making it a must-play for any action aficionado.
Credit: Sega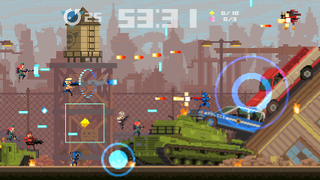 Super Time Force
Super Time Force is a wildly inventive side-scrolling shooter that lets you rewind time in the middle of battle. As you rewind and undo your characters' deaths, you'll create ghost versions of your fighters to battle alongside you, creating an addictingly unique gameplay loop that's as tactical as it is chaotic. Factor in some stellar pixel graphics, a quirky sense of humor and some excellent chip-tune music, and you've got one of the most irresistible indies on Xbox One.
Credit: Capybara Games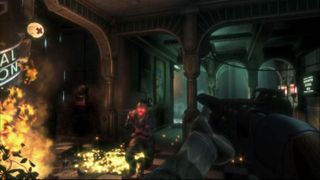 BioShock
Would you kindly check out BioShock? This genre-defining first-person shooter sets you loose in the moody underwater city of Rapture, where you'll encounter deadly enemies, wield a variety of awesome abilities called plasmids and uncover some of the best narrative twists that the genre has to offer. BioShock is largely considered one of the best games ever made, and you'll see why that is once you've gotten through it.
Credit: 2K Games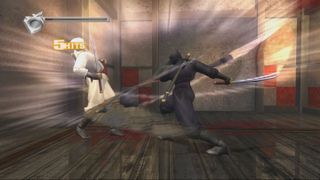 Ninja Gaiden Black
Are you ready for a real challenge? Ninja Gaiden Black is one of the original Xbox's most notoriously difficult action games, and you can relive all of that punishment on your Xbox One thanks to backward compatibility. Ninja Gaiden Black's airtight combat feels as great now as it did in 2004, and the game benefits from upscaled, 60-fps gameplay on the Xbox One. Just be sure to have an extra controller or two handy.
Credit: Koei Tecmo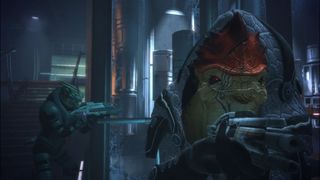 Mass Effect
If you're looking for a meaty sci-fi, role-playing game to keep you busy for dozens of hours, Mass Effect will scratch that itch and then some. BioWare's beloved space opera lets you explore a gorgeous galaxy, battle a mysterious alien threat, and make a ton of choices that affect the game's story and shape your own personal Commander Shepard. While the original Mass Effect's gameplay doesn't quite hold up like that of 2 or 3, its cast of characters and narrative are some of the best the genre has to offer.
Credit: Microsoft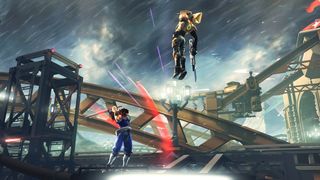 Strider
A modern reboot of Capcom's 1989 arcade platformer, Strider is one of the Xbox One's most underappreciated gems. This frenetic 2D side-scroller is oozing with sci-fi style and features a labyrinth, Metroidvania-style overworld that's rife with challenging bosses to fight and all kinds of cool secrets and upgrades to discover.
Credit: Capcom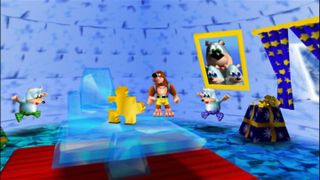 Banjo-Kazooie
Banjo-Kazooie was one of the Nintendo 64's best 3D platformers, and it's just as much of a delight to play today on Xbox One. This colorful collectathon is defined by tight traversal mechanics and tons of big, gorgeous worlds, each of which is packed with secrets that you can spend hours discovering. This backward-compatible Xbox 360 port of the game benefits from a few modern features, including HD graphics and a number of special "Stop n' Swop" items that never made the cut in the N64 original.
Credit: Microsoft