Otty Original Hybrid mattress review in brief
The Otty Original is an award-winning mattress, and this brand's flagship model. The hybrid design that includes over 2,000 16cm encapsulated pocket springs to help support your joints and back, teamed with layers of thick memory foam and high-density base and support foam to create a medium-firm feel. The cover is smart and smooth, and – usefully – can be removed and washed. We tested out the Otty Original Hybrid to see if it's worthy of inclusion in our best mattress ranking.
Otty Original Hybrid specs
Type: Hybrid
Materials: Memory foam, other foams, springs
Firmness: Medium-firm, 7/10
Depth: 25cm
Trial period: 100 nights
Warranty: 10 years
Price bracket: Mid-range (varies)
The mattress has a firmness rating of 7 out of 10 and although we found this provided optimum support for our side, front and back sleeping testers, if your preference is for a softer mattress, it might feel a bit firm. The mattress does, however, come with a 100-night trial should you decide it's not right for you. While we thought the corner support could be improved, we found the mattresses edge support was reasonable, which meant that we could actually sit first and stand up out of bed – rather than sliding out, as is the case with some competitor models.
While this mattress doesn't include Otty's most advanced memory foam (pricier models add charcoal and bamboo for a cooling boost – we've also tested one of these, and you can read about it in our Otty Pure mattress review), It does have small perforations throughout the mattress layers to help regulate your temperature and keep you cool in summer and warm in winter. We found it still performed well, keeping our testers at a comfortable temperature throughout the night. Read on for our full Otty Original Hybrid mattress review.
Otty Original Hybrid mattress review: Price
Sits in the middle of the Otty range
Premium pricing at RRP, but regular deals take it down to mid-range
Option to bundle with bedding and make a saving
For a bed in the box hybrid design, the Otty Original Hybrid is within the mid-range price bracket. The brand is available in UK and Ireland, and has an impressively comprehensive size selection that includes EU options and an Emperor size (if you really want to spread out). At RRP, the Otty Original Hybrid is a premium model, but in reality you can almost always snag a deal that drops the price into mid-range.
Discounts vary depending on when you buy and the exact model you're going for, but the best Otty mattress sales and deals can save you up to 50% (as is the case at time of writing). Here's the current pricing for all sizes of the Otty Original mattress:
Single: RRP £749.99 (normally sells for £412.49)
Small Double: RRP £899 (normally sells for £494.99)
Double: RRP £949.99 (normally sells for £524.99)
King: RRP £1,099.99 (normally sells for £604.99)
Super king: RRP £1,249.99 (normally sells for £687.49)
Emperor: RRP £1,299.99 (normally sells for £714.99)
When you go to buy the Otty mattress you may also find bundle deals that include the option to buy extras such as a mattress protector, duvet cover and sheets and pillows at a reduced price.
You also get a 100-night trial that gives you peace of mind should you be a restless sleeper, as well as a 10-year warranty. This is about the shortest trial you'll find at the big bed brands (it's more common to see 200 nights these days, as per competitors Simba, Emma and Brook + Wilde). However, it's still long enough to give your purchase a decent test-run.
Note that the Otty Original is available to purchase via Amazon, but for aftercare reasons, we'd always recommend buying direct from the brand.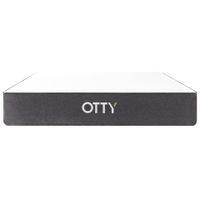 See the Original Hybrid from £412.49 at Otty
You will currently find the Original Hybrid mattress with offers up to 50% off on the Otty website. This mattress is an award-winning design and comes with a combination of pocket springs and memory foam to provide a supportive and sumptuous medium-firm mattress.
Otty Original Hybrid mattress review: Design
25cm thick, hybrid design that includes springs and memory foam
Features designed to help regulate heat and boost breathability
Removable and washable cover
The Otty Original Hybrid mattress has a sumptuous depth of 25cm, which is made of up of five layers to create a mattress that is both supportive and heat regulating. If you're a hot sleeper, the best hybrid mattresses can be an excellent choice to keep you at the optimum temperature throughout the night, because the coils provide space for air to circulate within the mattress. The best memory foam mattresses do, however, have some attractive features to help you sleep soundly as they conform to your body shape and provide pressure relief in all the right places.
The top layer of the Otty Original Hybrid features a removable and washable cover that is made up of 97% polyester and 3% spandex. We found that while we're not 100% keen on the idea of sleeping on polyester, the cover feels smooth and luxurious and enjoyable to lay on (note: we found that it did take two people to put the cover back on the mattress). An Otty logo on the end of the bed adds to the premium feel.
Below this is a layer of heat-regulating memory foam, followed by high-density support foam and then a layer of 2,000+ 16cm encapsulated pocket springs. All this is supported by a high-density base foam, with airflow side supports that give a decent amount of edge support and help boost breathability. There are, in fact, small perforations throughout the mattress layers 'AirFlow System' that are designed to help to circulate fresh air around the mattress and remove excess heat so you feel comfortable throughout the night.
The Otty Original in the bottom half of the brand's range in terms of price and features. If you fancy upgrading, there are two models (the Pure and Pure+) that include memory foam that's made from bamboo and infused with charcoal – this innovative foam is designed to be breathable, temperature-regulating and odour-eliminating. You can read about the cheaper of those two in our Otty Pure mattress review. At the cheapest end of the lineup is the Aura, which is a thinner version of the original (although still fairly chunky at 23cm), with fewer springs.
Otty Original Hybrid mattress review: Support and comfort
A medium-firm mattress with a 7 out of 10 rating
Cushioned yet supportive sleep feel, with gentle contouring and a slight bounce
Comfortable in all sleep positions – particularly on your side
While the Otty Original Hybrid mattress has a firmness rating of 7 out of 10, its top layer helps to keep it feeling cushioned, yet supportive. Once we'd unrolled the mattress we left it to take shape for 48 hours before sleeping on it and we were surprised at how firm yet surprisingly cushioned the structure felt. The mattress' responsive sleep surface made it easy to move around on so turning on our side and front felt effortless. Having previously slept on the Otty Pure Hybrid, which has a firmness rating of 5.6/10, we did notice that the Otty Original Hybrid feels slightly more firm overall.
It took a little while to get used to the firmness of this mattress, but we liked the way that it gently contoured our body – particularly when sleeping on our sides. As firmness is subjective, it was important for us to find out how testers of varying heights, weights and ages felt laying on the mattress. And so, we asked both a 30 year old female of 5ft 2 to lay on the mattress and tell us when she thought. She noted that her body felt light and supported when laying on it. While she felt there was a bit of give on the top layer she didn't feel like she sank into the mattress too much that it felt unstable.
We also asked for feedback from a lean 6ft 50-year-old male, who found the mattress a little firmer than he was used to, but generally relaxing to lie on. We also asked a 5.5ft 80-year-old male to try the mattress and they told us that they found the bed felt a lot higher in depth and spongier in feel than what they were currently sleeping on. They also noted that they like how easy it felt to turn on their front and side when lying on the Otty Original Hybrid.
Otty Original Hybrid mattress review: Performance
Soft cover feels tactile and luxurious
Minimal motion transfer
Edge support is acceptable but corner support could be improved
For the next part of our Otty Original Hybrid mattress review, we focused on how this model performed in terms of pressure relief, motion isolation, edge support and cooling properties.
We slept on a double Otty Original Hybrid mattress for a month along with a partner and while it took us both a little while to get used to its firm feel, we were impressed with its overall offering. We used our Tom's Guide mattress testing methodology to get a rounded view of how this mattress performs according to a range of different criteria.
Pressure relief
When we first laid on the Otty Hybrid Original mattress, we noticed that while it was firm the surface did have some 'give', and that our body subtly moulded to the design. We think that this firm yet spongy feel may not be for everyone, however, or perhaps just take some getting used to. Our lead tester is prone to moving around a lot as they sleep, so the mattress was given a fair test with side, back and front sleeping, and we also asked our panel of tested to try sleeping on it in different position. We all had the same experience of a mattress that felt firmly comfortable yet cushioned.
To measure the sinkage in the mattress, we used an 8kg weight and placed it in the centre of the mattress. We noted 1.5 inch sinkage, which we found just above average for a double hybrid of this nature.
After the first week of sleeping on the mattress, we began to appreciate just how comfortable the structure of the firm yet cushioned mattress felt and how it kept our body feeling relaxed during the night. The mattress did, in fact, do a great job of supporting us in the right places. We noticed just how comfortable it kept our hips – particularly when sleeping on the side.
Score: 4 out of 5
Motion isolation
There's nothing more annoying than getting woken up by a restless partner, so ensuring your mattress is well structured to limit motion transfer is key when buying a new mattress.
To mimic someone else in the bed moving position and getting out of bed we conducted our own motion transfer test. An empty wine glass was placed on the mattress and then we dropped an 8kg weight 4, 10 and then 25 inches away to simulate motion transfer. We also tried the test with a 5kg weight.
On both attempts when using different weights the wine glass fell over when four inches away. It remained standing when the weights were dropped from eight and 25 inches away, however. We found the results in line with other mattresses we've tested and think that unless you're sleeping with a particularly fidgety partner, this mattress will do a good job at keeping you undisturbed at night.
Score: 4.5 out of 5
Temperature regulation
When it comes to keeping you at the optimum temperature, many memory foam mattresses can fall short. That's why we think a hybrid design makes for a good compromise. The combination of pocket springs and heat regulating memory foam within the Otty Original Hybrid did well to keep us at a nice temperature throughout the night. Airflow side supports and the mattress' 'AirFlow System' that sees small perforations through the mattress layers to allow fresh air to circular the mattress and remove excess heat also contribute to creating a highly breathable mattress structure.
It's worth bearing in mind that when we tested the Otty hybrid mattress it was winter and 19 degrees celsius in the room when we slept, so it's hard to say just how well this mattress would perform in hotter climes. We slept with Egyptian cotton sheets and duvet and found that this combination worked well to keep us feeling suitably warm, but not too hot, on a chilly winter's night.
Score: 4.5 out of 5
Edge support
Edge support is important in a mattress as it will make it easy to get in and out of bed in the morning – as opposed to sliding out on a mattress with poor edge support. It's also important for sitting on the edge of the bed while you get dressed, optimising your sleeping area when you stretch out and, for those buying the mattress for a child, limit the risk of them falling out of bed in the middle of the night.
We tested the edge support by sitting on the edge of the bed and found that while it wasn't the best we've tried, it was noticeably better than some. We used an 8kg weight and measured the sinkage on the sides at 1.5 inches, which we found an acceptable measurement for a double mattress.
We also asked another tester to sit on the opposite side of the bed to see if it affected our side of the bed and we didn't notice much difference in how our side felt. What we think could be improved, however, is the corner support, which is equally integral to a well-structured mattress. When we sat on each corner we found the edges squashed down a little more than we'd have liked and took a while to regain shape.
Score: 4 out of 5
Otty Original Hybrid mattress review: Delivery & setup
Delivery free, but only to your front door
A little off-gassing
Minimum 4 hours required to expand
Weekday delivery to your front door is free. Weekend delivery, setup and packaging removal, old mattress removal, and Saturday delivery are all available as optional upgrades. While some brands do offer delivery to room of choice as standard, we're quite impressed with the range of delivery options available here.
The mattress arrived in a cardboard box and vacuum packed in plastic. It came with a tool to cut the plastic included inside and a mattress cover that can be used for returns – both of what we thought were considered extras.
Otty suggests that you can place the mattress on any standard bed frame including a divan, adjustable bed, platform bed or even the floor, but that slatted bed frames work best as they allow extra air circulation on the underneath of the mattress. We tried a double mattress and placed it on a wooden slatted bed frame.
We found the double mattress that weighs 33.8kg relatively easy to move by one person, but taking it up stairs and placing it on the bed frame was a two-person job. The mattress can be placed straight on the bed frame and unravelled there, but you will need to leave at least four hours for it to fully expand.
Otty states that it can take a few days for the mattress to reach its full comfort and size and the corners can be the last parts to fully expand. To give it a fair try, we left it alone for four days before testing it out. It's worth bearing in mind that if you're buying this mattress for use at a later date, you shouldn't leave it rolled up in the box for longer than eight weeks.
Every new mattress – and in particular a bed-in-a-box mattress that arrives vacuum packed and rolled up – can have a slight odor when you first open it up. Having been tightly wrapped up for delivery, you often need to allow a few days for the mattress to breathe and release any 'off-gassing' before sleeping on it.
To get a good idea of the off-gassing we were dealing with, we left the windows shut when we decompressed the mattress. We then left the windows closed for a couple of days to assess the level of off-gassing we were dealing with. Manufacturers normally recommend you leave the windows open when unravelling your mattress, however.
We felt that the level of off-gassing after two days was under average compared to other mattresses we've tested, and we were impressed with the low-level of odors we endured. Otty suggests that you turn the mattress every month for the first 6 months for optimum performance and possibly to remove any lingering odors.
Otty Original Hybrid mattress review: Customer reviews
At the time of writing, the Otty Original Hybrid is well received online. Trustpilot reviews fed into the Otty website bundle all Otty mattress product reviews, as well as general reviews for the company, in together. We found a few reviews that were focussed on the Original Hybrid mattress, however, which pointed out that they thought it was a comfortable mattress and the delivery process was impressive. While there are a few comments highlighting delivery issues, Otty seems quick to respond to sort out any issues. Overall the company has 81% 5-star reviews of its products on Trustpilot (March 2023).
Should you buy the Otty Original mattress?
Having tested the Otty Original Hybrid mattress and rating it on price, performance, support and comfort, we were pleased with our experience. If you're looking for a mid-range bed-in-a-box mattress, we think the Otty Original Hybrid is certainly worth consideration.
We also came to the conclusion that its corner support could also be improved, but what it lacks in those areas, it more than makes up for in other attractive qualities. With heat-regulating memory foam to keep you cool, good motion support technology so you remain undisturbed at night and a removable and washable cover, we think this mattress is a reliable buy. After a month of trialling the Otty mattress we have yet to see any signs of wear and tear – it feels thick and solid in structure.
Overall, we were pleased at how well rested we felt after a night sleeping on the Original Hybrid and would be happy to make it our main port of call come bedtime.
Otty Original review: Alternatives to consider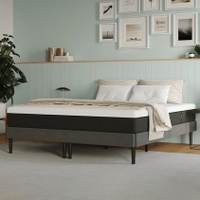 Emma Premium mattress
The Emma Premium also combines body-contouring memory foam with tall springs, and delivers excellent pressure relief. It can sleep slightly warm, so avoid if you're a hot sleepers. You can often pick this up half-price, with a double coming in around £600, putting it in the same ball-park as the Pure. Read more in our Emma Premium mattress review.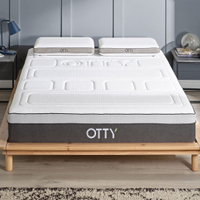 Otty Pure mattress
The Pure is the mattress up terms of price, and has a similar structure to the Original. The main difference is that it adds a layer of bamboo-and-charcoal memory foam, which is designed to be extra cooling and odour-eliminating. The Pure is firmer than the Original, and would perhaps be a better choice for back sleepers (side sleepers may find it too firm). Head to our Otty Pure mattress review for more information.