As Tom's Guide's audio editor, I get to try out plenty of great-sounding products, from the best wireless earbuds, flagship Dolby Atmos soundbars, to the latest smart speakers. Unfortunately, however, despite vinyl's continuing popularity among music collectors and the interest in vintage audio, I've not seen many turntables that bring the old-school format to life coming through the Tom's Guide review process.
That said, it feels somewhat serendipitous that I should take delivery of the Crosley C100BT turntable just a few days before this year's Record Store Day celebrations kick off on Saturday, April 18. As it turns out, it's one of the best turntables for beginner vinyl enthusiasts.
This comes with a strange caveat, though: Crosley wouldn't usually be my go-to brand when recommending a turntable to a fellow music lovers. Although the brand gets a mention as part of my 7 great turntables that cost less than $500 recommendations, I've been critical of the audio quality from some of the brand's turntable designs. I know all too well about the damage a poorly designed or incorrectly set up turntable can cause to a precious record collection, and is the reason I wrote a guide on how to set up a turntable correctly.
I'm not leveling any criticisms at Crosley per se. Plenty of music lovers have found the maker's models perfectly suitable for their record playing needs, but as with most things, not all record players are made the same.
As far as the Crosley C100BT turntable is concerned, Crosley has proven that it can balance price and performance in a package that ticks all the right boxes.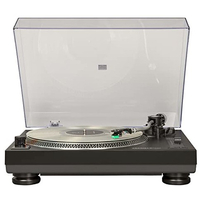 Crosley C100BT Bluetooth turntable $229 @ Amazon
The Crosley C100BT is a great deal at $280, but it looks even better when you discover that it's discounted to $229 on Amazon. Available in the U.S. only, the retro turntable design mimics more traditional models but comes with Bluetooth connectivity to connect to the best wireless speakers and headphones. Everything is included for a fuss-free set up to get you listening to your LPs as quickly as possible.
A fuss-free Bluetooth turntable for new vinyl collectors
The Crosley C100BT feels a bit different from the models I've seen from the brand previously. The retro look is a nod to indicate that it's taking vinyl record playback seriously, and loosely mimics the iconic styling of the Technics SL1200 turntable but without the robust build and precision components. Plenty of brand's have echoed the SL1200's legendary looks over the years, and despite the Crosley version feeling more plasticky than many I've seen, the build and finish feel smart for the $280 price tag.
Unlike the turntable design it aspires to look like, the Crosley C100BT doesn't use a direct-drive motor to turn the turntable platter, but nevertheless the belt-driven design runs smooth and true. There's electronic speed select for 33 and 45 RPM (there's no 78 RPM playback). The stroboscope and pitch control are great additions to fine tune the speed control, and aren't typically the kind of features found on turntables at the price.
Other unusual features at the price point are the S-shaped tonearm, aluminum platter, and a removable headshell with a pre-fitted Audio-Technica AT95E cartridge. This is a good-quality cartridge, which costs around $49 when sold separately. It has a respected sound, and won't damage your vinyl when set up correctly.
On top of the strong build quality you get wireless Bluetooth connectivity, which let's face it is how most will be hooking up a turntable to a music system at this price. It pairs seamlessly to my Sony WH-1000XM5 headphones and the Bluetooth-enabled Sonos Era 100 smart speaker that's now resident in my home office.
With the counter weight set correctly, the sound of the Crosley to my Bluetooth speakers was well up to standard. The respectable performance was assertive and energetic, and extracted more detail than I bargained for. It had an easy-going way with rhythms and midrange vocals sounded surprisingly clear.
An additional plus point with the C100BT is that there's a clear audio upgrade path should owners want to move away from Bluetooth connectivity. With the switch at the back set to Line, users can connect the Crosley C100BT to a stereo amplifier using any spare stereo line-level input. Or, they can set the switch to Phono and bypass the built-in moving-magnet preamp to connect up their own.
Although, during my short time with the Crosley, I did find that both these connection options suffered from a loud hum in my setup, even with the grounding point attached. This could be due to the fact I am having to adapt the U.S. mains that was supplied to my U.K. power supply, though.
It shouldn't be a deal breaker at the price, though, particularly when the Bluetooth connectivity works so well and is likely to be the main draw for new vinyl fans looking to spin their Record Store Day purchases. The Crosley C100BT represents an effective entry into the world of listening to your favorite band on vinyl, track-by-track while perusing the album cover and inner sleeve notes, and is a worthwhile option.
What is Record Store Day?
Record Store Day (RSD) is an event that celebrates the unique culture surrounding nearly 1,400 independently-owned record stores in the U.S. as well as thousands of similar stores internationally. For any music fan curious about vinyl, the annual event is a great way to celebrate and support the community surrounding local record stores. It often sees queues of enthusiastic record collectors lining the streets ahead of store openings eager to get their hands on special limited edition vinyl releases pressed specifically for the event.
The first RSD event was held in April 2008, and has grown to an annual event at independent record stores around the world. With the exception of the recent pandemic years when RSD was spread out over several weekends to comply with social distancing restrictions, there's only one RSD each year. But the organizers work with independent and major labels throughout the year to create special events, vinyl releases, and promotions that spotlight the benefits of supporting these independent, locally-owned stores.
Known as the 'vinyl weekender' by radio stations with shows and guest DJs that support independent record stores has undoubtedly helped to give the format wider appeal, and despite living in the digital age, vintage audio tech is experiencing a comeback. Although it's true that the old-school analog format never really went away, it did slip from the mainstream. It has been slowly regaining its popularity for almost a decade, and in 2021 sales of vinyl doubled year-over-year to 41.7 million records shifted in the US alone, and marked 16 consecutive years of increased growth without any signs of slowing down. And for music fans everywhere, that's something worth celebrating.
More from Tom's Guide