With my OnePlus 11 review now live, I finally get to talk about the finer details about this phone. Though not without its drawbacks, the OnePlus 11 strikes an incredible bargain at $699, offering performance that rivals even the $1,199 Galaxy S23 Ultra and $1,099 iPhone 14 Pro Max.
But one area where OnePlus wins against its biggest Android competition is battery life. While the phone maker has typically had above average results in our battery life test, this year is an all new game.
Setting the bar
Swipe to scroll horizontally
| | |
| --- | --- |
| Row 0 - Cell 0 | Battery Life |
| OnePlus 11 (adaptive refresh) | 13:10 |
| Galaxy S23 Ultra (60Hz) | 13:09 |
| Galaxy S23 Ultra (adaptive) | 12:22 |
| Pixel 7 Pro | 8:04 |
In our benchmark, we task a phone to endlessly reload web pages over a cellular connection, measuring the time it takes for the device to kick the bucket. The OnePlus 11 managed 13 hours and 10 minutes in its adaptive refresh rate mode (1-120Hz), a stellar result.
To come close to that mark, we had to set the Galaxy S23 Ultra into its 60Hz mode, which still fell short at 13 hours and 9 minutes. (In its adaptive refresh mode, the S23 Ultra managed 12 hours and 22 minutes.) The Galaxy S23 Ultra and OnePlus 11 both have a 5,000 mAh battery and 1-120Hz displays.
In the past, I found OnePlus to be guilty of aggressive background task management, which would lead to delayed notifications and the like. But in my time with the OnePlus 11, it pushes notifications through faster than both the Pixel 7 Pro and Galaxy S22 Ultra I have with me (which also have 5,000 mAh batteries). So whatever the OnePlus 11 is doing in the background, it's more efficient and quicker than Google and Samsung.
Speaking of the Pixel 7 Pro, OnePlus seems to have aimed its sights at Google this year with the OnePlus 11's aggressive pricing. Even the 16GB/256GB model comes in at $100 less than Google's $899 flagship. And yet you get a lot of elements that, on paper, beat the Pixel.
That includes battery life. Want to know how the Pixel 7 Pro performed in our test? 8 hours and 4 minutes, a whopping five hours less than the OnePlus 11.
I expect this now
Yes, I feel comfortable saying that the OnePlus 11 has set a new standard for me. The devices that typically outlast this phone's 13:10 result are dedicated gaming phones, like the ROG Phone 6 Pro (which is the longest-lasting phone we've tested in recent memory).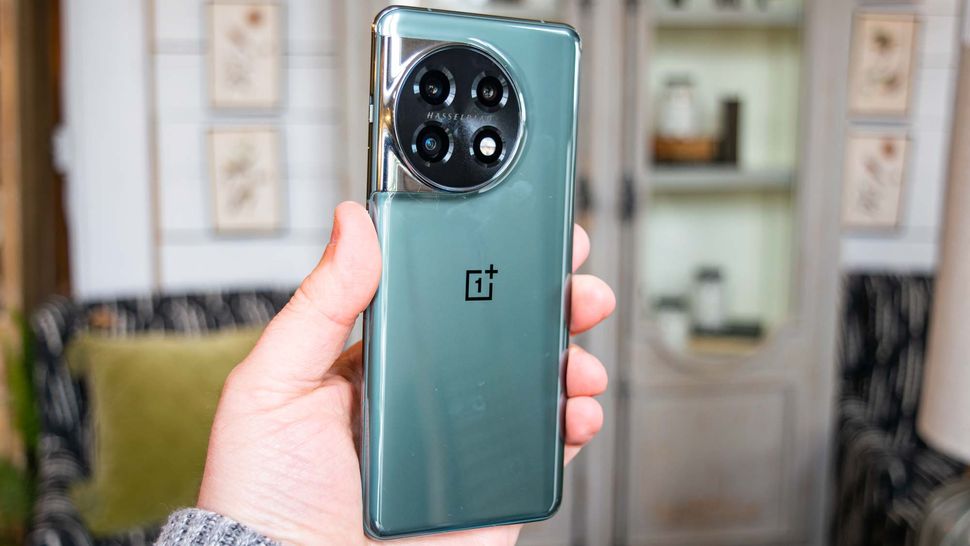 Funnily enough, the excellent and compact Asus Zenfone 9 beat the OnePlus 11 by three minutes, but I had considered that an outlier in previous evaluations. But now, this is what I want to see from Android flagships — OnePlus has set the new bar for me.
Android flagships of this caliber should easily exceed the 10-hour mark we expect to see from smartphones these days. I don't know what's going on with Google with the Pixel 7 Pro's abysmal result, nor why Samsung is still almost an hour behind OnePlus. Maybe the Galaxy S23 Ultra is packed with too many features? Perhaps the overclocked Snapdragon 8 Gen 2 sips a bit more power than it should?
Regardless, OnePlus (and Asus) have shown that top-tier Android phones can hit the 13-hour mark. Samsung has shown that these devices can easily surpass the 10-hour average.
The OnePlus 11 has permanently shifted my perspective on what "good" smartphone battery life looks like.
OnePlus 11 outlook
The OnePlus 11 gets a lot more right than just its battery life, but that is truly the highlight for me — the value proposition is a close second. This handset has set the bar, one I previously thought was a ridiculous dream that the Zenfone 9 inexplicably achieved.
Now, however, I will look at how phones perform on our battery life test differently. And in my personal use, the OnePlus 11 stomps on everything else I have on my desk right now, especially the iPhone 14 Pro I use as a daily driver. The standby time is ludicrous.
Phone makers — Google especially — better pay attention. The OnePlus 11 has just the new standard for battery life.