Netflix isn't taking the summer off and has already added a whole bunch of excellent movies this month, Plus, there will be new originals to watch in July as well including They Cloned Tyrone (July 21) and Happiness for Beginners (July 27).
However, with so much new to Netflix content added in July, you might be struggling to decide what to watch first. And analysis paralysis can seriously wreck your evening as you spend valuable movie-watching time aimlessly scrolling Netflix's vast library. To help, we have a roundup of the best movies on Netflix, but if you want to know at a glance the best of the most recent additions you're in the right place.
Below I've listed my personal favorite new to Netflix movies for July 2023, ranging from a gleefully-violent comic book flick to an introspective family drama. Plus, there's also one of the best-animated movies ever and an all-time classic directed by James Cameron. There's something for everybody on this list, so let's dive in…
Bridesmaids (2011)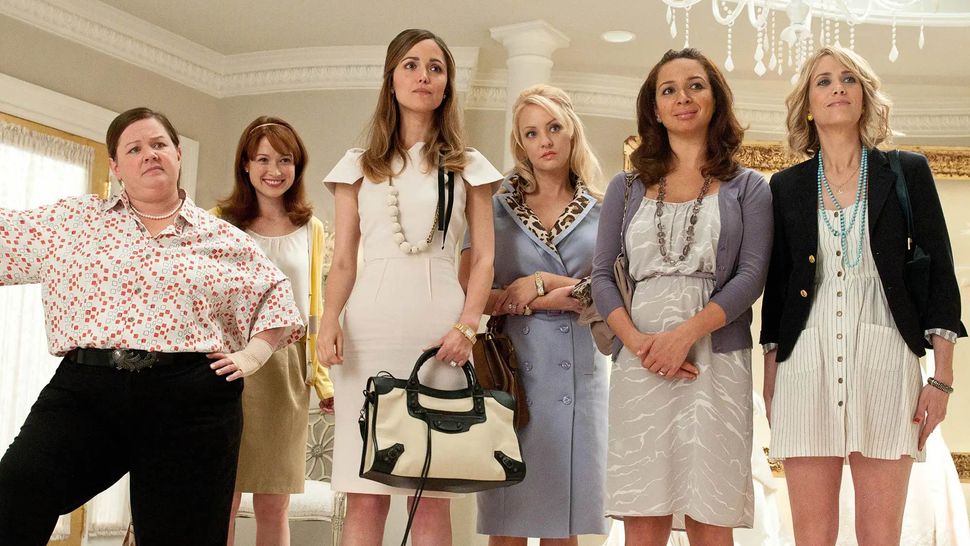 Bridesmaids is a touchstone raunchy comedy that brings together a powerhouse cast of some of the funniest women on the planet. Kristen Wiig, Maya Rudolph, Rose Byrne, Melissa McCarthy and Ellie Kemper all shine in this outrageously funny movie that was a critical and commercial smash hit upon its release in 2011.
The film focuses on Annie Walker (Wiig) who starts to reconsider her own life trajectory when her best friend, Lillian (Rudolph), announces her engagement. Selected as the Maid of Honor, Annie must contend with a rowdy bridal party and an envious new friend of Lillian's named Helen (Byrne), who wants the top bridesmaid title for herself. Comedies don't come much funnier than this, and there's a good reason that McCarthy nabbed a host of awards recognition for her supporting performance because she utterly steals the show in just about every scene.
Genre: Comedy
Rotten Tomatoes score: 89%
Stream it on Netflix
Kick-Ass (2010)
Set in a world where superpowered heroes don't exist, an ordinary teenager named Dave Lizewski (Aaron Johnson) impulsively decides to don a green jumpsuit and adopts the alter ego of Kick-Ass. Quickly discovering he's ill-suited for crimefighting, Kick-Ass ends up in way over his head after meeting fellow masked-vigilante Hit-Girl (Chloë Grace Moretz) and Big Daddy and falling foul of crime boss Frank D'Amico (Mark Strong). Turns out being a superhero isn't quite so easy after all.
Gleefully violent and very crude, Kick-Ass lives up to its name and then some. While it's not afraid to rely on juvenile humor, there's more to this comic book movie than just blood-splattered action and curse-word-laden dialogue. The strong performances from the core cast help elevate the movie beyond its rather outlandish premise. Although, feel free to skip the sequel, it's not very good.
Genre: Comicbook
Rotten Tomatoes score: 76%
Stream it on Netflix
Jumanji (1995)
There's no Rock or Kevin Hart in the original Jumanji, but this fantasy-adventure movie does feature the late, great Robin Williams in one of his most iconic roles. Jumanji is the ideal pick for a family movie marathon as even almost thirty years on from its original release, it's just as entertaining as it was back in 1995.
The film opens with two young siblings, Peter (Bradley Pierce) and Judy (Kirsten Dunst), discovering an old board game in the attic of their new home. However, this jungle-themed game, called Jumanji, is no simple Monopoly clone. Each turn unleashes real-world tropical hazards like giant bugs, ill-behaving monkeys and even stampeding rhinos. In order to restore order, the siblings must complete the game, and they'll have help in the form of a mysterious man who's been trapped within the game's word for decades.
Genre: Fantasy adventure
Rotten Tomatoes score: 52%
Stream it on Netflix
The Squid and the Whale (2005)
A semi-autobiographical film by Noah Baumbach — who co-wrote the upcoming Barbie movie alongside Greta Gerwig — The Squid and the Whale centers on two brothers as they attempt to deal with their parent's divorce in mid-80s Brooklyn. This is a strictly character-driven movie and sports an impressive cast that includes Jeff Daniels, Laura Linney, Owen Kline and Jesse Eisenberg. The setting of Brooklyn is practically its own character as well, making this a must-watch for anybody with an affection for New York City.
Perfectly mixing comedy and drama, The Squid and the Whale is a deeply personal look at family tensions and the messy process of divorce. Baumbach would later explore these themes further in his Netflix original movie, Marriage Story. Consider this a sort of precursor to that highly-regarded film.
Genre: Drama
Rotten Tomatoes score: 92%
Stream it on Netflix
Puss in Boots: The Last Wish (2022)
The first Puss in Boots was a largely unnecessary spin-off from the Shrek franchise. So, it came as a pretty big surprise to me, when its decade-in-the-making sequel, Puss in Boots: The Last Wish turned out to be one of the strongest animated films not just of last year, but of the entire last decade. Who could have seen that coming?
Sporting a visually-impressive animated art style and a narrative that will engage viewers of any age, Puss in Boots: The Last Wish is the very definition of a crowdpleaser. It sees the eponymous feline (Voiced by Antonio Banderas) team up with former-flame Kitty Softpaws (Salma Hayek) in order to find a mythical wishing star and restore his eight lost lives. But the quest is complicated as Goldilocks (Florence Pugh) and her three bears (Olivia Colman, Ray Winstone and Samson Kayo) are also on the hunt for the fallen star, alongside the sinister Jack Horner (John Mulaney) and a mysterious hooded wolf that is relentlessly hunting Puss.
Genre: Animated
Rotten Tomatoes score: 95%
Stream it on Netflix
The Karate Kid (1984)
The 80s classic that made thousands of kids take up martial arts is back on Netflix. The Karate Kid is an enduring favorite thanks to its mix of instantly likable characters and its highly relatable themes — who hasn't wanted to learn karate in order to teach their high school bully a lesson?
The Karate Kid sees 17-year-old Daniel LaRusso (Ralph Macchio) struggle to fit in after moving from New Jersey to California, and after becoming the target of the Cobra Kai gang led by black-belt student Johnny Lawrence (William Zabka), LaRusso is taken under the wing of his apartment's handyman, Mr. Miyagi (Pat Morita), who just so happens to be a karate master. Once you've watched the movie, you'll likely want to start binging its Netflix spin-off series, Cobra Kai, which aired its fifth season last year. A sixth (and final) season is currently in production.
Genre: Martial Arts
Rotten Tomatoes score: 89%
Stream it on Netflix
Titanic (1997)
A film that needs no introduction, Titanic is one of the most iconic movies ever made and James Cameron's masterpiece is celebrating its 25th anniversary this year. This milestone means that now is the perfect time to rewatch, or if you've somewhere never seen it before, its return to Netflix this month is a chance to fill that gaping hole in your movie-watching repertoire.
This romantic epic follows a pair of star-crossed lovers onboard the doomed ocean liner. Kate Winslet plays Rose, a member of the upper-class set to marry a rich aristocrat, while Leonardo DiCaprio plays Jack, a poor artist who wins a trip on the Titanic via a poker game. Despite being from completely different worlds the pair meet and quickly fall in love, but the fate of the supposedly unsinkable ship looms large as its maiden voyage meets a tragic end.
Genre: Romance
Rotten Tomatoes score: 88%
Stream it on Netflix
Star Trek (2009)
This 2009 reboot aimed to bring Star Trek to a whole new generation and also free the franchise from an increasingly tangled web of complex timelines and character continuities. While some fans were skeptical at first, it proved to be the shot in the arm the legendary sci-fi series needed, and it remains some of the best Star Trek media ever created to this day.
Set onboard the iconic USS Enterprise starship, the film follows the ship's fresh-faced crew led by an inexperienced officer named James T. Kirk (Chris Pine) and his highly-logical Vulcan second-in-command Spock (Zachary Quinto) as they explore the uncharted cosmos. But when they cross paths with a sinister Romulan commander on a mission of vengeance that threatens all mankind, it's up to this plucky crew to pull together and save the day.
Genre: Sci-fi
Rotten Tomatoes score: 94%
Stream it on Netflix
Pride & Prejudice (2005)
An adaptation of Jane Austen's beloved 1813 novel with a splash of youthful energy, director Joe Wright was credited with introducing the timeless romance tale to a whole new audience with his take on Pride & Prejudice. The flick is also notable for starring a young Keira Knightley and earning the English actress a leading actress Oscar nomination at the age of just 20.
A well-told tale, but still highly impactful to this day, Pride & Prejudice centers on Elizabeth Bennet (Knightley), an outspoken young socialite in 18th century England, who is facing increasing pressure from her family to marry into high society. And when she meets the handsome Mr. Darcy (Matthew MacFadyen), an undeniable chemistry forms between the unlikely pair. However, various forces threaten the fledgling relationship just as it's starting to blossom.
Genre: Drama
Rotten Tomatoes score: 87%
Stream it on Netflix
The Karate Kid (2010)
The decision to remake any 80s classic is always a controversial one among movie buffs, but credit to the creative team behind this remake of The Karate Kid as this 2010 version is more than a mere modern retread. Just like its inspiration, it's also worthy of a spot on this list of the best new to Netflix movies this month and it shouldn't be instantly dismissed as another needless remake.
Switching the setting from California to China gives The Karate Kid (2010) a very different visual flavor, and it makes the isolation felt by protagonist Dre Parker (Jaden Smith) even easier to understand. As he's struggling to settle in a new country, Dre meets the enigmatic Mr. Han (Jackie Chan) and begins to learn martial arts from him in order to defeat a local bully in an upcoming kung fu tournament. Yes, the basic narrative framework is identical, but there are enough differences here to make this remake worth watching, especially if you enjoyed the original.
Genre: Martial arts
Rotten Tomatoes score: 66%
Stream it on Netflix
Ray (2004)
A soaring and emotionally-charged biopic about one of the greatest musicians in history, Ray tells the story of Ray Charles, an American singer, songwriter and pianist whose influence is still being felt to this very day. After all, there's a reason he was nicknamed "The Genius".
Born in the 1930s into poverty, and losing his vision by the age of seven, while also being haunted by the tragic death of his younger brother, Ray (played predominantly by Jamie Foxx in this movie) rises above his impairment and the many injustices of the era to make a name for himself and inspire countless others. Foxx won the Best Actor Oscar for his performance as Ray, and the movie stands as a textbook example of a biopic done right.
Genre: Biopic
Rotten Tomatoes score: 79%
Stream it on Netflix
More from Tom's Guide