I test fitness apps for a living and recently became obsessed with the Liteboxer VR on Meta Quest 2 (formerly the Oculus Quest 2). From the moment I slipped my headset on, the fitness metaverse had me in its grip, and any outside world ceased to exist — except for traumatizing my partner with some questionable boxing skills.
In the name of journalism and to feed my growing appetite for VR fitness, I tested the latest free-to-play VR basketball game — Gym Class VR. I know right, basketball? But if gaming your way to better fitness sounds appealing, this one is for you. The fitness game has taken Meta Quest 2 by storm and has even been backed by NBA players, propelling itself to the No. 4 most-rated experience in the Quest store.
While all 5-foot-2-inches of me is far from becoming a bonafide basketball player, I still worked up a sweat playing Gym Class Basketball VR, and it doesn't require any innate basketball skill. Besides, it's competitive, chaotic (in the best way), and most importantly, makes fitness fun.
Find out how I got on during testing Gym Class Basketball VR and why it's my new go-to fitness game for the foreseeable future.
What is the VR basketball app Gym Class VR for Meta Quest 2?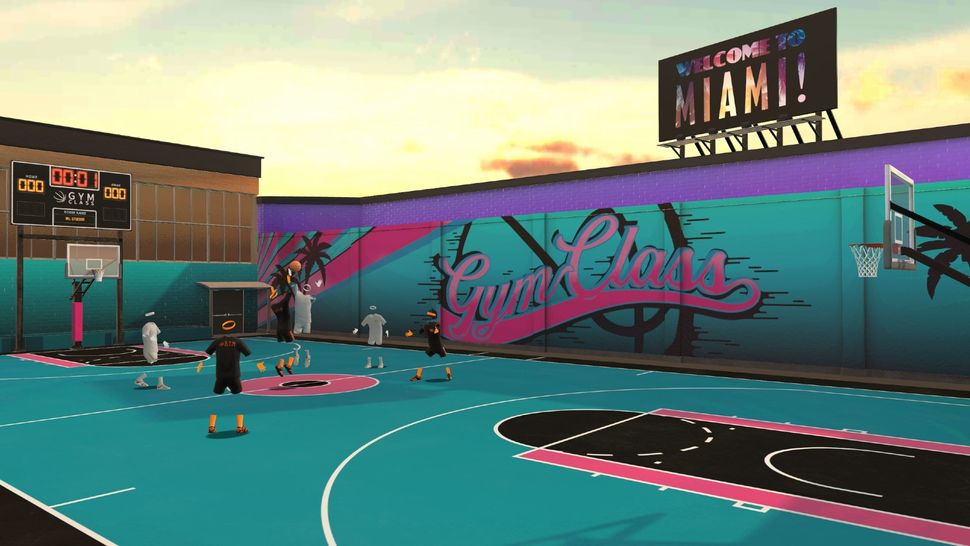 The Gym Class VR is a breakout hit on Meta Quest, garnering an impressive near-perfect 4.9 rating on the Quest store and hitting 1 million downloads pre-launch. It's now the No. 1 VR basketball app. Impressive.
The game replicates a basketball court where you can practice skills like dribbling and dunking on a solo court, compete against others on the social court, or get some shot practice against the clock and an AI avatar. The Meta Quest 2 is undoubtedly one of the best VR headsets, so if you already have a headset, now's the time to hit download.
There are two options: free-to-play Gym Class VR and Gym Class Pro, which costs $14.99 and gives you access to a customizable private court, full-body avatar, and more.
I tested the VR basketball app Gym Class VR on Meta Quest 2 — and wow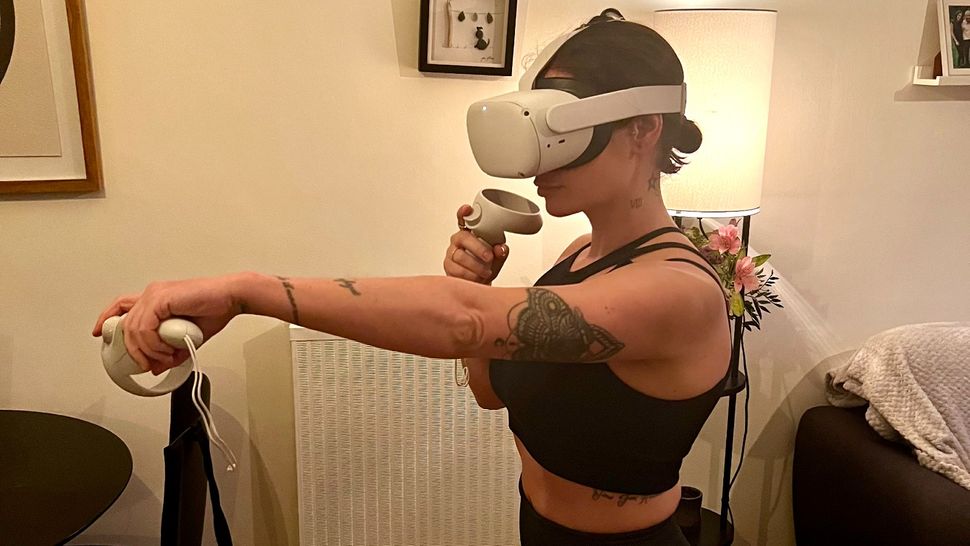 I tested the Gym Class VR on Meta Quest 2 over a week, and here's my verdict. Before you play, access your custom settings first to determine factors like your squat and jump height and "play boundary" to stay within during play.
1. I nearly destroyed my living room
You can set your play boundary before the session, but because it feels so lifelike, it's hard to remember you're still at home and not on a basketball court.
The game allows you to dribble, shoot, dunk, and play offense — just like you're playing a real game — and you can even chase rogue basketballs and move around the court against opponents. Unlike me, remember to use the joysticks on your controllers to move your avatar rather than actually run. And check you've got plenty of space to squat, jump, and shoot freely without taking out your loved ones by the knees.
A word of advice? Prioritize the tutorial, move furniture out of the way, and draw the biggest boundary you can — trust me.
2. I felt like I was on the court
I wasn't sure what to expect, but the quality of VR continues to blow my mind. The game uses the most realistic physics engine for a VR basketball game, with live stats tracking your performance. Because you can closely mimic a real-life basketball game (and player, depending on your ability), you can practice and develop "basic" basketball skills like throwing and dribbling from the comfort of your home. I truly felt like I was transported to a game environment far from my rainy South London apartment.
Even if you're a novice to the game, 50 minutes of squats, jumps, and throws can improve your basic fitness levels. One calorie calculator formula reckons someone who weighs 130 lbs shooting baskets for an hour could burn 279 calories.
3. It was good chaos
I'm developing a habit of making VR fitness chaotic, and I think those who live with me would prefer I hang up my controllers. Unfortunately for them, I can't be stopped. One flaw I noticed was that the positioning of the controller buttons made quick transitions tricky, but this got easier the more I practiced with the game.
Once I got the hang of the controls, the game was much easier to play. I started on a solo court and practiced my basic skills, then progressed to competing against the AI avatar and shooting as many balls as possible against the clock. I tested playing offense and navigating the court against the AI avatar, meaning I had possession of the ball and needed to score. At this stage, I'd built up some misplaced confidence and joined a social court playing against total strangers.
If you're new to basketball like me, having a bunch of advanced gamers from around the world running towards you, arms waving manically, in a real-game scenario is pretty hectic. Not helping was my boyfriend, who kept shouting at me to stop blindly running at the sofa. In simplest terms, it's the most interactive game I've come across on Meta Quest 2, and I felt genuinely puffed out — mentally and physically.
4. It's a great workout
Anyone could build a serious workout by competing against friends or fellow gamers. It's high tempo and fun, so you don't even feel like you're exercising, yet you're closely mimicking play throughout and subconsciously developing some skills — and health benefits are up for grabs.
According to research, basketball promotes speed, agility, power, endurance, flexibility, and motor coordination. The game can also improve your muscular, cardiovascular, and metabolic health. On average, a session of Gym Class VR lasts 50 minutes and could burn as many as 300 calories, making it a potentially super sweaty at-home bodyweight workout.
Despite the claims, I'm unconvinced that torching 300 calories is likely during an average session, but heading to the social court to hone your skills against others is your best bet and will still ramp up your heart rate. Why not find out by using one of the best fitness trackers?
Gym Class Basketball VR for Meta Quest 2 — verdict
I've been sucked into the metaverse once again. By combining virtual gaming with exercise and interaction, Gym Class VR has uniquely created and brought together a community of like-minded people.
But if your new year resolves to get fitter, I would supplement this workout with a regular exercise regime. Try this calisthenics workout and an intense fat-burning workout to get you started, but more gentle exercise could include these walking workouts.
---
Are you looking for more VR fitness inspiration? Our Meta Quest 2 review gives you the lowdown on VR gaming, and these 7 Meta Quest 2 games to play are our current favorites if you're just getting started.