Our Samsung Galaxy A54 vs Galaxy A53 comparison will help explain the biggest differences between Samsung's latest value-priced phone and its predecessor.
Samsung's Galaxy A series phones offer a cheaper alternative to the main Galaxy S family, but with some of the same excellent specs. The gap between the latest Galaxy S23 and the Galaxy A54 is smaller than it was before, which combined with some other enhancements over the outgoing Galaxy A53, makes the new phone perhaps the best Samsung phone for those on a budget.
Below we've compared all the key features for the Galaxy A54 vs Galaxy A53 to show what difference a year of development makes. This will hopefully let you make up your mind on which phone to buy, or whether it's worth upgrading your current A53 for the latest version.
Samsung Galaxy A54 vs. Galaxy A53: Specs
Swipe to scroll horizontally
| | | |
| --- | --- | --- |
| | Galaxy A54 | Galaxy A53 |
| Starting price | £449 | $449/£399 |
| Display | 6.4-inch FHD AMOLED (1080 x 2340) | 6.5-inch AMOLED (2400 x 1080) |
| Refresh rate | 120Hz (static) | 120Hz |
| Chipset | Exynos 1380 | Exynos 1280 |
| RAM | 8GB | 6GB |
| Storage | 128GB, 256GB | 128GB |
| Expandable? | Yes, up to 1TB via microSD | Yes, up to 1TB via microSD |
| Rear cameras | 50MP main (f/1.8), 12MP ultrawide (f/2.2), 5MP macro (f/2.4) | 64MP main (f/1.8), 12MP ultrawide (f/2.2), 5MP macro (f/2.4), 5MP depth (f/2.4) |
| Front camera | 32MP (f/2.2) | 32MP (f/2.2) |
| Battery | 5,000 mAh | 5,000 mAh |
| Charging | 25W wired | 25W wired |
| Software | Android 13 with One UI 5.1 | Android 12 with One UI 4.1 |
| Size | 6.2 x 3.0 x 0.32 inches (158.2 x 76.7 x 8.2mm) | 6.28 x 2.94 x 0.32 inches (159.6 x 74.8 x 8.1mm) |
| Weight | 7.1 ounces (202 grams) | 6.7 ounces (189 grams) |
| Colors | Awesome Graphite, Awesome White, Awesome Lime, Awesome Violet | Awesome Black, Awesome Blue, Awesome White, Awesome Peach |
Samsung Galaxy A54 vs. Galaxy A53: Price and availability
The Samsung Galaxy A54 goes on sale April 6 in the U.S. and April 25 in the U.K. with a starting price of $449/£449, although with slightly different starting specs. You get 6GB of RAM and 128GB of storage in the U.S. and 8GB/128GB in Europe. That's the same price as the Galaxy A53 for U.S. buyers but a bit more expensive for UK customers since the A53 cost £399 at launch.
Both regions also get their own more expensive version of the Galaxy A54. This gets you either 256GB of storage for £50 more or an upgrade to 8GB RAM for $50.
Samsung Galaxy A54 vs. Galaxy A53: Design and display
There's a big difference in the looks of these two phones. The Galaxy A53 uses the previously established Galaxy A design language of an all-in-one back design, with the camera block rising gently from the main rear panel. The Galaxy A54 instead takes its cues from the Galaxy S23 with separate cameras embedded in an otherwise flat glass back.
Both phones Still look similar from the front though, keeping the thick-ish bezels and punch-hole front camera. However, Samsung has shrunk the Galaxy A54's OLED display from the Galaxy A53's, going from 6.5 to 6.4 inches. The resolution remains the same at FHD, and the refresh rate is 120Hz.
Samsung Galaxy A54 vs. Galaxy A53: Cameras
It's not tricky to spot that there's one fewer camera on the newer Galaxy A54 compared to the Galaxy A53, but its overall sensor quality is better on paper.
The four cameras on the Galaxy A54 comprise a 50MP main sensor, 12MP ultrawide, 5MP macro and 32MP selfie sensors, while the Galaxy A53 uses 64MP main, 12MP ultrawide, 5MP macro and 32MP selfie sensors, plus an extra rear 5MP depth sensor.
The Galaxy A54's 50MP sensor looks to be the exact same one that you get in the Galaxy S23, which is quite a coup for a mid-priced phone. Although it's got fewer megapixels than the older camera, the larger sensor size and pixel size should mean brighter shots overall, and therefore hopefully better overall photos, particularly in low-light situations.
Once we review the Galaxy A54 we can see if it's one of the best camera phones for the money.
Samsung Galaxy A54 vs. Galaxy A53: Performance
The Galaxy A54 features a new Exynos 1380 chip. Samsung promises 20% better CPU performance and 26% greater GPU performance on the A54 versus the Galaxy A53's 1280 chip.
In addition, the Galaxy A54 now offers 8GB RAM and 256GB storage options for the first time. For U.S. customers, the standard A54 still comes with 6GB RAM and 128GB storage, with the more expensive model providing 8GB RAM instead. In Europe, 8GB is standard, with the basic model having 128GB storage and the higher-end model having 256GB.
Samsung Galaxy A54 vs. Galaxy A53: Battery and charging
There's been no change since last year for the Galaxy A54's charging and battery capacity. Just like the Galaxy A53, it uses a 5,000 mAh battery that can be charged at up to 25W, though there's no charger provided in the box.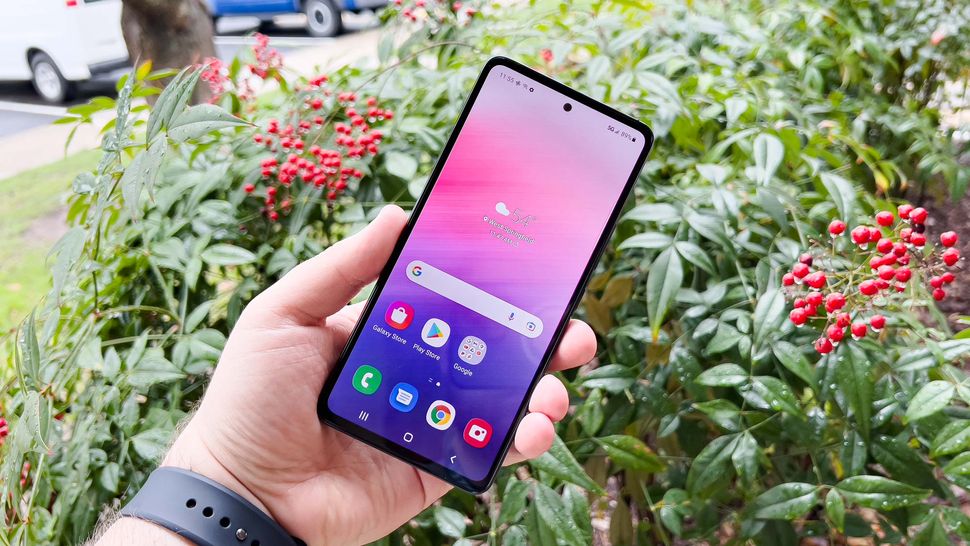 Samsung claims you can get up to two and a half days' use from the Galaxy A54's battery thanks to various performance updates. That's up half a day from the Galaxy A53's headline claim, so even if the A54 doesn't last that long in reality for normal use, it should still hopefully perform better than its predecessor.
Stay tuned for our test results to see if the Galaxy A53 can land on our best phone battery life list.
Samsung Galaxy A54 vs. Galaxy A53: Software
The Galaxy A54 and Galaxy A53 fall under the same update schedule of four years of full Android updates. The only difference is that because the Galaxy A54's newer than the A53, that guarantee takes you further.
As of right now, both phones run Android 13 with Samsung's One UI 5.1 on top. That unlocks features like Modes for different situations, Image Clipper cutouts for photos and more.
Samsung Galaxy A54 vs. Galaxy A53: Outlook
Unless you find a particularly good deal on a Galaxy A53, you're better off picking the Galaxy A54 looking at its specs sheet. It's got better cameras, a faster chipset with extra memory options and an extra year of Android updates in its future.
The A53 has a slightly larger display and dedicated depth sensor for the camera, but we don't think those differences are enough to buy the older model.
Whether the Galaxy A54 beats the more expensive Galaxy S23 on balance for value is another matter. Take a look at our Galaxy A54 vs. Galaxy S23 face-off for more on that duel.