If you're looking to invest in one of the best fitness trackers to help you reach your fitness goals this year, you might be trying to decide between one of the best Fitbits, versus one of the best Apple Watches. Both brands offer trackers that'll help you hit your health and fitness goals, as well as keep an eye on your sleep, menstrual cycle, and overall well-being from your wrist.
Yet both Fitbit and Apple also have their own subscription services — Fitbit Premium, and Apple Fitness Plus. Below, we put the two subscriptions head to head to help you decide which is better for you, and therefore, which smartwatch you should buy.
Swipe to scroll horizontally
Fitbit Premium vs Apple Fitness Plus

| | Fitbit Premium | Apple Fitness Plus |
| --- | --- | --- |
| Recipes | Yes | No |
| Workouts | Yes | Yes |
| Mindfulness/meditation | Yes | Yes |
| Free trial | Yes | Yes |
| Fitness challenges | Yes | Yes |
Fitbit Premium vs Apple Fitness Plus — Price and availability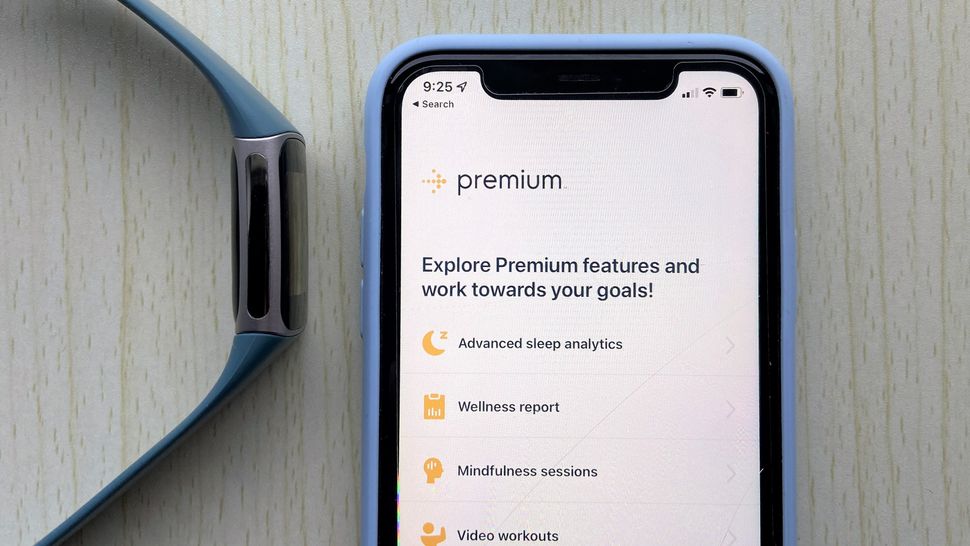 Fitbit Premium costs $9.99/£7.99 per month, or $80/£79.99 if you sign up for a year's membership. The good news is that Fitbit offers a three-month free trial of their Premium membership, so you have 90 days to decide whether or not the features on offer are worth paying for. Some newer Fitbits also come with a longer trial — the Fitbit Sense 2, for example, comes with a six-month membership.
Fitbit Premium works on both Apple and Android, although you probably wouldn't want to sign up unless you own a Fitbit, as a lot of the features tie into the data on your tracker.
Apple Fitness Plus costs $9.99/£9.99 per month or $79.99/£79.99 per year. New Apple Watch, iPhone, iPad, and Apple TV users get three months of Apple Fitness Plus for free — you no longer need to own one of the best Apple watches to access Apple Fitness Plus, but you will need an Apple product of some kind.
Fitbit Premium vs Apple Fitness Plus — features
Let's take a closer look at what you're getting for your $10 a month is getting you with both apps.
Fitbit Premium
When it comes to Fitbit Premium, the service gives you a deeper understanding of the data your tracker is collecting. This includes advanced sleep tracking data. Free Fitbit members can only track their time spent asleep, while Fitbit Premium offers subscribers further insight into their sleep, as well as giving a sleep score. The overall nightly sleep score is based on your heart rate, the time you spend awake or restless, and your sleep stages during the night.
You can also get your Daily Readiness Score, which looks at the quality of your sleep, how hard you worked out the day before, and your heart rate variability (HRV) to assess how ready you are to push yourself that day. Finally, Fitbit Premium also gives you a wellness report — an easy-to-read overview of all of your data after 30 days of wearing your Fitbit.
Fitbit Premium also has a library of on-demand workouts — there are classes from some popular trainers, like Les Mills, barre3, and Daily Burn, and over 200 workouts to choose from. You can also sign up for workout plans to help you stay motivated and guided programs designed to help you learn healthy habits.
Fitbit Premium also has a huge library of mindfulness and meditation classes — members gain access to over 200 mindfulness sessions. Fitbit has partnered with apps like Calm, giving subscribers access to sleep stories to help them drift off better, as well as meditation classes with Deepak Chopra.
Apple Fitness Plus
Apple Fitness Plus focuses primarily on workouts. It's designed to motivate users of all fitness levels and has a number of famous instructors leading the classes. As it's Apple, there's also music spotlights, which are classes focusing on some of the world's best bands and artists, and every class has a playlist packed with good music — in fact, you can filter classes by music genre.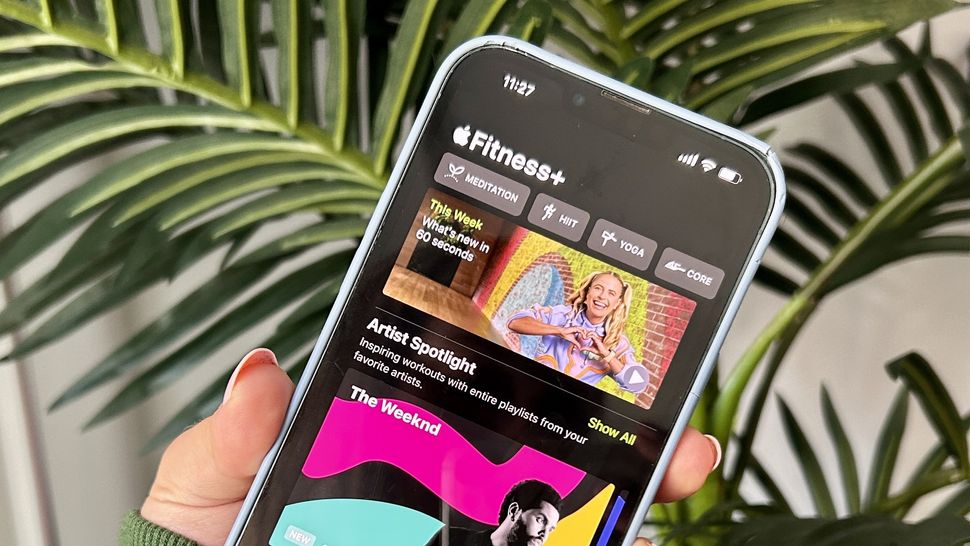 For a subscription service that launched in December 2020, Apple Fitness Plus has grown massively over the past few years. There are hundreds of classes to choose from — from rowing to running, Pilates to dance, and new workout types are dropping all the time. In January 2023, kickboxing was added to the platform, and there are now 12 different workout types to choose from.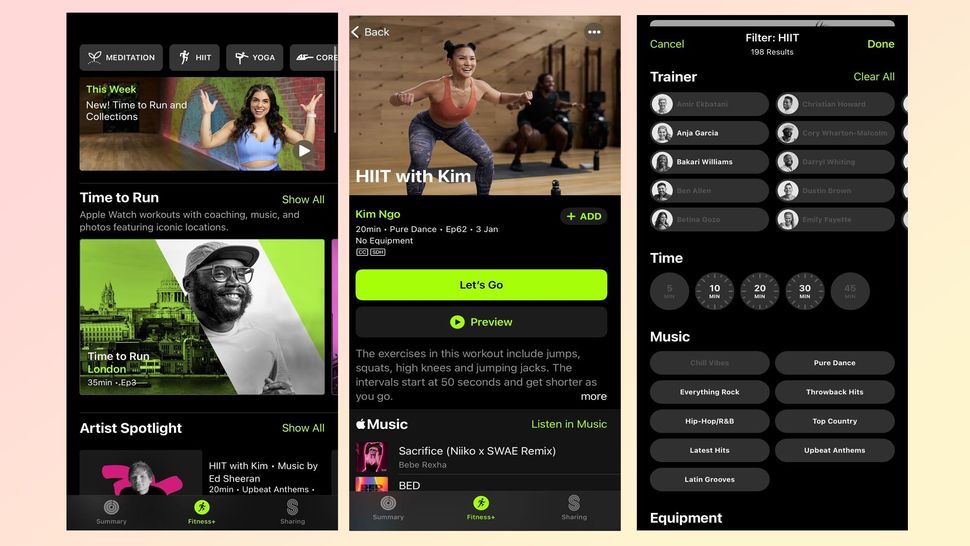 Apple Fitness Plus also has collections of workouts, which save you from having to scroll through the library of classes if you're not sure where to start. There are collections like a 6-week plan to restart your fitness, a 30-day core challenge, and building up to running your first 5K. New classes are added to the platform each week, ranging from 5 to 45 minutes long. Classes are designed to be taken at home and in the gym, indoors and outdoors, with and without equipment.
If you are using Apple Fitness Plus with an Apple Watch, the progress of your rings will show on the screen when you're working out. If you're not using a Watch, the activity ring on the screen will be based on the ring on your iPhone. In every class, there's more than one instructor, so you can easily see modifications if you're a beginner, or returning to fitness following an injury.
Fitbit Premium vs Apple Fitness Plus: Bottom line
So, which fitness service is right for you? The answer really depends on which device you own, and what you're looking to get out of it. If you already have a Fitbit, Fitbit Premium will give you in-depth information on your sleep and how well you've recovered, as well as put all of your data into easy-to-read reports.
While I can't see a reason why you would sign up for Fitbit Premium without owning a Fitbit, you can still get a lot from Apple Fitness Plus if you don't have an Apple Watch. If you're purely interested in workouts, whether at home or in the gym, Apple Fitness Plus has a wide variety to choose from. Yet it does feel more like one of the best workout apps — it won't give you any data on how well you've slept, or how ready you are to push yourself.
If you're on a budget, you can do a lot with your Fitbit without signing up to Fitbit Premium — the free app lets you track your activity, weight, sleep, and nutrition at a glance. Plus, on Apple Fitness Plus, you can share the membership with up to five family members and split the cost, should you wish — an option that isn't available on Fitbit.
Still unsure? Read our Fitbit Premium: pros and cons roundup here, as well as our Apple Fitness Plus review.