The Amazon Echo Pop is an affordable, no-frills Alexa smart speaker that costs $10 less than the popular Echo Dot. It's ideal for small spaces in your house. It comes in fun colors and sounds good despite its small size.
For
Good sound for the size
Inexpensive
Fun color choices
The Amazon Echo Dot (5th Gen) is one of the best smart home devices you can get for under $50. Not only is it a speaker, but it has a built-in motion sensor, temperature reader and eero extender, too.
For
Strong sound for size
Room temperature sensor for Alexa routines
eero built-in
Against
$10 more for clock version
Deciding between the Echo Pop vs. Echo Dot? Both Amazon speakers are among the most affordable smart home devices you can buy, but they have distinct differences that could make one better for you than the other.
The Amazon Echo Dot (5th Gen) is the quintessential smart speaker. It's gone through several iterations to become the best smart home device for starters, putting Alexa in voice's reach and laying the foundation for a fully connected experience.
But the newer Amazon Echo Pop promises a similar kind of smart speaker for $20 less than the Echo Dot. Of course, there are some trade-offs, but it's a convenient way to add Alexa to every corner of your home.
Here's how the Echo Pop vs. Echo Dot stack up in terms of price, design, and features so you can choose which is the best Alexa speaker for you.
Echo Pop vs. Echo Dot: Specs compared
Swipe to scroll horizontally
| Header Cell - Column 0 | Amazon Echo Pop | Amazon Echo Dot |
| --- | --- | --- |
| Price | $39 | $49 |
| Colors | Charcoal, Deep Sea Blue, Glacier White | Charcoal, Glacier White, Lavender Bloom, Midnight Tea |
| Size | 3.9 x 3.3 x 3.6" | 3.9 x 3.9 x 3.5" |
| Speaker | 1.95" front-firing speaker | 1.73" front-firing speaker |
| Wi-Fi | 802.11a/b/g/n/ac (2.4 and 5 GHz) networks | 802.11a/b/g/n/ac (2.4 and 5 GHz) |
| Home sensors | None | Motion, temperature |
Echo Pop vs. Echo Dot: Price and availability
Both the Echo Pop and Echo Dot are available to order directly through Amazon. The Echo Pop costs $39.99 at full price, while the Echo Dot costs $49.99. The Echo Dot with Clock, a version of the speaker with an LED display, is $69.99.
These speakers often go on sale, so be sure to check out the best Amazon deals happening now. Also see our guide on how to trade in Echo devices for Amazon gift cards you can put towards a new speaker.
Echo Pop vs. Echo Dot: Design
The Echo Pop and Echo Dot certainly follow a similar design language as fabric-swathed speakers, though the simplest way to put it is that the Echo Pop looks like an Echo Dot orb was sliced in half. Both have physical controls on top, but the Alexa status light only appears on a small portion of the Echo Pop's edge while the Echo Dot has a full ring status light at its base.
In terms of colors, the Echo Dot comes in Charcoal, Deep Sea Blue and Glacier White — all rather basic finishes. The Echo Pop also comesssimple Charcoal and Glacier White options, but is also available in fun Lavender Bloom and Midnight Teal colors.
The Echo Dot comes in a version with an LED display on its side. We generally recommend the Echo Dot with Clock because of the convenience it provides as an alarm clock. It shows the time, song titles, temperature, timer countdowns and more.
Echo Pop vs. Echo Dot: Features
These two Amazon speakers are both voice controlled with Alexa. You can use the assistant for the best Alexa skills, including queries, voice calls and device controls. Depending on how many Alexa compatible devices you own, the speaker is on standby for commands so you could manage your home hands-free.
The Echo Dot is more intuitive than the Echo Pop, though. It has built-in temperature and motion sensors that can automatically trigger routines. For example, if it detects that you've entered a room, it can tell your Philips Hue lights to turn on. Or, if you have a room that gets hot, the Echo Dot reading a temperature threshold can initiate a smart plug connected to a fan.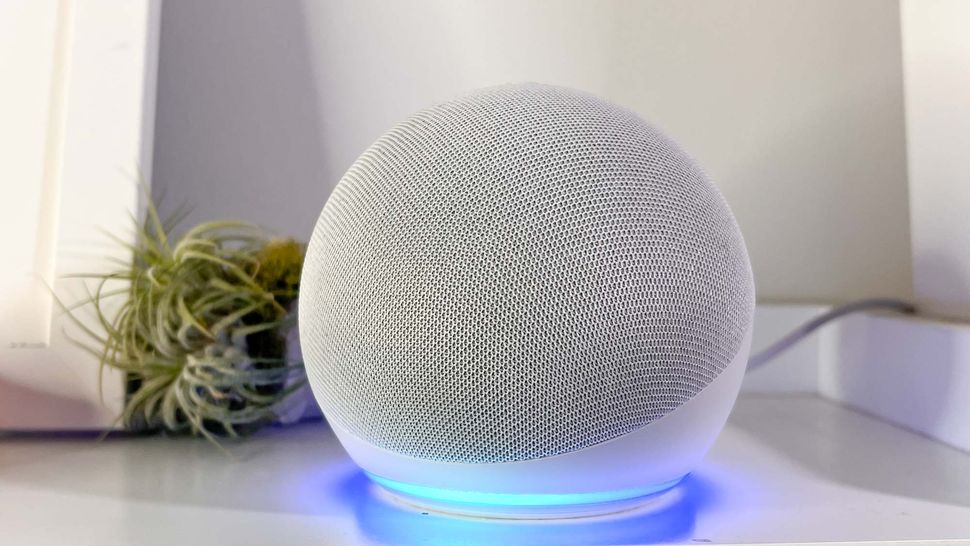 The Echo Dot also has eero built-in, adding up to 1,000 sq ft of Wi-Fi coverage and support for speeds up to 100 Mbps for compatible networks. See how to use an Echo Dot as a mesh Wi-Fi extender to learn more.
In terms of audio quality, the Echo Pop has a larger speaker than the Echo Dot, but the Echo Dot's sphere shape results in stronger bass and a wider soundstage. Neither is the speaker to buy if you want something that's excellent for listening to music — the standard Amazon Echo (4th Gen) or Echo Studio are the better Amazon speakers for sound performance; however, they'll cost you.
Echo Pop vs. Echo Dot: Which should you buy?
Between the Echo Pop vs. Echo Dot, the Echo Dot has more to offer as a smart home device. The included sensors and better audio performance makes it well worth the price. We happen to think it's worth spending another $10 on the Echo Dot with Clock, but that's totally optional.
If you just need a practical Alexa speaker for cheap, it's just as easy to recommend the Echo Pop. The fun color options and convenient size make it a good choice for places you need no-frills Alexa access.