Buying your first home has its ups and downs, but when it comes to figuring out how to best protect your property, you'll want an adequate security camera to keep eyes when you're not around. While I do appreciate how today's best security cameras are wireless and have the convenience of being installed anywhere due to being battery powered, you still have to eventually recharge them — leaving a gap in security coverage in the process.
That's why I cannot tell you enough about the utility of the Symynelec security camera light bulb. I've been using it for nearly a year, and it saved me thousands of dollars from having to hire an electrician to install a security camera where I needed it. Best of all, it's 52% off its normal price for a limited time with Amazon's early Black Friday sale.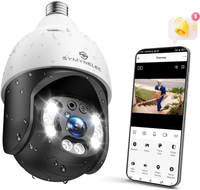 Symynelec security camera light bulb: was $99 now $47 @ Amazon
Serving double duty as a security camera and light bulb, you'll appreciate how it's super simple to add security anywhere in the home with this 2-in-1 smart home gadget. This 2K security camera is easy to set up and offers color night vision as well as motion detection. Save 52% right now!
One of the reasons I opted for a security camera light bulb over a traditional, standalone outdoor security camera is that it doesn't require me to recharge it. Since it connects into a standard light bulb socket, it's always on watch just as long as the power doesn't go out — so there's no need for me to constantly take it down to recharge it.
Secondly, it saved me the hassle of paying an electrician to come out to my home to extend a power line from my home to an area on my deck where I needed power. Given how I already had an existing outdoor light fixture above our backdoor, I simply installed the Symynelec security camera light bulb there to watch over a portion of our deck in the backyard.
In terms of security, I like that it offers local storage via a microSD card slot — so that all of the footage remains local. Meaning, there's no added cost out of my pocket to sign up for a monthly cloud service subscription. It also has the ability to actively track subjects it detects due to motion detection, so they're always in frame and clear. And lastly, it doubles as a light source as well with the LEDs surrounding the camera.
For more savings, check out the Amazon Black Friday deals that have just been announced and be sure to see our main Black Friday deals page for even more discounts.