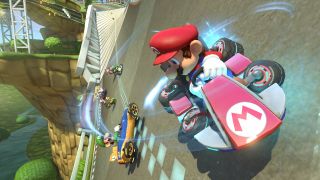 Best Wii U Games
Now that the Nintendo Switch is here, the Wii U's best days are over. But Nintendo's previous-generation console left behind a handful of excellent games in its relatively short life, including the spectacular, just-released The Legend of Zelda: Breath of the Wild. Factor in older hits such as Mario Kart 8, Bayonetta 2 and Super Mario Maker, and you've got a healthy mix of joyful, family-friendly Nintendo experiences and more mature and demanding games for adults.
If you've yet to make the jump to Switch or just scored a Wii U for cheap, you won't be hurting for fun games to play. Here are our top picks.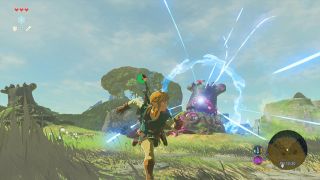 The Legend of Zelda: Breath of the Wild
The Wii U's final big release is also arguably its best. The Legend of Zelda: Breath of the Wild takes Nintendo's iconic adventure series to all new heights, allowing you to freely roam a beautiful, dynamic open world where pretty much nothing is off limits. You'll be scavenging for food, making weapons out of everyday objects and engaging in tight, fluid combat, all while enjoying the charming characters and thrilling sense of adventure that makes the Zelda series so beloved.
Breath of the Wild (which is also available on the Switch) is already one of the best-reviewed games of all time, making it a heck of a swan song for the Wii U.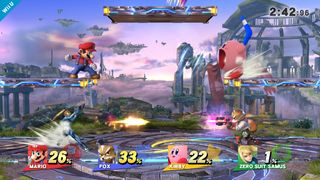 Super Smash Bros. for Wii U
The latest installment in Nintendo's frenzied fighting game series ups the ante in every way possible, with gorgeous HD arenas, tons of single-player and co-op modes and a massive roster that pits gaming stalwarts such as Mario, Link, Pac-Man and Mega Man against hilariously obscure inclusions like the dog from Duck Hunt and the Wii Fit Trainer. Since launch, the game has gained even more characters in the form of DLC, with Street Fighter's Ryu, Final Fantasy's Cloud and the titular Bayonetta all joining the fray. Plus, with the new 8-Player Smash Mode, there's never been a better way to settle who's best amongst your friends.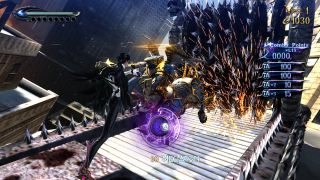 Bayonetta 2
If you think the Wii U is nothing more than a kids' console, Bayonetta 2 has a few dirty words for you. This edgy action game's combat system is as stylish and memorable as its titular female protagonist (whose hair is literally a weapon), allowing you to gracefully chain together punches, kicks and gunfire against hordes of demonic, over-the-top enemies. With the original Bayonetta bundled in for free (complete with new Nintendo-themed costumes), Bayonetta 2 is an excellent package for gamers who live for crazy combos and insane boss fights.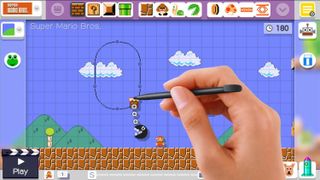 Super Mario Maker
If you're looking for a new Mario game, why not just make your own? Super Mario Maker lets you do just that, offering a robust set of tools that let you make the Mario levels of your dreams (or of your friends' nightmares) by simply doodling on the Wii U gamepad. You can share your creations with the world, or play the million-plus courses created by Mario fans around the globe. Just be warned -- the game's 100 Mario Challenge is full of devious community creations that will test your sanity on higher difficulty levels.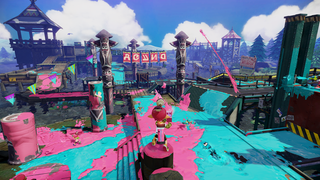 Splatoon
Believe it or not, one of the best online shooters out there is a Wii U exclusive. Splatoon flips the multiplayer shooter genre on its head by having two teams of four battle to cover an arena with gobs of colorful ink. Despite its cutesy nature, Splatoon's myriad of unlockable guns and gear give it tons of competitive depth, and Nintendo regularly keeps the game fresh with new maps and features. There's even an engaging single-player mode that has you take down hordes of evil octopi.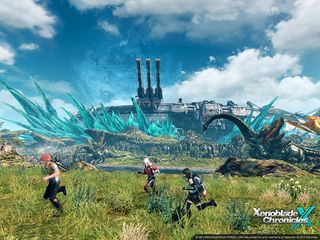 Xenoblade Chronicles X
The much-awaited next installment in the long-running Xeno franchise, the Japanese role-playing-game Xenoblade Chronicles X puts you on the planet Mira, where a spaceship full of humans fleeing the destruction of Earth has crash-landed. You'll have to battle an invading alien horde bent on exterminating humans, but you can do so as a Skell, a giant weaponized robot that can transform into a tank or motorcycle, and bound across a planet-sized open world. If you're looking for an epic RPG that you can easily sink dozens of hours into, Xenoblade Chronicles X is worth a look.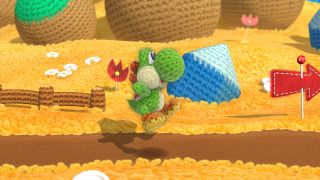 Yoshi's Woolly World
Yoshi's Woolly World is the kind of game that sells itself in a single screenshot. I mean, how could you not want to guide an adorably stitched-together version of Yoshi through colorful 2D worlds made entirely out of yarn? Woolly World has more than its stunning visuals going for it, though, offering satisfying 2D platforming complete with two-player co-op and troves of secrets to discover. Tapping in your Amiibo toys unlocks a host of cool costumes for Yoshi, allowing the adorable dinosaur to cosplay as Mario, Link, Samus and plenty more.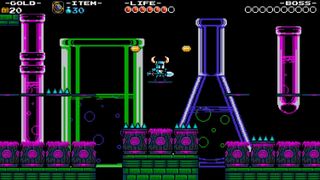 Shovel Knight
At first glance, it'd be easy to mistake Shovel Knight for a Wii U port of an NES classic. And while this 8-bit platformer is a blatant love letter to games such as Mega Man, Castlevania and Duck Tales, it manages to wrap its nostalgic elements into a package that feels fresh. Armed with a shovel and up against The Order of No Quarter (this game knows to not take itself seriously), you'll jump, bounce and slash your way across a series of beautifully pixelated stages that will take you back to the golden days of '80s gaming.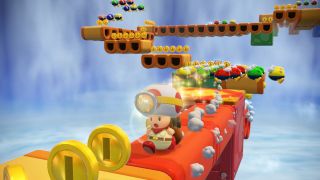 Captain Toad: Treasure Tracker
Thirty years after first helping Mario save Peach from the clutches of Bowser, Mushroom Kingdom's most beloved pint-size companion finally gets to headline a game of his own. Captain Toad: Treasure Tracker takes the puzzle levels from Super Mario 3D World and transforms them into a strategic ride through more than 70 challenges, as Toad and Toadette collect Power Stars while battling the avian antagonist Wingo. Burdened with a heavy backpack that prohibits him from jumping, Toad relies on his wit and trusty mining helmet to weave his way through magma-filled caverns and past menacing foes. At just $40, this game is definitely a hidden gem.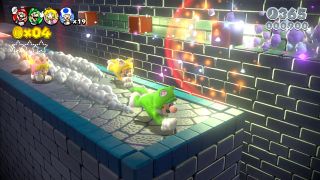 Super Mario 3D World
Nintendo consoles are never starving for good Mario games, but Super Mario 3D World just might be the Wii U's best yet. This colorful Goomba stomper combines the fast-paced platforming of 2D Mario games with the exploratory elements of 3D ones, such as Super Mario 64, and allows you to team up with three friends for a rollicking mix of cooperative and competitive gameplay. Plus, who can resist Mario in an adorable cat suit?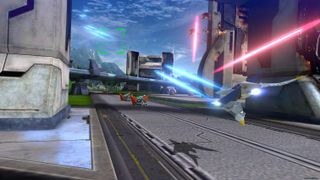 Star Fox Zero
The whole crew is back — Fox, Falco, Peppy and even Slippy — and everyone is prepped for some more slick-shooting, barrel-rolling and bomb-dropping fun. To spice up the series, Nintendo has added cool new transformations to your favorite vehicles, including the Arwing fighter and the Landmaster tank, while also introducing the new Gyrowing drone plane and its alternate walker mode. It would have been nice to retain Star Fox's classic controls instead of having the new Wii U game-pad-based setup, but Zero dishes up the same free-flying action that you know and expect from a Star Fox game. Bonus: If you opt for a digital copy, you can get Zero for $50 instead of $60, as long as you don't mind skipping out on Nintendo's Star Fox Guard pack-in game.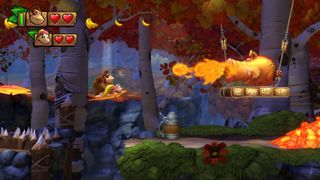 Donkey Kong: Tropical Freeze
Are you up for a challenge? Donkey Kong Country: Tropical Freeze is the most punishing adventure yet for Nintendo's amicable ape. In addition to DK himself, this 2D platformer lets you take Diddy Kong, Dixie Kong and the elder Cranky Kong across rainforests, frozen jungles and tons of other hazard-laden environments that are sure to test your sanity. Fortunately, if toppling arctic enemies and blasting through barrels gets too hard on your own, you can team up with a friend.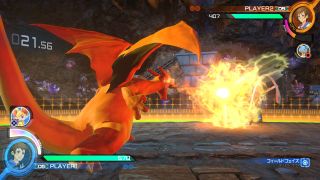 Pokken Tournamnet
If you've always dreamed about a Pokemon game that lets you battle with your monsters in real time, Pokken Tournament is for you. This frenetic fighting game allows you to enjoy intense one-on-one fights with series staples such as Pikachu, Charizard, Mewtwo and Lucario, each of which has its own deep and varied set of moves. Developed by some of the minds behind Tekken, Pokken features a unique battle system that fluidly switches between free-roaming 3D battles and up-close 2D brawls, complete with a range of support Pokemon that can instantly turn the tides. Don't let its adorable visuals fool you — Pokken is a legitimate competitive fighting game, complete with its own championship league for those who want to be the very best.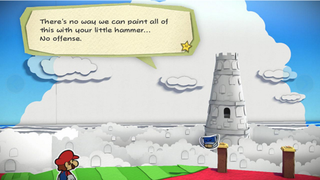 New and Notable - Paper Mario Color Splash
It's bright, it's colorful, and now that it's got the full power of the Wii U behind it, Mario's latest turn-based adventure looks better than ever. Color Splash picks up when Mario and Peach get a letter from Prism Island that's been written on a color-drained paper Toad, which prompts the Mushroom Kingdom's most famous couple to investigate what's going on. With the help of new friends like Huey the paint can, and a magical hammer, you and Mario will fight back Bower's evil horde and bring color back to Prisma.