Netbooks with Pinetrail
Pinetrail is the latest Atom processor from Intel. With a dual-core architecture and more efficient features compared to previous Atom CPUs, nearly every netbook manufacturer has already launched or will soon intro a system with the new Intel device inside. In the image above, HP was showing off its new Mini netbooks featuring the updated processor, while companies including Lenovo, Acer, Samsung, and others are also offering it. Many of these netbooks were not only officially announced and revealed at CES, but are now available to purchase. More on CES 2010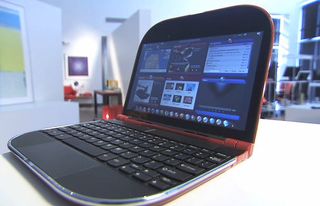 Smartbooks
Netbooks are smaller, weaker, cheaper laptops. Smartbooks are smaller, weaker, cheaper netbooks. Why such a form factor has entered into existence is beyond us, but then again, that's what many said about netbooks when they first arrived a few short years ago. This Lenovo smartbook may be the first of many, although smartbooks, such as this model, are still rare. They offer much of the same as netbooks, but carry unique designs--like this clamshell.
Dual-Screen Netbook
Dual laptops screens, perhaps popularized by Lenovo's Thinkpad W700 line with its pull-out display, are ridiculous. Essentially doubling the screen real estate by literally doubling the screens, this netbook is more of a mobile workstation than a cute Web-browsing machine. Then again, the hardware falls in line with what netbooks currently have today, except for the much higher resolution. Is there a future in this?
Recycled Netbook
Sony has decided to try something interesting by recycling CDs that nobody uses for the case and other hardware in a netbook. Besides being one of Sony's first netbooks, this machine is 20% recycled from standard CDs. Sony has also implemented several manufacturing designs to ensure a small carbon footprint, from the miniature carrying case to the green chassis. It may not be the prettiest netbook in town, but at $480, it's the healthiest. Whether or not Sony plans on allowing consumers to trade in old CDs for rebates is uncertain, but it would be a nice touch.
Customization
One of the biggest trends for netbooks and laptops at CES is customization, more specifically the chance to change the color or design of the case before purchase. For netbooks, that is to be expected, although many of the same designs are being implemented for full-blown laptops as well. Right now that customization is limited to what the manufacturer offers, but it's a small step towards permanently tattooing our machines for the entirety of their lives.
Tablets
Tablets in the past were known as swiveling laptops with a touch-sensitive screen, reserved for a stylus for jotting down notes. At CES, tablets are small, touch-screen devices running standard operating systems and having no physical keyboard. These devices are finger-sensitive, although some companies, specifically those specializing in Asian markets, include a stylus. These devices look like overgrown portable media players, but much of the hardware is identical to what you see in today's netbooks.
Netbook Tablet Crossover
Lenovo has shown its netbook tablet, a device with two batteries, two operating systems, but only one screen and a single keyboard. Attached by a magnetic strip, the screen comes off in a pinch, leaving the entire frame of the netbook behind. This activates a personalized operating system that runs off a small flash drive. No connection to the keyboard remains whatsoever, so there are no strings attached. If you want a tablet, pull the screen out. If you need access to a keyboard, just put it back in.
UMPCs
Another PC type not popular in the United States, ultra-mobile PCs (UMPCs) may try to take the U.S. market again thanks to the latest Atom technology. These devices look feeble compared to netbooks, with keyboards hardly larger than those found on today's larger cell phones. Most of the UMPCs we've seen are running on Windows XP and all have horribly small screens. We can't wait to see this fail in the United States completely, although clearly the Asian markets love the small form factor.
3D Laptops
3D tech is one of this year's biggest and most discussed topics at CES and it's coming to laptops near you. While the smaller screens may make you question such a purchase choice, here are two current types of 3D being experimented with for laptops: those using Nvidia's 3D technology and shutter glasses and those using other 3D tech and personalized glasses. Those with Nvidia's 3D tech won't be out until spring. Whether you believe the new 3D is a gimmick or not, it's coming back big time and even laptops aren't safe from its arrival.
i5/i7 Laptops
Laptops have, until now, been kept clear from quad-core processors. They simply didn't have the cost/benefit needed for most laptop users, but with the latest i5 and i7 chips, that's changed. Companies like Sony and Acer are making workhorse laptops and replacement desktops with these new CPUs, giving their laptops a serious edge over the competition. Add these high-performance CPUs and powerful new graphics processors to a laptop form factor, and the end result is either a very powerful machine. The beauty is that throttling is all automatic, so if properly done, users will have the best of both worlds: excellent performance and battery life. Just remember, it's one at a time.
Nettops
Another small yet quickly growing segment in the PC market is nettops. Essentially netbooks for your desk, these stationary PCs are meant to fulfill the same functions as a netbook for a reasonable price at home. While several companies like Asus have already begun selling nettops, at CES they're becoming widely popular. This Viewsonic model integrates Nvidia's Ion technology, so it can stream HD video. It also comes with a magnetically attached Blu-ray drive that requires nothing more than sticking it on.
All-In-One PCs with Touch Screens
Sure, touch screens are all the rage, but so is making everything smaller and simpler. All-in-one machines have been around for a few years now, popularized by the HP Touchsmart, but this CES is the first time companies have really shown an interest in this area. While HP remains the undisputed leader, having the first multi-touch all in one, other companies are also jumping onboard.
Xbox Gaming PC
Putting an Xbox in a gaming PC isn't the craziest idea, but it's one we like. While IBuyPower is just showing this as a proof of concept, the firm doesn't know yet if it is possible or even allowed to put Xbox 360s directly into its specially built case (apparently the Microsoft folks at the show like and want it, but even they said licensing will throw a fit). This machine would be fully customizable and have a special case to keep the Xbox 360's ports open, although right now both the PC and Xbox 360 are completely separate. Should Microsoft give its blessing, this rig may implement some unique features for the console, like a shared power supply, optical drive, or even liquid cooling.