13 Coolest (and Creepiest) New Facebook Features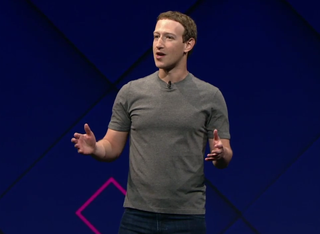 Augmented Reality, Messenger dominate Facebook's future
Kicking off Facebook's annual F8 developer conference today (April 18), CEO Mark Zuckerberg plotted out how the social network will change in the coming years. Facebook's efforts will be rooted in both augmented and virtual reality, with the company's recent push to imitate Snapchat marking just its first steps toward something larger. Here's what we learned from the F8 keynote. (Image credits: Facebook F8 live stream)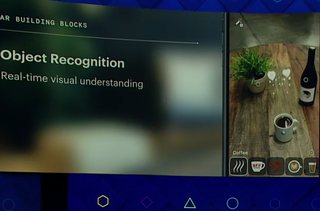 Facebook's Camera will become an augmented reality platform
Available in a closed beta starting today, Facebook will launch an augmented reality platform on the Snapchat-esque Camera feature recently introduced to the Facebook app for Android and iOS. It'll use depth perception and incredibly powerful object recognition. For example, tapping on a coffee cup generates a list of related effects such as steam and another cuppa joe. Facebook is leaning hard on humor here, as Zuckerberg claimed that people don't often share things unless they're funny.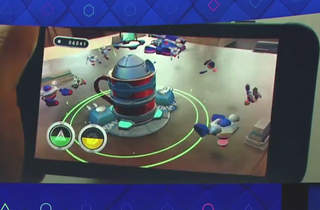 Facebook AR includes games
One preview featured a father and his kids pointing a smartphone running the Facebook Camera at a table and then seeing a gaming universe pop up. While you'll only see the game on the phone, kids can slam hands on table, a la whack-a-mole, to defeat baddies.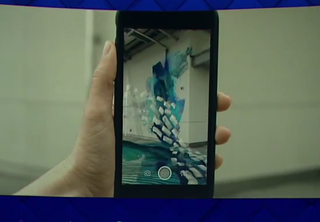 Facebook wants you to (virtually) paint the world
Spray-painting a building might be cool, but it can also be illegal. If you'd prefer to skip the jail time, Facebook's augmented reality program will allow artists to digitally paint on walls. The one catch is that these murals will only be visible to anyone else using the Facebook Camera lens.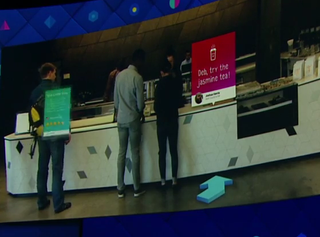 Facebook's augmented reality is hyper-local
After casually thumbing his nose at the one-block radius of Pokémon Go locations, Zuckerberg noted how finely-located Facebook's AR will be. Users will be able to leave digital notes on bar walls, tables and even their fridge, creating virtual Yelps and shopping lists.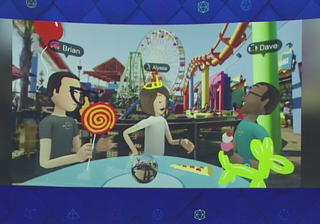 Facebook Spaces is the social network's second life in VR
Facebook's take on virtual reality looks an awful lot like Second Life, the online virtual world. Facebook's take on social VR is called Facebook Spaces and it's now available in beta for Oculus Rift and Touch, where machine learning will allow automatically suggested avatars based on your profile photos, with further customization options available. Facebook Spaces's big feature was its integration with Messenger, which will allow VR group chats, potentially allow far-flung friends to connect virtually.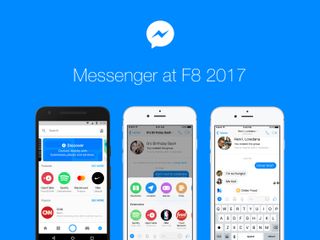 Get ready for more branded bots
While we knew advertisers would be able to talk to you in Messenger, Facebook announced it's going to do more to get you to finds them. A new Discover section will help users find the bots and businesses relevant to their areas. Facebook says this will let companies "maintain critical conversations" across apps. While Facebook focused on the positive side of this feature in terms of community groups, executives also mentioned Fandango, and I can only assume this means the ticket-selling app will gain another way to ask me what I thought of The Fate of The Furious. (It was good.)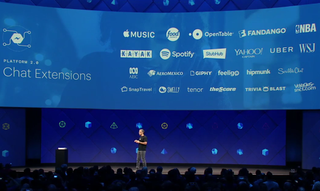 Messenger gets Chat Extensions
Facebook announced it will begin rolling out chat extensions that allow you to bring your favorite apps into Messenger. While the most prominently featured launch extension came from Spotify, Facebook said Apple Music will come to the platform soon.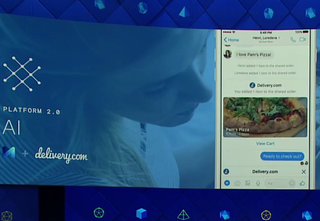 More of Facebook M
Suggestions from M is Facebook's way of saying its AI-powered personal assistant is always listening. That means you get a prompt to use the Delivery.com extension when planning a meal as well as the option to use Messenger's circular QR codes to get your friends to pay you that money they owe. That doesn't sound creepy at all.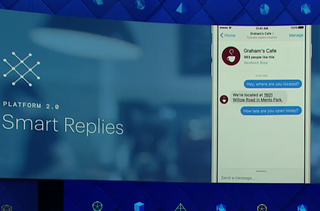 Smart replies for businesses
With its massive active user base, Facebook sees Messenger as the white pages for the internet, so it naturally wants to connect everyone. Facebook will allow businesses to get automatically-responding bots for answering questions with information that can be pulled from existing data. So, no more waiting for an answer … but only about stuff you should have been able to find on your own.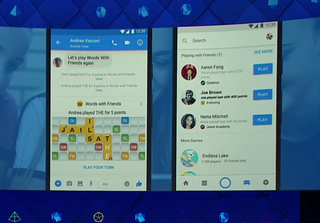 More Messenger gaming
Messenger is getting a tab to promote all of its games, which now include turn-based and real-time titles. That means adding games such as Words With Friends to the existing Messenger gaming collection.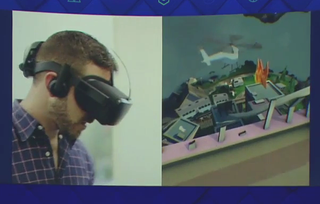 Facebook's SLAM cuts all the cords from VR
A short clip teased a virtual reality headset from Facebook that would exist without a connected PC. This works on SLAM (simultaneous localization and mapping) a technology that Zuckerberg previewed with animated filters that sensed his Facebook Camera was pointed at a bowl of breakfast cereal.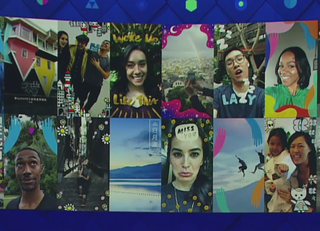 We'll build filters with the Camera Effects platform
Another in-beta tool announced at F8, Camera Creative program lets users create their own digital effects for use in the Camera tool. This way, you can make your own facial filters, and geo-location-specific overlays limited to how others view your city, and can graphically define it on your own.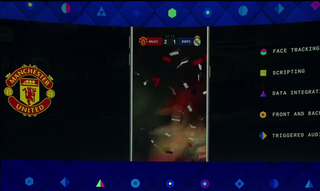 Interactive Facebook camera overlays are a gooooooooal
Facebook's AR Studio is a tool that will allow for more interactive situations. EA used the tool to create an experience based on Mass Effect Andromeda while the Manchester United soccer team built an interface for live score updates and graphics to be overlaid on top of video.