6 Reasons to Buy the LG G6 (and 3 to Skip)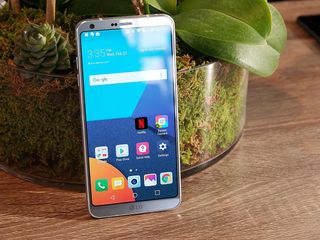 LG G6 Pros and Cons
The LG G6 is a do-over of sorts for LG, after the ambitious but flawed modular G5 failed to catch on with smartphone shoppers. And what a do-over it is. Between a slick design, dual 13-megapixel rear cameras and an 18:9 display with minimal bezels, there's a lot to like about this flagship.
We gave the G6 a strong 8 out of 10 in our initial review, and now it's $50 cheaper than it was at launch at $599. But there are also some reasons to think twice.
Credit: Sam Rutherford/Tom's Guide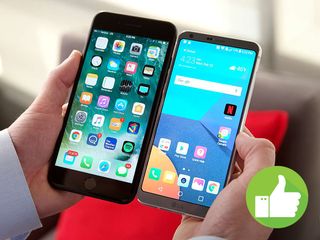 Big screen in one-hand friendly design
The G6 has a big 5.7-inch screen, compared to 5.5 inches for the iPhone 7 Plus and iPhone 8 Plus, and yet the LG is so much more compact. LG's flagship packs its display in a 5.9 x 2.8 x 0.31-inch body that weighs 5.8 ounces. The iPhone 8 Plus weighs 7.13 ounces and is taller and wider. Sure, the iPhone X has almost no bezels, but that costs hundreds more.
Credit: Sam Rutherford/Tom's Guide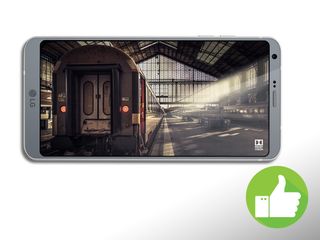 18:9 display does HDR
The 18:9 aspect ratio on the LG G6's quad HD+ allows for more viewing space on movies and shows, and it gets even better when you're watching HDR content. The G6 supports the latest Dolby Vision standard for HDR, which delivers more colors and better contrast than typical phone displays. You can find HDR content on both Netflix and Amazon, and more is likely to appear soon.
Credit: LG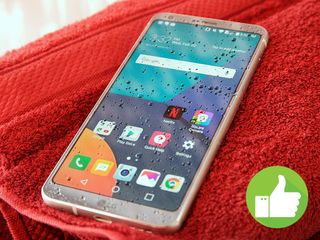 It's water-resistant
It's nice to know that you can bring your phone in the shower with you, and we tested just that on the LG G6. With its IP68 rating, LG's latest phone can easily withstand being submerged up to 30 minutes in 1 meter of water. In addition, the G6 is designed to shrug off dust and survive accidental drops, thanks to the rounded corners, which minimize impact.
Credit: Sam Rutherford/Tom's Guide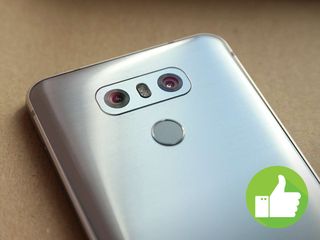 Dual-camera fun
If you haven't upgraded your phone in a while, you're missing out on the dual-lens trend. In this case, the back of the G6 sports dual 13-megapixel cameras, one of which shoots 125-degree, wide-angle shots. So you have the option of getting up close or taking in more of the scene.
Credit: Sam Rutherford/Tom's Guide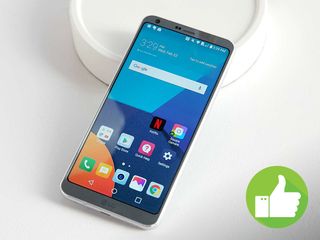 It doesn't look like an LG phone
No offense, LG, but the LG G5 was pretty unattractive. We called it "bland," and the back looked like a "robot with eyes." The G6 steps up the sex appeal with a glass back and metal frame with no camera bumps on the back. Add in those narrow bezels and you have a looker, although the phone is a bit thicker than we'd like.
Credit: Sam Rutherford/Tom's Guide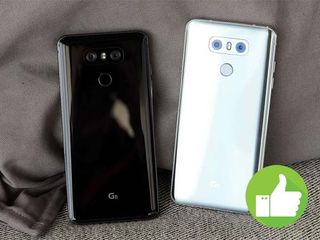 More great features
A software update brought three new capabilities to existing phones. The biggest addition is Face Print, which will let you unlock your G6 just by holding up the phone to your face — no need to press any buttons. Covered Lens will alert you if any of your fingers wanders into the view of the G6's cameras, stopping an errant thumb from ruining the wide-angle shots the G6 is capable of taking. And LG has added a low-power consumption feature as well.
Credit: Sam Rutherford/Tom's Guide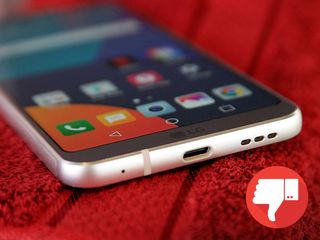 An older processor
Because the G6 was in development for several months before the latest and greatest Snapdragon 835 debuted, it's understandable why LG opted for the older Snapdragon 821 chip. But it's still a step behind the Galaxy S8 with Qualcomm's newer CPU, which delivers better power efficiency, improved photography processing and improved VR performance. The newer LG V30 has a Snapdragon 835 inside, though.
Credit: Sam Rutherford/Tom's Guide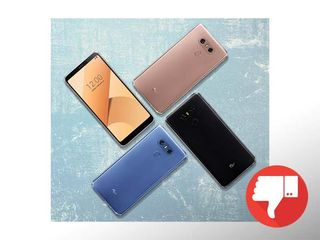 Skimpy 32GB of storage
Even if you've decided that LG's G6 is the phone for you, you still might want to think about your purchase, at least if you need a lot of storage on your phone. The newer LG G6+, offers 128GB of storage compared to the 32GB on the regular G6. The phone also boasts higher-resolution audio. But you have to pay an extra $100 for this model, while the Galaxy S8 comes standard with 64GB and currently costs the same as the $599 LG G6 with 32GB of storage.
Credit: LG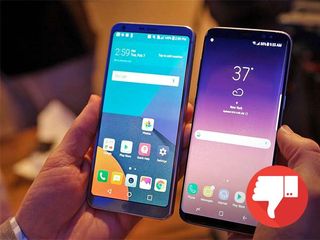 The Galaxy S8 is great
The LG G6 debuted a month before the Galaxy S8 arrived, but that head start has since evaporated now that the S8 is widely available. Like the G6, the S8 and S8+ feature extra-wide displays; even better, they're AMOLED panels, which provide richer colors than what you get with the G6's LCD. The S8's camera is also better, though you don't get dual lenses. It's a pretty close comparison between the G6 and S8, but Samsung's phone is still tops by our estimate.
Credit: Sam Rutherford/Tom's Guide